2011 Lincoln MKZ Hybrid (Preview)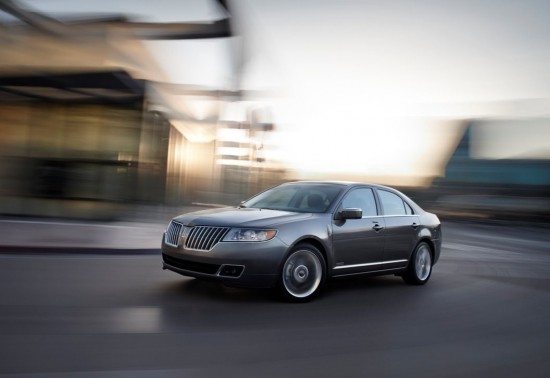 You've decided you're ready to buy a new car. You've even gone so far as to decide you want to spend your hard earned cabbage on an environmentally conscious hybrid. And because you plan to keep the thing until the wheels fall off you should be able to recoup the premium of the hybrid hardware sometime just short of the Second Coming. That decided, you're ready to hit the dealerships. But which one do you buy? You aren't sure you can handle the stigma of Toyota's Prius. The Honda Insight is way out in left field and has no-features (or soul for that matter). How about the Lexus HS250h Hybrid? That might be alright as it has all the standard luxury car trimmings, but it's a bit small and was designed by people who think Camrys and washing machines are cutting edge design. Not to mention all those tongue-tying h's. How about the Lincoln MKZ Hybrid?
      Starting at $35,180 the 2011 MKZ Hybrid carries the same base price as the conventional petrol model. In place of the 263-hp 3.5L V6, Ford has fitted the same second-generation hybrid system from the highly impressive Fusion and Escape Hybrids. This system features a  156-hp 2.5L Atkinson-cycle 4-cylinder combined with a 275-volt permanent magnet AC motor and mated to an electronically-controlled CVT. Together the motor and the engine can output a maximum of 191-hp. You won't be left behind, but don't go looking for drag strip victories either. Far more impressive is the MKZ's performance at the pump. Ford is projecting a city/highway rating of 41/36, which translates to a 6-mpg city advantage over the Lexus HS250h Hybrid.
      Bottom line: the MKZ Hybrid looks to be a compelling package. This is a traditional car outfitted with luxurious trimmings with room for real-sized people and it doesn't look half bad (though it's no Cadillac CTS). Plus it promises outstanding fuel mileage at a price equal to that of its conventional sibling and less than its nearest competitor. Best of all, your HUMMER H2 driving neighbor won't run over your Petunias in protest! We'll report back once we've had a go in Lincoln's blended offspring. In the meantime, check out the gallery below.
Photos courtesy of Ford Motor Company