Speculation: New Engines for 2012 Expedition / Navigator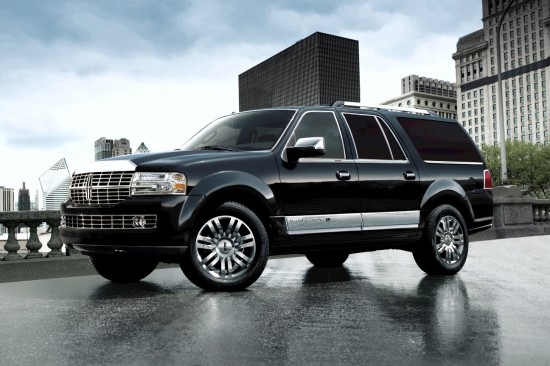 As I was zoom-zooming down US-23 this morning I spotted a convoy of Ford Expeditions and a Lincoln Navigator heading north. Seeing convoys out of Dearborn is not an uncommon sight in this neck of the woods, but it has been some time since this pair of vehicles has had any street time. Which got me thinking that Ford might just be readying these family haulers with new engines for the 2012 model year. Ford has four new engine possibilities, two V8s and two V6s, with one carrying the EcoBoost moniker, which could easily be shoe horned into the engine bay of the Expedition / Navigator twins. I submit the following for consideration:
      3.7L V6 (305-hp / 280 lb-ft of torque): This venerable little mill is the base engine for the Ford Mustang and carries a 31-mpg highway EPA rating in the automatic transmission equipped coupe. But this engine has also found duty in the Ford Flex, Lincoln MKS and MKT, Mazda6 and CX-9, and soon, the F-150. This would make a perfect base model engine for the Expedition as it betters the previous base 4.6L V8 in hp, torque, and very likely economy. Don't expect 30-mpg, but a healthy 22/23-mpg rating isn't out of the question.
      3.5L V6 EcoBoost (365-hp / 350 lb-ft of torque): Honestly, I think this is the least likely engine to find its way into the lineup. The added complexity of twin turbos and direct injection makes a good Taurus SHO, but maybe not ideal in this application. That said, an EcoBoost Expedition cranking 320 to 340-hp and 350 lb-ft of torque and getting 20-mpg or better would make the Chevrolet Tahoe with the 5.3L V8 quiver in its boots. 
      5.0L V8 (412-hp / 390 lb-ft of torque): This is another engine that isn't as likely, but it would make a solid top runner option. Straight out of the Mustang GT this engine features 4-valves per cylinder and TiVCT to make the most of every drop of fuel poured down its gullet. Even in a slightly detuned form (say 400-hp and 385 lb-ft of torque)  for Expedition / Navigator duty it would put up a good fight against GM's larger 6.2L with 403-hp and 417 lb-ft of torque, especially if it bested it by 2 to 3 mpg.
      6.2L V8 (411-hp / 434 lb-ft of torque): If we had to put money on the line we would put it down on the 6.2L V8 finding its way into the lineup. With 411-hp on tap in F-150 Raptor form this engine would quickly put the Navigator back on the Escalade's radar and give the Expedition King Ranch a motor to finally wipe that silly smirk off of the face of the Yukon Denali.
      Previous updates have barely kept the Expedition / Navigator relevant in the marketplace, so whatever happens in terms of a new powerplant we're on board with. A couple of cosmetic changes wouldn't hurt either (read: ditch the Navigator's current grille quick!). We'll keep an eye on things and report back to you when we have more than a day-dreaming editor's hunch.