2012 Chevrolet Cruze Hatchback (Preview)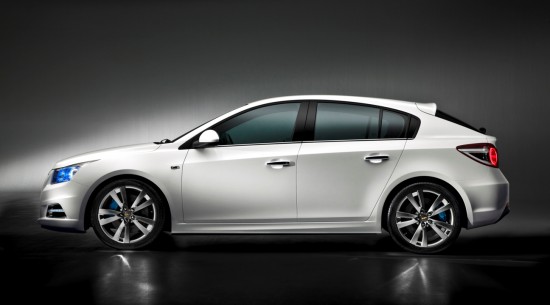 Not Intended for Retail Sale Within the United States.
       Sometimes the automakers will tease us and not mention that little tidbit right away, but no there it was third sentence of the press release "the Cruze hatchback will not be offered in the US market." It is rather disappointing that yet another beautiful car from the General will not be coming to our shores because the buying public in this country won't look at anything hatchback or wagon-ish unless it has all-wheel drive and is riding on stilts! And it is beautiful.
      The Cruze roofline translates well into a hatchback body, and results in a better looking greenhouse. I'm bummed, but at least we still get the Ford Focus 5-door, which this model would compete well against, as well as the Mazda3, Volkswagen Golf and others. Aside from the wheels and showcase headlamps this car looks to be production ready. Power will be provided by the same 1.8L and 1.4L Turbo 4-cylinder engines as in the sedan with 6-speed automatic and manual transmissions available. The release didn't mention pricing but expect it to start slightly higher than the sedan's opening bid of $16,995. I hope the Europeans enjoy this one. Click through to check out the gallery the General provided while I go drool all over the Focus gallery, since that is the only one I'm allowed to buy.
Photos courtesy of GM