2012 Volkswagen Passat (Design Critique)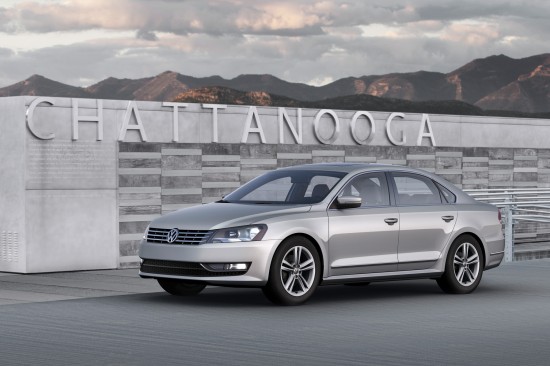 Once upon a time, Volkswagen was known for selling simple and inexpensive cars. The unconventional simplicity of the automaker's designs carried over into the brand's straightforward nomenclature designating its vehicles as the Type 1, Type 2, and Type 3. Somewhere in its history, VW decided to be more than just the company that provided Beetles and Microbuses.
     For 1974 Volkswagen gave America a car with an actual name. The Dasher was a small front-wheel-drive three or five-door hatchback. Earning scant attention from Americans, VW renamed the vehicle upon its first major redesign for 1982 as the Quantum. This time around the car sprouted a deck-lid in lieu of a hatch for the North American market. By the time the Quantum expired in 1987 Volkswagen abandoned its practice of differentiating the car from its European counterpart and designated its largest sedan the Passat for 1988, a name that had been in use on the European versions of the Dasher and Quantum since 1973.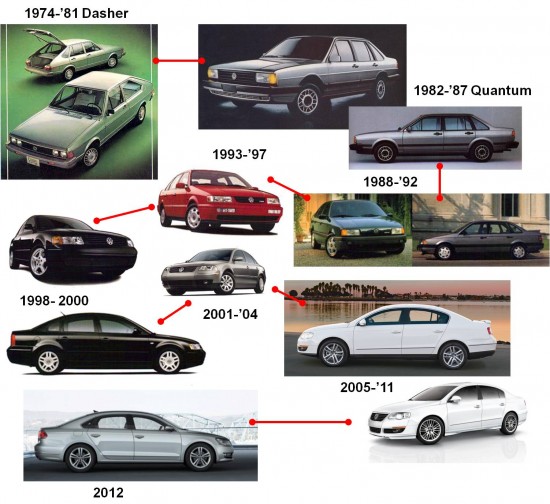 The third time must be the charm, because the Passat is still with us in the United States. Wearing frumpy bodywork through 1997, VW finally found its groove with the 1998 model. Sporting a brilliantly simple arching roofline with fantastic attention to details, that Passat helped revive Amerca's love for the VW brand. All this came at a cost, as Volkswagen continually positioned its models at a premium over their American and Japanese competition. The idea of a German designed sedan apparently was enough to lure buyers into VW showrooms.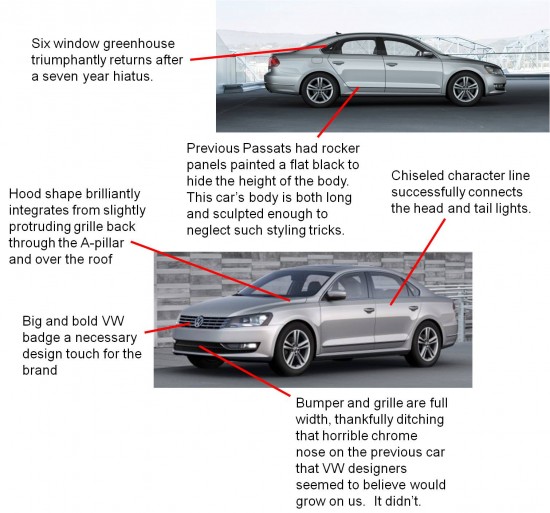 So it may come as somewhat of a surprise that the new 2012 Passat was designed for America, complete with its own assembly plant in Chattanooga, Tennessee. When VW then promised to bring the base price of the sedan down into the low $20k range, many began to worry that the car would be cheapened and sterilized in the pursuit of higher sales. After seeing the car in person we can breathe a sigh of relief, as the interior materials appear to be as good as we have come to expect from class-leading Volkswagen. The styling may not be as flashy as some had hoped for, but the proportions are no longer awkwardly similar to the 'camcord' twins as found on the '05 model. The 2012 returns the Passat to its proper design heritage with a six window greenhouse and brilliant surfacing. The look is now more of a German Impala with well balanced proportions. How the subtly elegant sedan is received by American car buyers remains to be seen. Many will be disappointed that the car isn't as flashy as it's CC sibling. How the car drives and handles will play a significant role, so until we have the opportunity to drive VW's newest offering, we offer you an analysis of what we see.