2011 Mercedes-Benz GL350 BlueTEC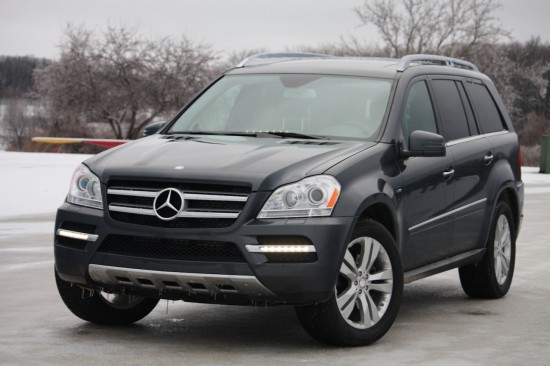 Room and Range
     If your personal version of suburban bliss includes substantially more than the American average of 1.8 children then the 5-passenger Mercedes ML just isn't going to cut it. You'll need the 7-passenger capability of that German Suburban known as the GL. And if every fuel stop along the family vacation route turns into a 45-minute chicken nugget munching, souvenir buying, potty break free-for-all then Mercedes' latest diesel engine and its 550-mile range is the choice most likely to maintain your sanity. Luckily, there is just such a combination, and the Mercedes GL350 BlueTEC offers the room and range needed to be the perfect family hauler.
     The GL has been on the market for a while now so there is nothing new to report on the design front. The big Benz retains most of the broad shouldered, bank-vault-on-wheels look it debuted with in 2006 even though it received a mild update for the 2010 model year. Refreshed foglights, front and rear bumpers and a tweaked chrome grille highlight the changes and work together to maintain the GL's image as a posh competitor to the likes of a Range Rover or Escalade.
     The smaller ML shares more than a passing resemblance with the GL's cabin with almost all switchgear, gauges, vents and even the steering wheel and much of the center console shared between the two sport utilities. That means most of the same faults we listed in our review of the ML still apply here. Some materials could be better, the COMAND nav system is even more unforgivably outdated in a $75k vehicle and a foot operated emergency brake pedal seems decidedly unrefined for a vehicle in this class. Still, all seats are comfortable and room in the third row is actually adequate for children and teenagers and even average adults during limited trips. We're positive anybody back there will appreciate the fixed skylight above the third row, which is a big reason claustrophobia doesn't set in nearly as quick as in other 3-row SUVs.
     Our tester featured the optional $1,950 rear seat entertainment system which attaches two screens to the back of the front seats. The only downside to this screen placement compared to the more traditional roof mounted flip down screen is that third row passengers are more likely to have their view blocked by second row passengers. Every editor was thankful for the heated steering wheel but all agreed that feature should come bundled with the standard heated front seats on a vehicle in this price range. Mercedes obviously doesn't agree and will gladly relieve your pocketbook of another $225 in exchange for such luxury. Mercedes also asks for an additional $1,450 to add 3-Zone Climate Control even though you'll find that feature squarely in the standard column of vehicles costing half as much, such as the Buick Enclave. While we're gripping about the cost of things we'll point out the pretty Steel Grey paint on our unit will set you back another $720. No, German luxury doesn't come cheap.
     But our love for a good diesel engine seems to be enough to make us look past the interior negatives and embrace the GL350 BlueTEC for what it is: a powerful, and in our opinion, superior alternative to its gas-powered siblings. The 3.0-liter 24-valve V6 turbocharged diesel is the same engine we tested and approved of in the smaller ML. Same 210 hp and 400 lb-ft of torque ratings courtesy of a single turbo with variable vane geometry that doles out power as smooth as Bruce Willis' head. With a soft throttle that makes rolling off idle and into peak power (max torque starts at just 1,600 rpm) a joy and with a willing 7-speed automatic that slides from gear to gear like it has been lubricated with Crisco you'll find nary a complaint from us on the mechanical aspects of the big Benz. You take a fuel efficiency penalty compared to the smaller, lighter ML, but the EPA ratings of 17 mpg city and 21 mpg highway are still between four and five mpg better in both cycles compared to the V8 GL550.
     The GL BlueTEC comes standard with permanent 4-wheel drive and the wide 275/55 19" all-season tires easily handled the snow and ice we experienced during our time with the vehicle. We complimented the ride quality of the steel-sprung ML but the bigger and heavier (5,512-pounds) GL and its 4-wheel Airmatic suspension is simply the most comfortable riding 7-passenger SUV we've ever tested. The brakes and steering were tuned to the soft side for our tastes but were admittedly about right for the typical buyer and the suburban commuting this vehicle is destined for.
     We won't hide our disappointment with the GL's cabin. It simply doesn't feel like a contemporary $74,635 vehicle should. But we'll confidently say that if we could set aside the value argument and we actually needed to seat seven we would be very comfortable driving this vehicle everyday in every season. It simply offers unbeatable room and range and can tow 7,500 pounds if needed. If your family is more of the nuclear variety and you don't often shuttle the starting lineup of the high school basketball team we'd urge you to save some significant coin and try Mercedes' own ML or Volkswagen's superb new Touareg.
The Good:
Unmistakable styling, room for seven, the best ride of any 3-row SUV, great drivetrain, road trip friendly fuel range.
The Bad:
A little more diesel noise than the smaller ML or newer Touareg, interior shortcomings are hard to overlook at $75k, rear seat entertainment screens can be hard to see for those in the third row.
The Verdict:
In the small class of big SUVs, the GL350 BlueTEC does almost everything right.
Photos by Jason Muxlow