2011 Kia Optima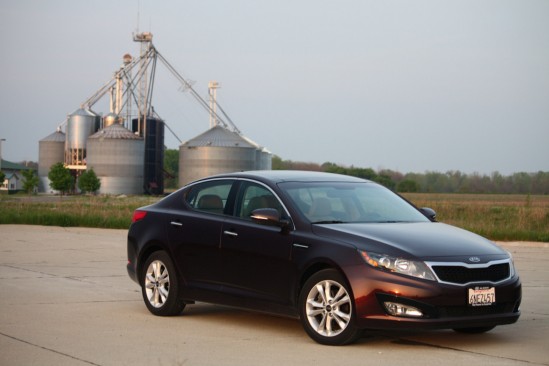 Like the Sonata. Only Better.
     If you've been on the hunt for a new midsize family sedan you've probably already read our Hyundai Sonata review, but if you haven't, allow us to sum up our thoughts on the Korean new kid. We loved everything but the artificial steering and messy handling, especially the unbeatable value and stellar fuel economy. So we had high hopes when the Sonata's kissing cousin from Kia appeared on our schedule recently. The Optima shares almost everything mechanically with the well-received Sonata but wraps it all in completely distinct sheetmetal and tunes everything to suit Kia's corporate Mazda-wannabe driving philosophy. We're going to tip our hand a bit and tell you upfront that Kia has built a better Sonata and the competition has one more midsize contender to worry about.
     As we already mentioned the Optima uses all the same mechanical bits as the Sonata so we'll recap our praise for the 2.4-liter Direct Injection I4 that powers the lion's share of Optimas in this country. It works pretty brilliantly with a linear power curve all the way to the 6,300 rpm horsepower peak and a harmonious engine note by four cylinder standards. We have yet to test the optional turbocharged 2.0-liter wonderengine but we're going to keep begging for one until it happens or Kia PR files a restraining order. We know that an engine is only as good as the transmission it's connected to and the in-house developed six-speed auto in the Optima is a great partner. As long as you don't turn on the ECO mode it avoids the common pitfall found in some recent automatics of lethargically sliding into top gear and refusing to budge by actually snapping off helpful downshifts with a quick dip of the throttle. There is a manual gate for running through the gears yourself but Kia has tuned the software to upshift before redline so you're limited in your control and we didn't notice any shift speed increase so we left it in Drive almost exclusively.
     Of course the highlight of this powertrain continues to be the EPA ratings of 24 mpg city and 34 mpg highway. You're not going to find much better in a conventional car this size unless, of course, you stay with the 6-speed manual transmission and slide the highway rating up a tick to 35 mpg. We haven't driven this setup yet, but we're glad it's available.
      You can rest easy knowing that the Optima doesn't suffer from the same steering and handling deficiencies we noted in our time with Hyundai's Sonata. Here the steering is syrupy, linear and weighted more like a traditional hydraulic system than the electric rack that it is. That's a good thing in our book. The handling also felt sorted out and predictable with a good compromise between flat cornering and ironing out most of the potholes around the Motor City. Our car utilized cheap Korean tires that sung a little more than we'd like on concrete freeways but didn't howl as badly as we expected during aggressive cornering. We felt our EX model's driving dynamics were tuned about perfect for the majority of customers shopping in the midsize sedan market but for those looking for more capability Kia offers a sport tuned suspension and other performance bits on the SX Turbo model.
     Kia has made a lot of progress in interior design and quality the last few years and the culmination of what they've learned was featured in our heavily optioned tester. Try to stick with us while we list a few highlights. A great navigation system with Sirius Traffic plus a backup camera and a stout 8-speaker Infinity-branded audio system is a good buy for $2000. The $2,250 Premium Package also brings some surprising goodies like a panoramic sunroof, memory seats, heated front and rear seats, cooled front seats and a heated steering wheel! That kind of luxury hasn't been seen in the sub-$30k segment before now. We liked that every control was easy to reach, the gauges are clear day or night and the sporty, smaller diameter steering wheel also came in for some logbook praise. Visibility gets hampered a bit by the turned-up greenhouse at the C-pillar but such is the price for a bit of style. The cupholders were great and the cabin was trimmed well above the class average in a tasteful two-tone Sand and Black combo. The front seats were generally accepted but shorter drivers noted a too-long bottom cushion as their main objection.
     We won't dwell on the Optima's styling since it's only our opinion and the staff was split but since I'm authoring this review I get to say I think the Sonata is a far better looking car. Not that the Optima is ugly, it just seems to me like they are trying a number of styling elements that don't exactly create a cohesive whole. Still, the car easily rises above the humdrum Impala, Camry, Accord types and looks particularly bold in certain colors.
     It should no longer surprise you to discover that at the end of the latest Hyundai or Kia review we're going to fall all over ourselves proclaiming what a value the company is offering while simultaneously penning our approval in as rich a prose as we can muster. But the reason for that is it's true. Kia offers a competitive product at a great price with an unbeatable 10-year powertrain warranty and a generous 5-years or 60,000-miles for everything else. Loaded up like few others in its class our Optima EX stickered at only $27,440 meaning it's a serious contender just like the Sonata. Only better.
The Good:
15.4 cubic foot trunk, door speakers are mounted up higher for better sound quality, available comfort features from several classes up.
The Bad:
Could use a higher grade tire, dumb non-functional side vents, Sportmatic transmission won't hold shifts in "manual" mode.
The Verdict:
A great car with great features at a great price.
Photos by Jason Muxlow