2011 Land Rover LR4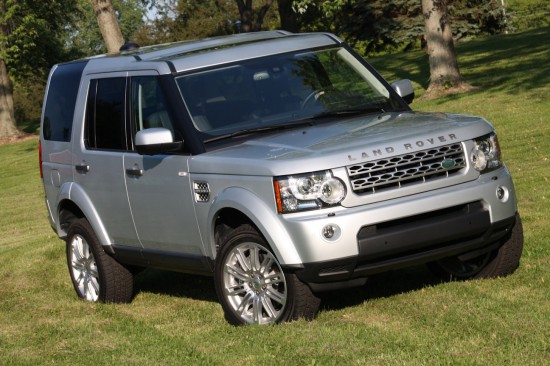 The Gadgetmobile of SUVs

     Muddy is an appropriate word to describe Land Rover's LR4. Just as the British brand's name invokes images of 4×4 vehicles traversing damp and muddy English terrain, it also recalls a muddy history of vehicular nomenclature. The LR-what? For those who care to keep track the LR4 is the replacement for the LR3 which was the replacement for the Discovery. We greatly miss the Discovery name mainly because we can no longer make Land Rover marketers cringe whenever we affectionately call it the "Disco." However, we weren't missing the Discovery's tired old bones after spending a week in the high-tech leather-lined confines of the best value Land Rover in today's showrooms.
      Indeed, our LR4 test vehicle carried a reasonable $61,715 price tag after destination. It was loaded up with such features as auto load leveling four-corner air suspension and multiple mode all wheel drive settings that allow the vehicle to 'kneel' for ease of entry, or raise up to 9.5 inches for traversing the occasional sandy desert or wading through 27.5 inches of water in the local bog. The most fascinating feature, however, was unquestionably the five-view camera that Land Rover includes in the $1,200 'Vision Assist Package'. Unlike a simple back up camera, the LR4 has a lens pointed at the ground checking out the centerline and curb, two more giving sight just ahead of each front 'wing' and, finally, one obviously pointed downward from the tailgate giving that all important view of something you would really regret backing over. These not only come in handy for protecting the sheetmetal from sharp rocks on the Rubicon Trail, but also come in handy in tight parking spaces. Necessary? Of course not, but this is a premium off-roader that claims to be fully capable in any environment. And from what we can from our testing, it is. Probably the most fascinating feature (and distracting, if your inner-Spielberg takes over as you try to film Transformers 4 on your dashboard) is the ability to leave all five cameras on as the vehicle rolls down the freeway. If you ever wanted to know what adjacent vehicles look like from the bottom of your side-view mirrors you will never have to wonder again!
      One unexpected feature that was lacking amongst the $47,650 base price and $13,215 worth of options was a full size spare tire. It is surprising that such a capable off-road vehicle would not be equipped with a full size tire. Think about it. How many Jeep Wranglers hang a "donut" above the rear bumper? A smaller spare may save mass for everyday use but this vehicle isn't designed for efficiency anyway. If it were, it wouldn't be styled to look like a skyscraper topped with an observation deck. Space didn't appear to be the issue either since this tire was stowed under the vehicle. We only mention all this because we made good use of that space-saver spare tire after a stray screw from one of Editor Muxlow's home "improvement" projects triggered the low-tire pressure warning light. A quick patch from the local garage and our 20″ Pirelli Scorpion Zero was round once again.
     Trying to forget about the LR4's gimmicks and deficient spare tire, we found that the towering SUV accelerates briskly and confidently with an engine note far above the class average. It should, considering the 5.0-liter direct injection V8 shared between Jaguar and Land Rover produces more than ample toque and power with identical 375 ft-lbs and horsepower ratings. That power comes at a price. Pushing a vehicle that resembles a skyscraper in both profile and aerodynamics is bound to consume several more gallons between fill-ups than one might care to calculate. The LR4's fuel economy only manages 17 miles per gallon on the highway and merely a dozen around town, if you're lucky. We didn't get an exact calculation during our stint behind the wheel but our company credit card can attest that the fuel gauge drops at a rate that make those numbers seem unfortunately accurate. Cornering abilities are as good as can be expected for a seven-passenger vehicle of this size, certainly comparable to the Mercedes-Benz GL 350 we drove earlier this year.
       The LR4's control tower is a pleasantly luxurious place to be a passenger. As expected, the interior materials are of the highest quality and soft touch points are everywhere. Driver and passenger get their own individual armrests separate from the center console and the dash  features the requisite stitching and real metal trim from today's premium brands. Rear passengers are treated to a raised roofline reminiscent of the beloved Oldsmobile Vista Cruiser and Buick Sport Wagon of the 1960s and '70s, complete with glass over all three rows of seats. Everyone will enjoy the stout 14-speaker harman/kardon sound system and after using the straightforward dual-zone climate controls we'll praise Land Rover for coming so far in the area of ergonomics.
      But who exactly does this Land Rover appeal to? For most the LR4's $2,500 10-spoke wheels are too expensive to risk rubbing up against rocks, so the five cameras will likely go to waste.  The luxury interior is too soft and delicate to risk water fording or tacking in mud from the trails. Plus the LR4 consumes too much fuel to use as a smart daily commuter for the family. It's hard for us to grasp exactly the consumer that this vehicle makes sense for, especially in a world dominated by crossovers and soft-roaders. We certainly commend the LR4 for its abilities and it's relative value in the luxury SUV class, but we'd really like if Land Rover returned the spartan Defender to America's shores for the rough and tumble off-road faithful who look down their noses at the common Jeep.
The Good:
Premium interior and enough features to satisfy Inspector Gadget, can tow 7,716 pounds, actually a bit of a value by today's luxury SUV standards.
The Bad:
Skyscraper styling with aerodynamics to match, 1990s fuel economy, no full-size spare.
The Verdict:
A true Land Rover that will satisfy anyone demanding British luxury in a capable off-roader.
Photos by Jason Muxlow