First Drive: 2012 Toyota Camry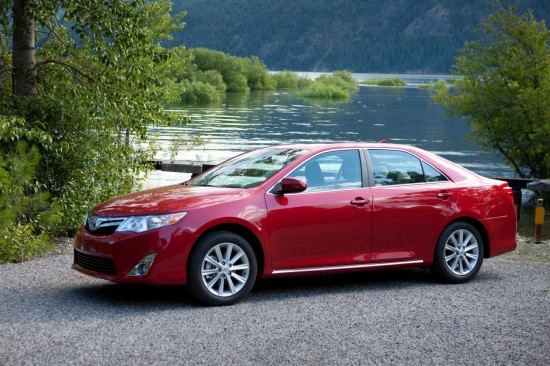 Giving Camry Fans More of What They Want     
     We can't understate the importance of the new seventh generation Camry. Since debuting in 1983 Toyota has sold 15 million around the world and moved enough in this country to claim the car sales crown for 13 of the last 14 years. So when it comes time to redesign the goose that lays the golden eggs you can bet Toyota does their homework. What they always discover is that Camry fans want more of the same, only better. They want roomier, quieter, safer, smarter and more efficient and that's exactly what Toyota has given them with the 2012 Camry.
      If you like the look of the current Camry you'll find nothing to complain about here. It's much the same in profile but the front and rear end have been sharpened a bit and it's an improvement to our eye. The same basic platform carries over so almost all exterior and interior dimensions are the same except engineers have somehow found an extra cubic foot of passenger space and about a half a cube of trunk space, which now rounds off at an even 15 cubic feet. The back seats fold down to allow long items to pass through if additional capacity is needed. Continuing a recent trend we're big fans of, the 2012 Camry weighs in less than the outgoing model with some trim levels dropping more than 100 pounds.
      That diet helps contribute to the improved fuel efficiency of both four-cylinder and V6 models. The 3.5-liter V6 carries over with the same 268 hp but now returns 21 mpg city and 30 mpg highway, an uptick of one mile per gallon on both cycles. The volume selling 2.5-liter I4 has received a little love and has nine extra horses to show for it. Toyota says the four-cylinder, which accounts for about 75% of all Camry sales, is rated at 25 mpg city and 35 mpg highway. We're a little surprised Toyota didn't take the opportunity to add direct injection to both engines and realize even further efficiency gains, but we'd put money on such upgrades coming in the next few years. The six-speed automatics for both engines carry over with only adjustments to the final drive ratio to aide in fuel economy. SE models do benefit from steering wheel mounted paddle shifters that surprised us in their shift speed.
      Of course, the Hybrid powertrain deserves special mention for its best in class fuel economy ratings of 43 mpg city and 39 mpg highway, enabling a 650 mile range. That is made even more impressive when you discover that power is up to a combined 200 hp thanks to the addition of the larger 2.5-liter I4 Atkinson-cycle engine. Sixty miles per hour now comes up in the mid seven-second range. Toyota claims they've made improvements in the regenerative braking system and added an EV mode that will allow up to 1.6 miles of electric vehicle operation at speeds below 25 mph. Customers will also be happy to find more than two cubic feet of additional trunk space since engineers moved the DC converter to the engine bay and utilized a more compact battery in the 2012 model, although it's still not a lithium-ion pack.
      Toyota hopes the addition of its new Entune smartphone pairing system will attract younger technology savvy buyers to the Camry family. Entune uses your phone's data plan to connect useful in-car apps like Pandora radio, Bing search and Movietickets.com to the internet. Utilizing the car's touch screen interface or a new "conversational voice recognition" system you'll be able to check the weather, find the lowest local gas prices or reserve a table at your favorite restaurant. It seems like every manufacturer is rolling out similar technology, but Entune has a lot of promise and Toyota says it'll be updateable should new apps become available.
      We took a short drive in a four-cylinder SE model and immediately liked the interior updates; our favorite of which is a line of stitching in the dashtop that gives the impression of a leather wrapped dash. All but the basest of base models feature a nice 6.1-inch touchscreen regardless of whether navigation is ordered to control radio functions and other car settings. We found all seats comfortable and the redesigned steering wheel with the "multi-directional control switch" made accessing various functions easier than we feared. There is good back seat legroom although we would have liked to have seen rear HVAC vents in our mid-level tester. Every passenger has access to good cupholders and the center console lid slides so anyone should be able to find a comfortable position. The climate control system featured big buttons and was easy to operate although the glovebox was on the smaller side and the interior door plastics on all but the top line XLE model left something to be desired, but we'll reserve final judgment since we were driving pre-production prototypes. The gauge cluster was attractive and thankfully still features a tachometer, although we could do without the silly fuel economy gauge.
      Without sounding like we're criticizing we'll say driving the 2012 Camry is a lot like driving any other Camry. The ride is still superb, outward visibility is great in all directions, the engine and transmission go about their business smoothly and quietly while the new slightly larger brakes and quicker ratio electric steering don't thrill, but don't falter either. This is to say Camry fans should be delighted.
      They'll be even happier when they glance at the window sticker and see that Toyota is charging less for a vehicle that offers more at almost every trim level. The big volume Camry LE model will start at $22,500 before destination when it goes on sale October 3rd, a reduction of $200 over the outgoing model. The savings is even more dramatic for the top level XLE, which in four-cylinder guise will command $24,725. That's a full $2,000 cheaper than the equivalent 2011 model and a small miracle in this day and age. You'll want to think twice before checking the V6 option box because doing so on an XLE will prop the bottom line up another $5,150. The V6 premium on the sporty SE is a smaller but still substantial $3,640. Camry Hybrid's should start hitting dealers in November and there's savings to be had here too. A Hybrid LE will sticker for $25,900—a savings of $1,150 versus 2011 Camry Hybrids.
      Giving the people more while asking for less has never hurt sales and we suspect Toyota is now re-equipped to hold its own in the ever more competitive midsize sedan class.
The Good:
10 airbags, cheaper than before, 80% of Camry parts are from American suppliers.
The Bad:
Still not a style leader, Toyota isn't offering direct injection engines.
The Verdict:
Roomier, quieter, safer, smarter and more efficient for 2012. Oh, it's cheaper too.
Photos courtesy of Toyota