2015 GMC Canyon 4WD SLT Crew Cab Short Box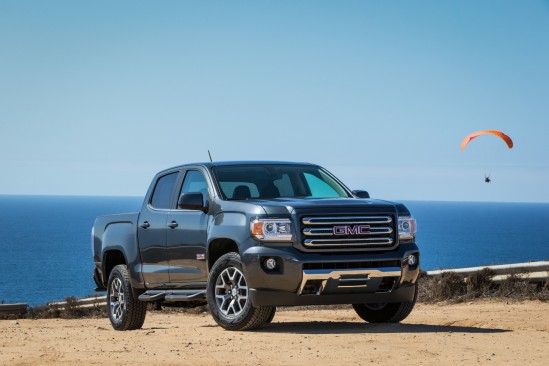 "All New!  Sensibly Sized!" 
It happens to nearly every automaker. It begins by offering a successful car in a relatively standard package. When it comes time to replace that model in the automaker's lineup the call goes out to make the next model have more interior space, more cargo room and more power. That newer model becomes more successful than the first. Subsequent generations continue the pursuit of 'more is better'. Then, gradually and almost without notice, buyers start to wonder "what if there were a vehicle just a bit smaller, more nimble, more compact, and more efficient than this?" The automaker responds with an "All New!  Sensibly Sized!" new model that slots in where the original model was once targeted. This is the story of the 2015 GMC Canyon and its near twin, the Chevrolet Colorado.  
Don't let their names fool you. The 2015 Canyon and Colorado really aren't replacements for the discontinued products of the same names that were last offered in 2012. Those trucks, though larger than the GMC Sonoma and Chevy S-10 they replaced, were easily categorized as small trucks. With the GMC Sierra and Chevy Silverado ballooning into gargantuan pickup trucks in an unending one-upmanship started by the 1994 Dodge Ram, General Motors decided to pursue placing something a bit more maneuverable and manageable in its corporate line-up. Eager to see if these 7/8th scale trucks are a return to the faultless packaging of GM's full-size GMT400 pickups sold throughout the 1990s, we took the wheel of a four wheel drive GMC Canyon SLT Crew Cab to find out.
First thing you notice about the Canyon is that you'll have a hard time distinguishing it from its larger Sierra brethren. The fenders, headlights, and grille appear to be simply scaled down to fit the narrower cab. A quick look at the cab beltline helps differentiate the Canyon from the Sierra with an upsweep in stark contrast to the larger truck's straight edge look. Unlike the Sierra, the Canyon's standard cab configuration is an extended cab instead of a regular two door. Bed lengths are limited to short and shorter; at 5'2" and 6'2" the longest box doesn't even match that of the middle-sized 6'6" box on the larger Sierra. So far the description of this truck might lead one to start thinking this package sounds like the departed Dodge Dakota. While similarities with the old Dodge are obvious, the main distinction of the Canyon is that it offers no V8. Our test truck came with the optional 3.6-liter V6 which produces 305 hp and 269 lb-ft of torque. With as underwhelming as the V6 felt, we were relieved GMC didn't loan us the standard 2.5-liter 4 cylinder mill. The smaller engine is good for 200 hp and GMC only claims a 1 mpg advantage over the V6's 26 mpg highway in 2WD form. Expect a 2 mpg hit on the highway with the V6 model. If efficiency is your goal GM just announced details on a 4 cylinder Duramax diesel to arrive next year with 181 hp and 369 lb-ft of torque. We expect around 30 mpg on the highway with this engine along with its $3,730 price premium over the V6 (at least in the Chevy).  While a manual transmission is available in the base (referred to as Canyon SL) and lower-mid-level trim (inexplicably simply dubbed Canyon) it is not offered in Crew Cab configurations nor the SLT or SLE upper trim levels.






 
Photos courtesy of GM
We put the Canyon to work moving Senior Editor Muxlow into a newly purchased home. The Canyon's 5'2" short box proved to be useful in the way we envision the vast majority of truck owners plan – occasional use. The bed is significantly narrower than a full-size truck bed at only 4'4" between the wheel wells meaning standard dimensioned objects have to be placed at an angle such as the full-size mattress we transported. We would have benefitted from the longer box but the wheelbase on that model would have swelled from a healthy 128.3" to a canyon-spanning 140.5" that we imagine would significantly hinder maneuverability.  The back seat proved spacious enough for our full-sized moving crew of four adult males. Fitting in a 5th adult would have made things a bit awkward as the cabin truly feels narrow. The top line SLT interior materials impressed with stitching on the dash pad and soft touch surfaces all around. While some of us have never fully adjusted to touch screen functions, the GMC's unit was relatively intuitive while the HVAC controls mercifully have hard controls on the center stack. The SLT's interior proves that cabin luxuries in trucks truly match that of the best automakers. We were impressed with the way the A/C subtly winds down the fans speeds when the truck ignition is shut off rather than a dramatic cancellation common in most vehicles.
The Canyon boasts a standard backup camera that is strategically aimed at an angle that allowed vision of the ball on our trailer hitch as well as the full parking space behind us. The damped tailgate surprised us each time we used it. Perhaps we are accustomed to beater pickups with a creaking tailgate that drops like a rock. The truck rode well enough when loaded and when empty, though no one will mistake the somewhat choppy ride for a luxury sedan. That's probably ok with most owners since these trucks prove to be plenty capable. If a smaller scale pickup truck seems appealing, one may be disappointed at full size truck pricing. The stripped extended cab models start at a relatively frugal $21,880 but our four wheel drive SLT test truck was loaded with 18" polished aluminum wheels, trailering package, leather front seats, with additional options including chrome tube steps ($725), tonneau cover, Bose premium audio ($500), 8" color touch screen with navigation ($495), sprayed in bed line ($475), forward collision alert with lane departure ($395), chrome exhaust tip ($135), and finally, a sliding rear window (a mere $75). A lot of features for sure, but the total price with destination tallied up to $41,785. This is a far cry from the base model GMC Sonoma of yore that settled in for a nice $99 monthly payment. But to complain about the price is to miss the point. Some people don't want less comfort or convenience in their truck, they just want less bulk. We expect that there is plenty of room in the truck market for just such a vehicle, and right now, the GMC Canyon is one of the few trucks to deliver.