2002 Cadillac Escalade EXT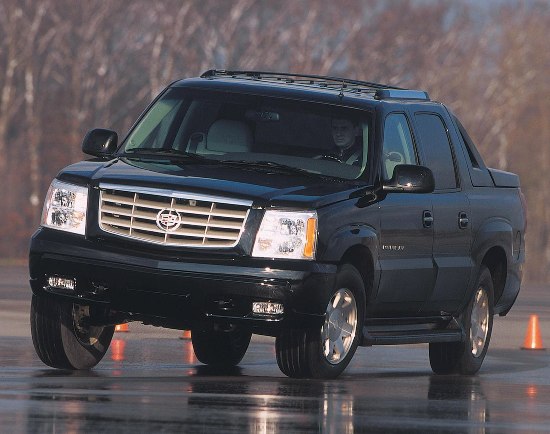 Walking past an enormous tailgate that looks like it came from a military shipyard, you begin to scratch your head in consternation.
     Just what is this thing?
     It has four big doors, harshly creased body panels and a stubby cargo area. Its exhaust tips could double for rocket nozzles on the space shuttle, and its gaudy chrome accents look like they came from a wayward Harley-Davidson designer. A strange sight, indeed.
     Then comes the weirdest part. As you walk past the squared-off headlights and industrial grille, you see a melon-sized wreath logo. You gasp as you realize it's — brace yourself — a Cadillac pickup truck.
     It's the Escalade EXT, a truck/SUV combination that perplexes as much as it impresses on the street. It's the darling of rap artists, rock stars and pro football players, and its head-turning flashiness is its greatest asset.
     Essentially a Chevy Avalanche dressed in fancy digs, the $50,000 EXT makes few compromises. As an SUV, it has plenty of interior space for front and rear passengers, along with a solid chassis, comfortable ride and ample power. As a truck, it has a useful cargo area with a removable "midgate" that allows full use of an eight-foot truck bed.
     It's perfectly capable of hauling a sofa or sheets of plywood, and it can quickly be reconfigured to pick up an executive at the airport. That's versatility.
     But — let's admit it — nobody really needs a Cadillac, much less a Cadillac truck. That big wreath logo symbolizes excess, not practicality.
     Excess is something the EXT does well.
     Start with the engine. It's a Vortec V8 that makes a tire-melting 345 horsepower, enough to scoot the nearly three-ton truck as fast as the average passenger car. It's smooth and responsive as it sings through the exhaust pipes, although it doesn't resonate too much noise into the cabin at highway speed.
     Then there's the ride, a velvety smooth, sedan-like feel that belies its very truck-like roots. Stabilitrak, Cadillac's traction control system, keeps the EXT under control on wet roads, although it can feel a little invasive at times. A road-sensing suspension is remarkably able to control body lean in corners and nose dive under braking.
     Finally, there's luxury, and this truck is chocked full of it. Long drives are made pleasant with gadgets and amenities like leather and wood trim, a climate control system, driver information center, trip computer, nice stereo and OnStar communication system.
     Recliner-like front seats make the Caddy feel like a living room on wheels. Deep, leather-covered bucket seats are adjustable in 10 ways with power lumbar and side supports, plus they're heated. Rear seats are similarly plush and comfortable.
     While the interior components are organized well, the quality of their construction is questionable. Plastic panels feel weak and flimsy, and woodgrain trim looks thin and cheap. If a $20,000 Volkswagen can have a rock-solid interior with classy wood trim, a $50,000 Cadillac should be able to keep panels from wiggling when you press them.
     In the spirit of excess, the EXT guzzles gas. How's 12 mpg in town and 15 on the highway sound? That probably won't be an issue if you've got the money to buy this Cadillac, but it matters if you're thinking about joining Greenpeace.
     Cadillac's truck isn't about versatility, though, regardless of its nifty pickup bed. If you want $50,000 worth of luxury and usefulness, you could buy a fine Cadillac CTS and tough Ford F-150 truck for the price of one Escalade EXT.
     Instead, the EXT is about impressing your country-club buddies and raising eyebrows at the nearest pro football training camp. The "midgate" probably won't be lowered to haul drywall, but it's great for starting conversations. Likewise, the pickup bed might haul nothing but golf clubs, but it looks supremely cool when girls dance in it on MTV.
     That's the beauty of this Cadillac truck. There's nothing else like it.