2002 HUMMER H1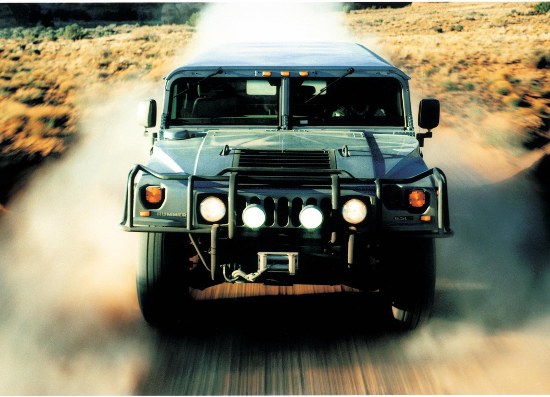 How can an awful vehicle be so cool?
     That's the question I constantly asked myself while driving the Hummer H1, a civilian version of the U.S. military's supertruck designed to travel through swamps, deserts and jungles — anything but city streets.
     By civilian standards, the Hummer is as terrible as vehicles come. It feels like driving a drunk sumo wrestler, lumbering around corners and fumbling into parking spots that are never quite wide enough. It's noisy, slow, unrefined, cramped and difficult to drive in a straight line. You can't even take it to the drive-through because of its width.
     Yet people love it — some Ferraris don't get as much attention. You can park it at Wal-Mart, do a little shopping, and return to find people peeping through windows and climbing underneath the monster truck. Heads turn at every stoplight. Friends, co-workers and complete strangers ask for rides around the block so they can feel like G.I. Joe.
     That's the magic of the Hummer.
     No other vehicle brings such a feeling of invincibility and power, the feeling that nothing can keep you from reaching your destination. It can climb wall-like inclines, forge 30-inch-deep streams and float over rough terrain. It makes full-size SUVs look like speed bumps on the freeway, and it makes anyone behind the wheel look like Arnold Schwarzenegger, no matter how nerdy they are in real life.
     Its styling reflects that tough-guy performance — nothing comes close to the Hummer's intimidating presence. Park it next to a Ford Explorer or Chevy Trailblazer, and the everyday SUVs start to look like toys. That look must have been designed to scare guys like Saddam Hussein.
     Unless you do serious — and I mean really serious — off-road driving, there's no reason to own a Hummer, except as a status symbol or ego booster. It's just as impractical as a sports car, and it gets worse gas mileage (about 8 mpg in town). It also costs enough to buy a house.
     For an enormous vehicle, the Hummer's interior is surprisingly cramped. It has four small bucket seats with very little shoulder and knee room. A table-like center console extends the length of the cabin to gobble up any usable space, an example of wasteful interior packaging. Levers, gauges and toggle switches look more like those in a Caterpillar earth mover than the gear in most road vehicles.
     Such impracticality shows that the Hummer was designed for one thing — off-road driving — and all other concerns were thrown out the window.
     Well, almost. It has a six-disc CD changer, cruise control, power windows and locks, and a spattering of cupholders throughout the cabin. It even has vents for rear-seat passengers and a nifty button to inflate and deflate the tires, a feature that can improve traction on the toughest trails.
     The Hummer has two fuel tanks: A 25-gallon main tank and a 17-gallon auxiliary tank that can be switched by pressing a button on the dash.
     It also comes in two distinct models. A four-door wagon is the most common variety, while a four-door open top convertible has a little pickup-style bed in place of a covered cargo area.
     Several new features grace the 2002 models, including a higher torque-biasing ratio differential to improve performance and reduce the amount of wheelspin required to lock. It also has new 17-inch wheels, new side markers, a revised console and new H1 badging.
     Any vehicle with a price that climbs into the six-digit range must be the best at something, and that's no exception with the Hummer. It's the best off-road vehicle on the planet and, just like with sports cars, passion and pleasure override practicality.
     Yes, it's an awful truck, but I'd love to own one.