2002 Volkswagen Passat W8
     It's hard to imagine a luxury Volkswagen, but get used to it. VeeDub is getting a bigger ego.
     The company has come a long way since its days of producing the old, super-simple Beetle, a car that was wildly popular but never had many amenities. You can forget about finding an old Bug with power windows, leather trim, air conditioning and cruise control.

     Want an eight-cylinder engine, heated seats and a power glass sunroof in your little old Beetle? No way — it's out of the question.
     Happily, Volkswagen has decided to push its vehicles upscale in recent years. At the top of the lineup — at least for now — is the delightful, well-built, good-looking Passat. It's VW's answer to the BMW 3-series and Mercedes C-class cars that are regarded as Germany's best near-luxury vehicles.
     Will Volkswagen ever be considered one of the automotive world's great marques, equal to or better than BMW and Mercedes? If it continues to build cars as good as the Passat, it could be.
     Start with the Passat's newest powerplant, the W8. It's basically two narrow-angle V4 engines that share a common crankshaft to make the "W" layout, a design that fits well in the Passat's narrow engine bay. Sure, it's got a funky name, but it's the first eight-cylinder engine in Volkswagen's history.
     It also has great performance. The 4.0-liter engine makes up to 270 horsepower with a smooth and refined feel, which scoots it to 60 mph in 6.5 seconds. That's a figure normally reserved for top-notch sports sedans like those from Acura and Infinity, and it seems to say, "Look out, BMW."
     Every Volkswagen has a class-leading interior, and the top-of-the-line Passat is no exception. Its high-quality materials and tight, precise feel make it one of the best cabins in the world — and that's no exaggeration — with no rattles, squeaks or loose bits.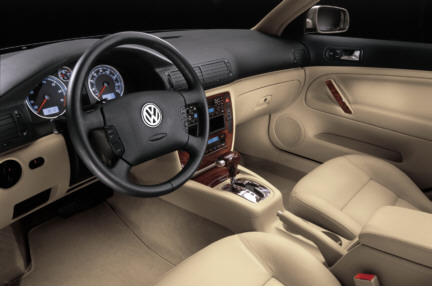 Controls are located perfectly, unlike in the quirky Slug Bugs, and gauges look brilliant at night when they light up in blue and red. Luxurious features and materials are everywhere, and power seats can be adjusted to perfection for serene rides on the interstate.
     The Passat's styling shows obvious hints of Audi influence, and that's a good thing. Its deeply curved nose, carefully sculpted panels and elegant, sweeping roof line make it look like a rolling work of art. It's a four-door sedan, but it has great curves normally seen only on sports coupes. The whole theme has an air of sophistication and athleticism without being gaudy or flashy.
     While some people are surprised to hear a Volkswagen has a price tag north of $35,000, the W8's $38,000 price actually is a bargain for the number of features, terrific quality and great performance it offers.
     And, if you're shocked by the $38,000 price tag on a VW, just wait until next year. A 12-cylinder Phaeton could fetch up to $90,000 when it competes with super-luxury cars like the Mercedes S-Class and BMW 7-series.
     Still, many luxury-car buyers are interested in having a fancy badge parked in their driveway to show off for the neighbors. And, let's face it, the VW logo won't attract as many envious glances as Mercedes' three-pointed star and BMW's little blue propeller.
     If you're interested in the car, not the hood ornament, the Passat is among the best you can find.