2002 Dodge Ram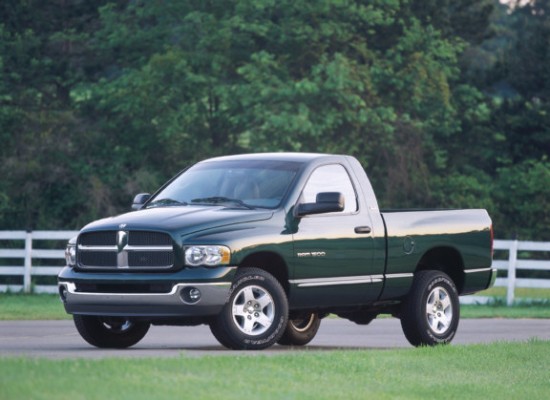 Refinement isn't something trucks are known for. They're meant for hauling, towing and getting dirty, not for impressing executives with frilly features and tight-fitting interior panels.
     Since the late 1990s, though, when Ford and Chevy unveiled their latest blue-collar haulers, refinement has become much more important. Controls were well planned, and interiors suddenly became inviting and — for the most part — pleasant to ride in. Each new redesign brought more car-like features and luxurious frou-frous.
     Dodge's turn for a redesign came in 2002, and the new Ram has upped the truck industry's ante with new levels of refinement that you'd never expect to find in a pickup. Yet, it's the most truck-like of all full-size, light-duty trucks.
     How so? For starters, it rides high on available 20-inch wheels to give a commanding view of the road, making you feel like boss of the highway. It also has equal or better towing and hauling capacity compared with its similarly equipped competitors.
     One negative aspect of the truck-like feel is the Ram's wide turning radius. It's harder to park than its competitors at Ford and Chevy, and it's the only vehicle that had to send a back wheel climbing over the curb to get into my narrow driveway. Even the super-wide Hummer H1 could park without clipping a corner of my yard.
     It also has, by far, the most aggressive styling of any full-size truck. The grille is enormous, even bigger than the huge chrome bars that made the previous generation of Ram so popular, which makes it look more like a Mack Truck than a regular pickup. It's definitely intimidating, especially in the rear-view mirror of more puny vehicles.
     Aside from that monster of a grille, lines are cleaner, smoother and classier looking than last year's model. Headlamps are rounded, and fenders are sculpted in a way that accents the truck's huge proportions.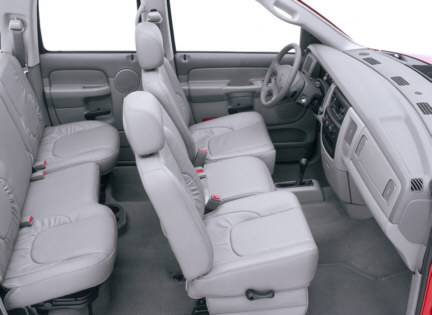 Inside, the Ram is about as un-truck-like as you can get. Panels fit slightly better than those in the Ford F-150, and the quality is worlds ahead of the Chevy Silverado's flimsy plastic interior. There are no complaints about the look, feel or location of controls and gauges, although the radio could be improved. It sounds great, but the small buttons are hard to find while driving.
     Ride quality is vastly improved from previous generations. It feels smoother and less bouncy thanks to a rigid new hydroformed chassis (it's formed from blasts of ultra-high-pressure water that improves strength) and fully independent front suspension.
     The Ram is available with two cab configurations — Regular Cab and Quad Cab — with the choice of a six-foot, three-inch standard bed or an eight-foot long bed. You also can pick from three engines: a 5.9-liter V8, 4.7-liter V8, and 3.7-liter V6. Most buyers choose the 4.7-liter model, which offers a good combination of power and frugality.
     If you need a heavy-duty Ram, wail 'til next year for a redesigned 2003 model. Otherwise, the only heavy-duty Ram in 2002 will be derived from the previous generation.
     All in all, it looks like Dodge has produced another winner with its redesigned Ram. It has more room and car-like refinement inside, but it doesn't sacrifice truck-like looks and versatility