2002 Honda Civic Si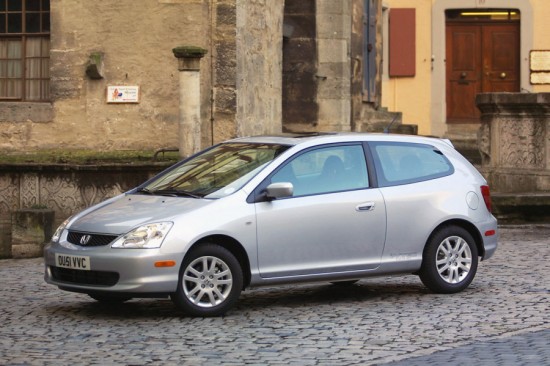 Like a Michael Jordan comeback, Honda's hot hatch has returned — and it was worth the wait.
   The Civic Si took a one-year hiatus while it was completely redesigned to add more refinement, better performance and a new style in its racy hatchback body. And, just like Jordan's legendary returns to basketball, the Civic Si has come back to a world with new players and more competition that leave questions about whether it can remain on top.
    An influx of cheap, zippy compact cars — Volkswagen Golf GTI, Ford Focus ZX3, Nissan Sentra SE-R and Mini Cooper S, to name a few — recently arrived to crowd the marketplace started primarily by the Civic Si back in 1986. With so much new competition, it's hard not to wonder how the Civic can remain the leader of Pocket Rocket Kingdom.
    A new torquey, four-cylinder engine is one of the Si's best selling points. The 2.0-liter powerplant makes up to 160 horsepower and 132 pound-feet of torque, enough to send the front tires spinning if you're not careful at stoplights. It uses iVTEC technology that continuously adjusts camshaft timing to crank out big horsepower while keeping emissions and fuel consumption in check.
    That fancy engine is mated to a slick new five-speed manual transmission that's a blast to shift from its rally-style position. The shifter is mounted on the Si's dash — not the floorboard — to bring it closer to the driver's hands for quick shifting without ignoring the steering wheel in turns. Even if you never use it in races, it looks really cool.
    Compared to other cars in its class, the Si's suspension is as good as they come. It has firmer dampers and springs than other Civic models along with substantial front and rear stabilizer bars to give it added tautness and precision through corners, although the front engine/front-wheel-drive layout induces understeer.
    For highway rides, the suspension is surprisingly smooth and quiet. At 70 mph, nearly all the noise in the cabin comes from the wind and engine, which even at 3,500 rpm isn't annoying. Virtually no road or tire noise enters the cabin, which is surprising for a car with such a sporty suspension setup.
    When it comes to looks, the Civic Si is an original. The hatchback body seems to be from "Honey, I Shrunk the Minivan," while the swoopy side windows look like those from an early water-cooled Porsche. Its little hood is barely big enough to cover the engine, while it slopes at such an angle that you can't see it from the driver's seat. All in all, it's one of the most unique designs around, if only for its simplicity.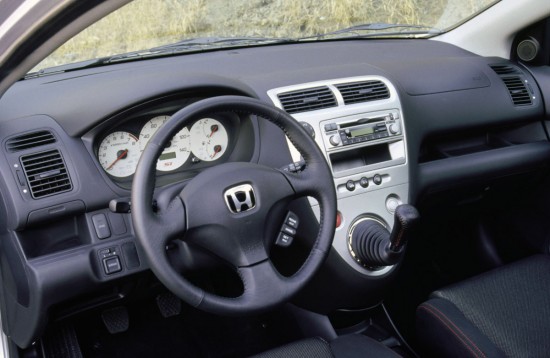 While some other pocket rockets have obnoxious, boy-racer interiors, the Civic Si's cabin is pleasantly subdued while still providing a hint of aggression. Controls and gauges are located perfectly — it's a Honda, for goodness sake — and the seats are comfortable while providing lots of side support for tight turns.
    And, let's not forget practicality. While it only comes with two doors, the rear seats fold down to expose a huge, SUV-like cargo area with plenty of room for most small families. The back seat has ample head and knee room, while the front seats are equally spacious — really surprising for such a small car.
    So, will this hot hatch still be the athletic superstar that it was years ago, or will it limp out of the automotive world with a bad knee, a victim of changing times?
    Most likely, we can count on this veteran to be around for a long time to come.