2002 Jeep Liberty Renegade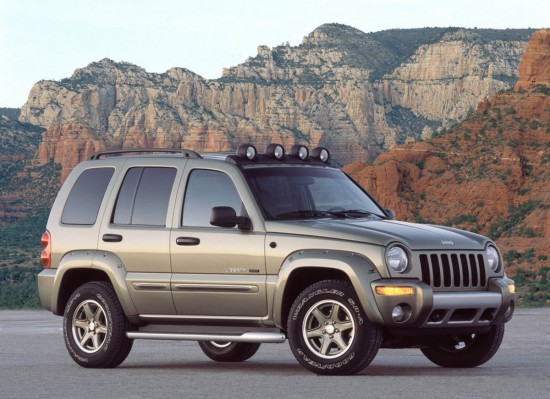 For a Renegade, this Jeep is wonderfully civilized.
    The Renegade name has been applied to the toughest of Jeep's legendary off-road vehicles since the 1964 Wagoneer, and it now graces the 2002 Liberty with a special appearance and performance package designed for nonstop exploring. Even with the tough-guy demeanor and go-anywhere prowess, though, it's surprisingly comfortable, accommodating and quiet as a suburban highway cruiser.
   Upgrades to the regular Liberty include an integrated activity light bar, wheel flares with a bolted-on look, removable side steps, unique wheels and a two-tone front fascia. The package nearly eliminates the Liberty's cute appearance, changing it into a much more serious looking beast, but don't be surprised to hear the occasional description as adorable, darling or precious.
   A 150,000 candlepower light bar is the most glaring — excuse the pun — of the Renegade's changes. It has four halogen lamps that can be turned on with a switch on the dash, but they're illegal for on-road use. They're nifty for camping, tailgate parties and nighttime off-roading, though.
   Only three colors are available this year — cactus green, light khaki and silver — all of which look nice on the Renegade's suave body, even if it has too much plastic cladding. Wheel flares take a styling cue from the Nissan Frontier pickup with their industrial-looking exposed bolts, and 16-inch, six-spoke aluminum wheels are either color keyed or painted to match the Liberty's paint job.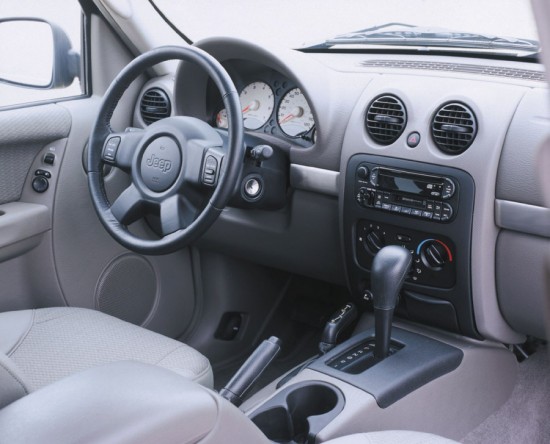 Great manners and civility, however, underlie the tough exterior. It's not quite like afternoon tea at Buckingham Palace, but the interior is surprisingly plush with car-like refinement and comfortable seats that feel comfortable even after long trips. Gauges and controls are as nice as those in an average family sedan, and brushed aluminum trim continues the body's industrial theme.
   Highway ride is likewise controlled and tame, even though it feels highly capable on trails and hills. A Jeep-engineered independent front suspension deserves credit for the great ride, while steering is precise and responsive thanks to rack-and-pinion steering.
   A standard 3.7-liter V6 engine provides plenty of low-end torque for getting out of mud. It has fairly flat mid-range power and a turbo-like surge at the top of the rev range for good highway acceleration. A five-speed manual transmission is preferable to make the most of the engine's power, but a four-speed automatic makes smooth shifts for the around-town driver. Gas mileage suffers, though, because of the Liberty's two-ton weight.
   Overall, the Liberty Renegade comfortably combines Jeep's famous off-road performance with the refinement of a modern SUV. It may seem ironic, but it's the most polite Renegade ever made.