2003 Chevrolet Suburban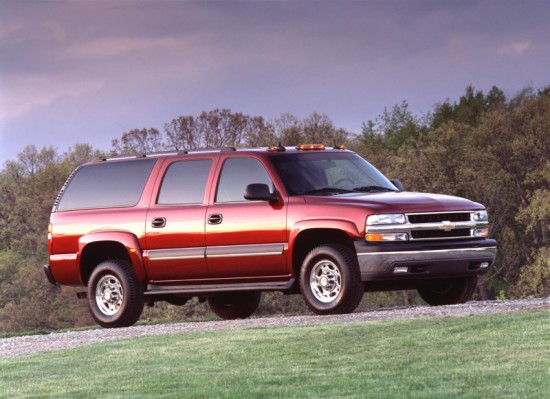 It may be pretentious to compare a truck to fine wine, but the Chevy Suburban just gets better with age.
      Dating way back to 1936, the Suburban is the original truck-based people mover. It started life as a panel van with some extra seats and windows, basically a family vehicle for the working man.
     Today's refined Suburban can hardly be compared to its barebones predecessor, due in large part to the legions of trend-following soccer moms who demanded high-class luxury in their 'Burbs starting in the mid 1990s. That shift in focus made the Suburban a slightly more exclusive nameplate, but it's retained its mission as a rugged, roomy family hauler through the years.
     Following an extensive redesign in 2000 that gave it a more comfortable suspension and better interior, the 2003 model continues to add refinement and features that make it one of the best family vehicles around.
     New for 2003 are a stability enhancement system, dual-level air bags, adjustable pedals, and a bevy of entertainment options, like a built-in DVD player, satellite radio receiver, Bose speaker system and tri-zone climate control. It's really an ideal vehicle for long road trips, if you don't mind a truck that gulps gas (expect to average around 15 miles per gallon).
     Stabillitrak, now available on Suburbans with a 5.3-liter V8 engine, is a computer-based system that helps keep the Suburban pointed where the driver intended, especially helpful for emergency situations or as comfort for people with little experience driving big trucks. While it won't defy the laws of physics, it can adjust engine speed and braking when it senses wheel slip, understeer ("snowplowing"), or oversteer ("fishtailing").
     Also new for 2003 is a four-wheel steering system that drastically improves the Suburban's low-speed maneuverability. While a regular Suburban can feel awkward in tight parking lots and narrow city streets, GM's "Quadrasteer" system lets you whip into parking spots almost like a compact car. It's remarkable but pricey, available only on heavy-duty models for an additional $4,500 — yep, the price of a nice used Miata.
     Available in two versions — 1/2-ton and 3/4-ton models — with three engines, a Suburban can range from basic to extravagant, depending on options. Engines are available with displacements of 5.3 liters, 6.0 liters, and a gargantuan 8.0 liters, all of which offer adequate acceleration in town and on the highway.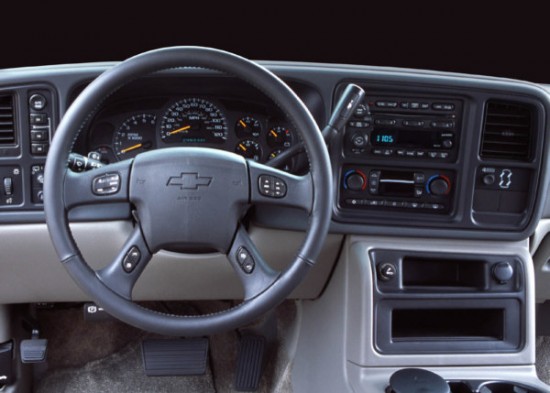 Inside, the Suburban is comfortable, roomy and quiet, with room for up to nine people if you stick with bench seats. Captain's chairs, available on the first and second rows, offer recliner-like comfort, while even the third-row bench offers decent space for three adults. Controls and gauges are just as they should be: easy to operate and read, even at night.
     All in all, it's hard to beat the Suburban when it comes to hauling a lot of people — and their gear, and a boat, and whatever else they wanna bring along — in pure comfort, a far cry from that first panel van.