2003 Audi A4 Cabriolet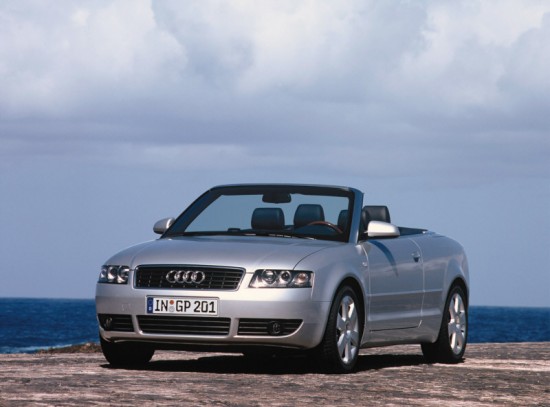 It seems that every automaker wants to be viewed as artistic, producing cars that are more like fine sculpture than mere transportation.
     Most companies, though, fall woefully short, no matter what their flashy advertisements say. Their cars are either virtual carbon copies of everything else on the road, or they stick out like a stripper in Sunday school by using chintzy, over-the-top styling gimmicks.
     One company in particular, Audi, tries to fill this void between automotive camouflage and gaudy "look at me" vehicles by designing elegant, artistic cars that neither stick with convention nor stray far from it. A perfect example is the A4 Cabriolet. It truly is rolling artwork, with graceful lines, classic curves and an air of sophistication that few cars can match, especially at its $41,000 price. It isn't too stuffy or snobby, either, as it injects just the right amount of athleticism in its performance and looks to keep it lively.
     That's not to say it's a sports car. It's definitely not.
     Besides the presence of a back seat, a rather comfortable and roomy one, at that the A4's suspension, steering and weight all could use tweaking for better performance. It's pretty porky with a curb weight of 3,814 pounds, while the suspension and steering both lack the feedback to make it a world-class sports tourer.
     Instead, Audi opted for slightly soft suspension and steering systems that make a compromise between comfort and performance, one that lacks any kind of stellar quality. The A4 is neither a super-smooth highway cruiser nor a thoroughbred corner carver.
     One area in which the A4 chooses to be smooth is its transmission, an astounding gearbox that operates better than any other automatic tranny in the world. Truthfully, gearbox is the wrong word because it has no gears and doesn't shift at all. It's called a continuously variable transmission (CVT), and, as far as I know, is an incredibly complex and advanced piece of machinery either that, or it uses rubber bands, duct tape and an army of gerbils to spin little wheels.
     However it works, it accelerates the A4 effortlessly and quietly, constantly choosing the perfect gear ratio for the circumstances and never shifting like a conventional transmission. If you want to shift it yourself, it offers one of the best "gear" selectors available on an automatic tranny, with quick, precise shifts. No manual transmission is available, which is a disappointment for driving enthusiasts.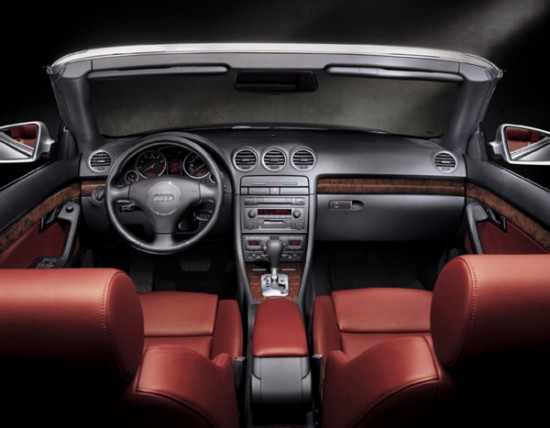 From the driver's seat, the A4 is comfortable, warm and inviting. Rich leather and real wood trim surround the cabin, and Audi's interior construction is the envy of the world with its tight-fitting panels and quality materials. European-style seats are comfortable for anyone, since they can be adjusted any way you choose, and gauges look like the face of a fine Swiss chronograph. Don't expect too much from cup holders, though, since the only one in a convenient spot is suitable just for small cans.
     No review of a cabriolet would be complete without mentioning the convertible top, and in the A4's case, there¹s nothing to complain about. It maintains the roof line without ugly tent-like lines, and it opens and closes with the touch of a button in just 24 seconds, hiding under a hard cover that perfectly blends with the Audi's suave body. It also has a good amount of insulation to keep out wind and road noise.
     All in all, the A4 Cabriolet is a stylish, elegant vehicle that offers some of the world¹s best looks and engineering, even if its suspension is tepid. While other automakers try to look artistic, this Audi is the real deal.