2003 Honda Civic Hybrid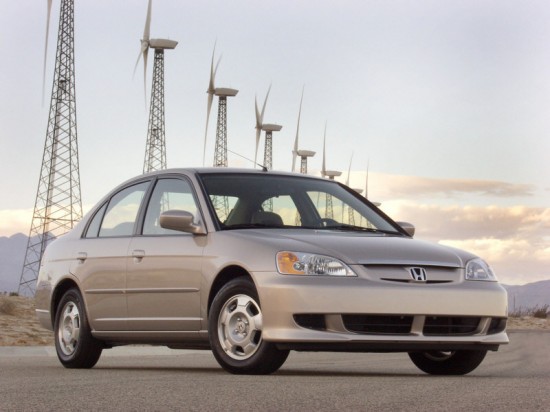 Hybrid vehicles — those that combine gasoline and electric power to get great fuel economy — are nothing new, thanks to the Toyota Prius and Honda Insight that were introduced a couple of years ago.
     Both were revolutionary in a way, but they just weren't "real" cars. They were seen more as billboards for Greenpeace than truly useful transportation, since they were too cramped and funky looking for most Americans.
     Finally, after years of promises and decades of research, a real-world vehicle combines great gas mileage with true usability in a package that — thank goodness — doesn't stick out by screaming, "I'm an environmentalist!"
     And, no, you don't have to plug it in.
     It's the Honda Civic Hybrid, a gas-electric car that has no obvious signs of its environmental activism. Unless you see the little badge on its butt or open the hood, it basically looks like every other boring Civic on the highway, only this one gets well over 50 miles per gallon.
     It works by cramming an electric motor between the engine and transmission and using the electric boost only when necessary, almost like a turbocharger. A tiny 1.5-liter, four-cylinder gas engine makes 85 horsepower, and the motor can kick in another 13 horses to help push the Civic up a hill or away from a stoplight.
     Overall, this hybrid is surprisingly drivable. It has 116 pound-feet of torque on tap when both the gas and electric power flows, which actually provides better performance than one would expect. It easily beat most gas-guzzling SUVs when leaving the aforementioned stoplights, although it never was confused for a sports car.
     Lucky for those of us who like those sports cars, it has the great handling and solid brakes that the Civic is known for, and the only real difference between driving the regular Civic and the hybrid version is that the hybrid's engine shuts off every time it stops.
     The engine stopping can be disconcerting at first — it feels like it stalled or you left the clutch out — but it becomes normal after a couple of days, especially with a reassuring light that blinks to let you know everything is OK. The engine never fails to start again smoothly and quietly as soon as you take your foot off the brake pedal.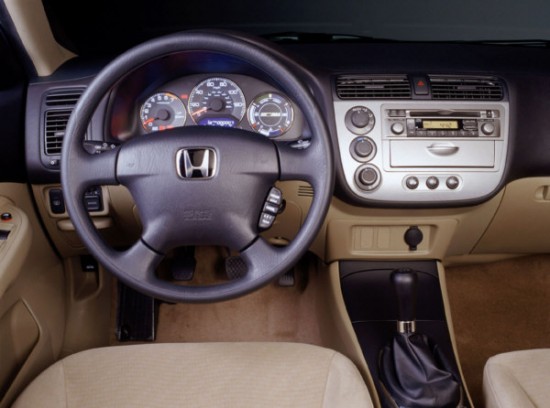 Another difference that sets the hybrid apart from its more mundane brother is a cluster of gauges to monitor the electric motor. Digital lights show how much the motor is assisting you during acceleration, and they reveal how much the batteries are being charged when you decelerate. You don't have to plug it in because the brakes generate electricity to recharge a bank of batteries behind the back seat.
     Those batteries take up very little space, as the Civic Hybrid has a terrific-sized trunk and relatively comfortable back seat. Virtually no usability is sacrificed because of the fancy wizardry, and the front seat is surprisingly livable with great materials and ample space.
     How much is Honda asking for this technological wonder? A hair under $20,000 for one with an automatic transmission, which is a fair price when you consider gas savings and the overall vehicle quality. That's about $4,000 more than a similar Civic without the hybrid technology, but it's worth the extra cash for those who have been waiting for the future to bring miracle cars.
     Well, the future is here, and it looks like a plain ol' Civic.