2003 Mini Cooper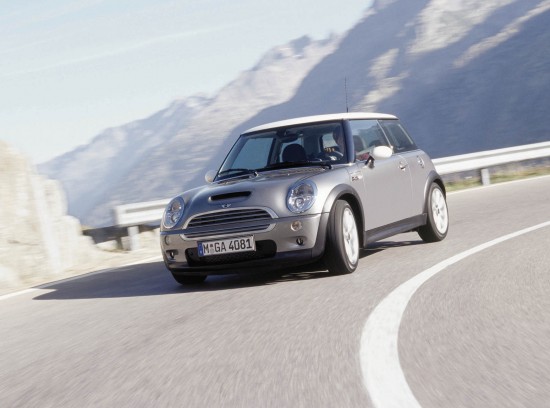 Driving down Highway 259 in rural East Texas, it's hard not to giggle at the juxtaposition of a tiny, cute-looking Mini Cooper on a road chock full of giant SUVs and pickup trucks.
      People in Silverados, Explorers and Tahoes stared at the Mini like it was a four-wheeled space alien as it zipped through traffic in the region's pine forests, an obvious outsider in this very traditional slice of America.
     "That must be a for'n car," said one gawker at a stop along the route, scratching his head and lowering his eyebrows at the sight.
It's a shame that so few people had heard of the Mini, one of the most famous cars in the world as a legendary rally racer, because this retro remake of the original British classic is among the most fun cars for sale in America.
     Made in England by Germany's BMW, there's a lot to like about the new Mini, starting with its unique, whimsical look that drew countless stares during my week behind the wheel. Its clean, other-worldly lines are almost reminiscent of Volkswagen's New Beetle, but the Mini has more of a squatty, boxy, blatantly European look that's designed to recall its famous predecessor.
     While it may look tiny on the outside (after all, it's the shortest car for sale in America), the interior is surprisingly roomy and comfortable, at least in the front seat, where there's enough shoulder, head and knee room for tall adults. The back seat is pretty cramped as expected, and cargo space is a total joke, but the back seat can be folded down to create a useful cavern for luggage and boxes.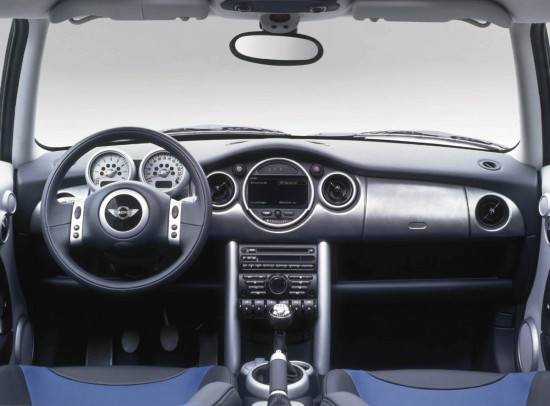 That quirky European style is carried into the cabin as well, as a Frisbee-sized speedometer is mounted in the center of the dash — not behind the steering wheel — and brushed aluminum trim gives it a premium look. An itty-bitty volume knob on the stereo feels cheap, though.
     As much fun as it is to see the Mini stand out in a parking lot full of trucks, driving it is even better, particularly with the higher-performance Cooper S model. A 1.4-liter supercharged four-cylinder engine wrings out 163 horsepower, and mated with a slick six-speed manual transmission it's a recipe for miles of smiles. A 115-horsepower engine comes on the standard Cooper model.
     The new Mini keeps the same front engine, front-wheel-drive layout that was revolutionary on the original and is commonplace today, so it tends to understeer when you enter a corner too fast. That's OK, though, because it's part of the Mini's jolly old charm.
     Body roll is also nearly eliminated on the S model's terrific suspension, which I found thoroughly enjoyable for flinging the lightweight car through tight corners. Other passengers, evidently thinking of driving as a necessity and not a thrill, were less impressed with the stiff ride and would have preferred the base model's softer suspension.
     BMW also claims the Mini is among the safest small cars around thanks to six airbags packed into its compact package, including special head protection for both front and rear passengers.
     As for price, it's a bargain if you can locate one of the handful of Mini dealerships across the country and buy one at sticker. The Cooper model is around $16,000 and Cooper S nearly $20,000, but with extremely short supply and high demand, count on a long wait and higher prices realistically.
     Judging by the number of drivers scraping their jaws off the floorboard after seeing it, it's obvious there's nothing else like the Mini here in the 'States. It combines sports car handling, ingenious packaging and funky styling in a package that impresses equally inside and out — if you can get your hands on one.