2003 Hyundai Elantra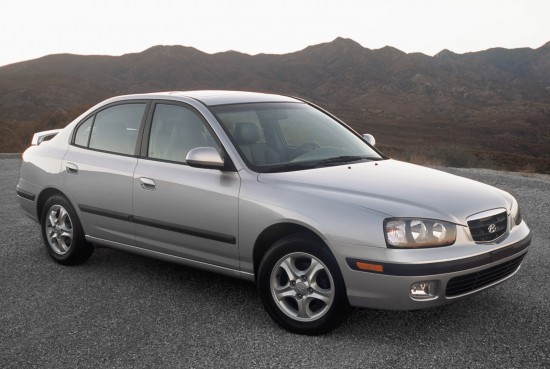 Every car company has a reputation — like Volkswagen's for building economy cars and Mercedes-Benz's for making expensive luxury sedans — but they sometimes stray from the expected.
     Just like VW is producing its $100,000 Phaeton and Mercedes is moving down market with its affordable C-class lineup, so is Hyundai dispelling the notion that its cars are of inferior quality by making impressive models like the Elantra GT.
     With a well-equipped version costing about $14,000, this new, sporty Hyundai looks and feels like cars that cost thousands more. The only difference is the badge.
     Most shocking is the list of standard features for that bargain price: four wheel disc brakes, 15-inch alloy wheels, air conditioning, leather seats, power windows and locks, power heated mirrors, a rear spoiler, fog lamps, and even a CD player. And the styling is splendid, as its European-inspired body looks taut and smooth, certainly classier than one would expect for a mere $14,000.
     The only disappointment comes in its suspension, which Hyundai calls "Euro-tuned" but still lets the car wallow too much to be considered sporty. At the same time, it doesn't soak up bumps well enough to be a good boulevard cruiser, so the ride ends up neither inspiring nor particularly comfortable.
     Other than that, there are few complaints. Performance is better than expected with a 2.0-liter, four-cylinder engine that makes 135 horsepower, enough to easily chirp the Michelins when mated with a five-speed manual transmission.
     That tranny is smooth and precise, with easy gear shifts for both quick acceleration and laid-back motoring around town, while steering is better than in some of the best Japanese sedans. Brakes are among the best in its class.
     But for a family car, comfort is key, and this Hyundai doesn't skimp. While the leather seating surfaces don't exactly feel premium, the rest of the interior materials seem top-notch, and the rattle-free dash on my test vehicle felt tighter than some domestic luxury sedans at twice the Elantra's price. Impressive, indeed.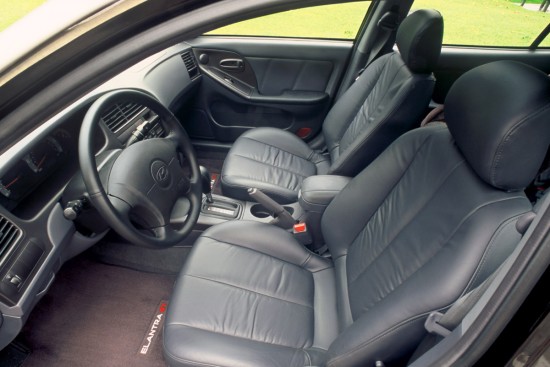 Supportive seats can be adjusted to suit virtually anyone, since they have plenty of front-back travel, and the steering wheel has a tilt function — again, something surprising in such an inexpensive economy car. Cupholders are in the perfect location, and controls are all easy to find and operate.
     The Elantra's lack of wind noise at highway speed was astounding for any economy car, although some road surfaces transmitted plenty of sound through that "Euro-tuned" suspension. The engine was eerily silent at idle, but its grating whine was anything but pleasant near redline.
     But, that lingering question remains: will it be reliable? Hyundai doesn't have a reputation for making long-lasting cars, so it offers an industry-leading 10-year, 100,000-mile warranty to comfort potential buyers. Plus, from the apparent quality of the body panels and interior, Hyundai has made great improvements in the past few years, but only time will tell if the cars are more reliable.
     Overall, though, there are few complaints — especially when considering the great price — on this hot Hyundai. It's fun, comfortable, stylish, and it comes with an incredible warranty.
     This could be the car that changes Hyundai's reputation for the better.