2003 Ford Expedition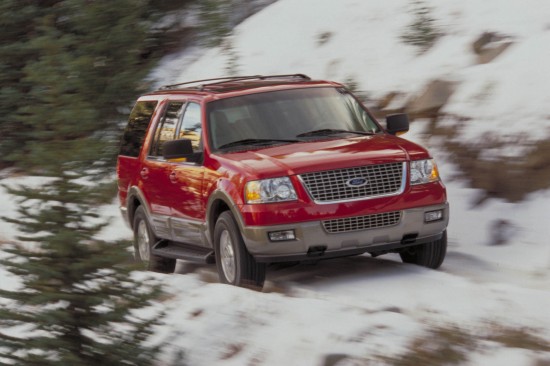 Judging from its slightly revamped exterior, you might think little has changed on the 2003 Ford Expedition.     Thank goodness that's not the case.
     Struggling to keep up with its recently redesigned competitors like the Toyota Sequoia and Chevy Tahoe, Ford knew its full-size SUV had to see major changes to compete in a tightly packed arena. It's less-than-spectacular engine, clumsy handling and cheap looking interior all became handicaps while the rest of the SUV world made giant leaps in refinement.
     Although its engine still doesn't feel as powerful and smooth as the world-class Sequoia and Tahoe, everything else about the Expedition now leads the pack. It has a terrific, high-quality interior that beats everything else in its class, and handling is improved dramatically thanks to an independent rear suspension.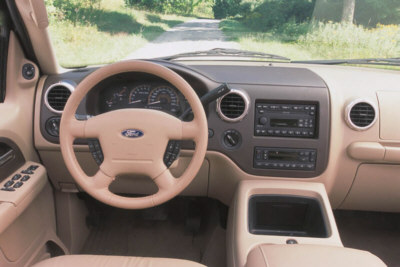 Ford's huge investment in interior design is starting to pay off, as the Expedition's soft materials and improved construction nearly match that of Audi, a company widely regarded as making the best mass-produced car cabins on the planet. It's versatile, comfortable, and almost luxurious while offering the most room for passengers in its class.
     A third-row seat that folds flat into the floor is available with the same optional power-fold operation as the expensive Lincoln Navigator, but I found it unnecessary and frivolous — but cool to watch nonetheless. Other nifty interior features include a fold-down mirror to keep an eye on passengers in the back seat, and storage compartments peppered throughout the cabin.
     For such a large vehicle, the Expedition is surprisingly nimble and controllable, no doubt helped by that new rear suspension. It's the first of its kind on full-size SUVs, and it offers a better road feel and less bounce than previous models while allowing more room for legs and hips in the third-row seat than even the larger Chevy Suburban. Look for other manufacturers to follow Ford's lead in independent suspensions in the coming years.
      It's disappointing that Ford doesn't offer an engine with more grunt than its 5.4-liter Triton V8 — the same powerplant as last year — for people really serious about towing, but most drivers will find it more than adequate for everyday driving. A 4.6-liter engine is available as well.
      One big improvement under the hood is reduced noise, made possible by fancy hydraulic engine mounts and balanced transfer case components. Coupled with reduced road noise, the Expedition is whisper-quiet even at highway speeds.
     Other than the engine choices, my only complaint is the same as other full-size SUVs — it's selfish. It gets horrible gas mileage (13 city, 17 highway), can be difficult to park, and it can be dangerous to smaller vehicles on the road in an accident.
     But, for those lucky enough to be inside the Expedition in a wreck, it's probably among the safest vehicles around. After all, it's the only SUV to get a double five-star rating from the U.S. government's frontal crash tests.
     Some complex technology helps make it safer, including front air bags that deploy with varying force based on the crash severity, seat position, and seat belt usage. Ford also offers a "safety canopy" with side air bags that supposedly help in rollovers and side impacts.
     All in all, there's little not to like about the new Expedition. Added refinement, high-tech safety devices and improved handling mean it can compete with — and in many cases beat — the best from Detroit, Europe and Japan.