2003 HUMMER H2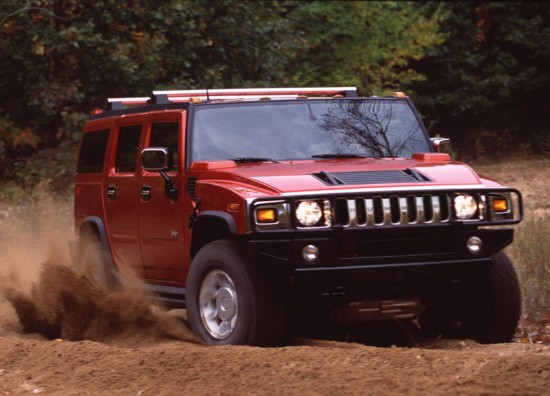 It's hard to imagine a vehicle less practical than the original Hummer.
    Designed for the U.S. military, average families need it like a string bikini on the North Pole. It's completely useless, except to scare evil dictators with its oh-so-aggressive face and go-anywhere capability that make ordinary SUVs look like Tonka trucks.
    But, it does have one thing going for it: an attention-getting shape made popular by movie stars, rap singers, pro football players and anybody else who loves turning heads with a mobile chunk of iron.
    For people who can't afford the original Hummer's stratospheric $110,000 price (and who want a vehicle that actually can be used every day) Hummer has created the H2, a totally new off-road vehicle that shares nothing with the original Humvee except it's looks and appetite for rugged trails.
    At $50,000, it's still a pricey vehicle that strains the necks of passersby, but it has a spacious, amenity-filled interior that puts the H1 to shame. While the H1's cabin was a stripped-down, totally unrefined, uncomfortable space, the H2 can seat six people comfortably with modern features like dual-zone climate control, power seats, and a fancy Bose stereo system.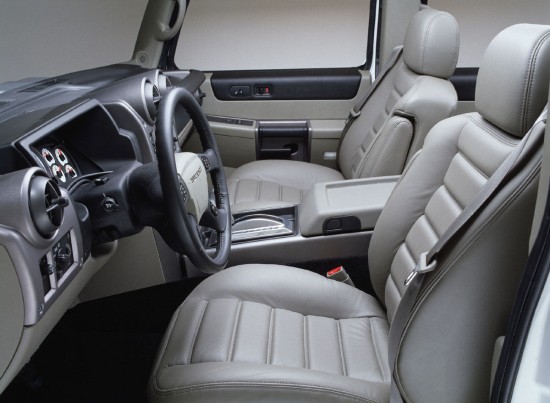 It also has a much quieter cabin and a softer ride than the big Hummer, though many better SUVs are available at its price if you don't do much off-road driving. Plus, it probably has the lowest quality interior materials of any $50,000 vehicle, with cheap-feeling plastic that is styled nicely but feels flimsy and loose when touched.
    If you don't mind expanses of plastic, the H2 is one of the best looking SUVs at any price, as it captures the essence of H1's tough-guy appearance and enormous proportions in a smaller and tidier package. Straight lines, a frightening grille, and industrial-look side panels give it the presence of an armored truck.
    A 6.0-liter, 316-horsepower V8 engine pulls the 6,400-pound beast nicely, allowing for great acceleration around town and decent passing capability on the highway.
    But, H2's mission is to be a competent off-road performer, not just a wannabe designed for on-road comfort. On rough trails or climbing steep hills, it feels among the most competent and controllable vehicles available, especially with an air suspension package that helps in the really tough spots.
    Hummer claims the H2 can climb 16-inch steps, forge 20-inch streams, and paddle through deep sand or run over sandy surfaces in high-speed desert conditions with remarkable ease.
    Will many people do that? Probably not, but it's nice to know the new Hummer is up to the same challenges that made the H1 famous.
    More importantly, H2 represents a big step for Hummer and its partner, General Motors. It shows a trend that brings more affordable interpretations of the legendary Hummer to the masses, which ultimately will result in the compact H3 in a couple of years, expected to be priced around $25,000.
    In short, H2 is the first Hummer for the real world.