2003 Jeep Grand Cherokee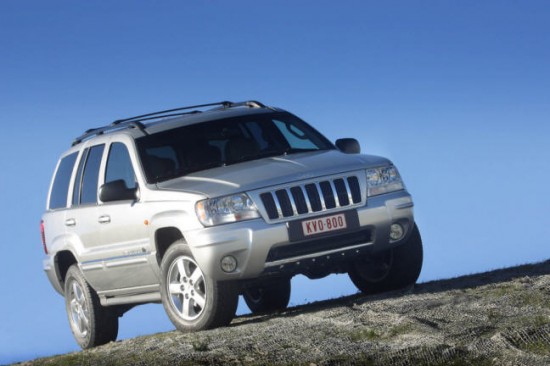 It's easy to make a tough SUV for off-road driving. And it's a piece of cake to make one comfortable like a sedan when it's on pavement.
     But combining mountain-goat capability with the feel of a luxury car — that's hard to do.
     Happily, Jeep gets the combination right in its 2004 Grand Cherokee, a vehicle that feels just as comfortable on trails as it does tooling around town. It has Jeep's legendary off-road pedigree along with a feature-packed, plush cabin with roomy seating for five and a massive cargo area.
     While there are other SUVs that offer a similar combination of luxury and performance — Land Rover comes to mind — none can deliver it at Jeep's relatively affordable price. It starts under $26,000 for the well-equipped Laredo edition and tops out at nearly $40,000 for a loaded Overland model. The Limited version hits middle ground, priced around $31,000.
     No matter which you pick, all can slosh through mud, climb steep inclines, and prowl canyons with ease, but none will rattle your spine when negotiating potholes in the urban jungle.
     Jeep got this perfect balance by sticking with well-proven hardware like solid front and rear axles and thick skid plates packaged under a car like unibody shell that's stiff and quiet. It doesn't rattle and twist over big bumps like some truck-based SUVs, yet its rugged underpinnings and high ground clearance can keep it driving off-road long after lesser SUVs would get stuck.
     Among the Grand Cherokee's biggest changes for 2004 is a new look for the front end. It features Jeep's classic vertical grille, along with a sculpted front fascia that accentuates round fog lamps and makes it look more like its stablemates, the Wrangler, Liberty, and Cherokee.
     Also new this year are reduced-pressure shocks that give it a softer ride. It helps mute the bounciness inherent with a solid-axle suspension.
     It's important to note that for the same price or less, buyers could find better, smoother rides in an SUV. If you don't plan on doing any off-road driving, don't buy the Grand Cherokee.
     But if you do travel off road from time to time — and you want an off-road vehicle you can actually live with every day — few vehicles are better than this big Jeep.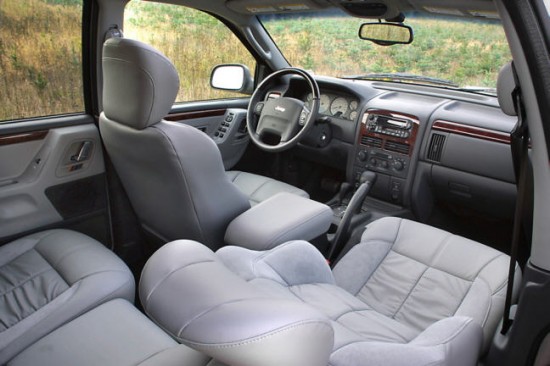 Big is the key word here, as it truly is roomy and comfortable for five adults. A big cargo area in back plus fold-down rear seats make it perfect for hauling cargo, but it's easy to park and has a tight, carlike turning radius, something you can't say about some of the latest monster SUVs.
     Its greatest drawback is probably the lack of a third-row seat, which many families can't live without.
    Grand Cherokee's base engine is a 4.0-liter V6 on the Laredo and Limited editions, both of which can be upgraded to a 4.7-liter V8 that makes 235 horsepower. The top-of-the-line engine is a high-output version of the 4.7-liter V8 that makes a hefty 265 horsepower, which is standard on the Overland model and optional on the Limited.
     No matter which version Grand Cherokee you choose, all come well-equipped for the price. Even the base Laredo edition has a six-way power driver's seat and power everything. Move up to the Limited model and you get things like fancier instrument lighting and the Jeep Memory System that can recall seat, radio, and mirror adjustments for two drivers. High-end models include rain-sensing wipers, heated leather seats, and adjustable pedals.
     Off-road drivers never had it so good.