2003 Mercury Marauder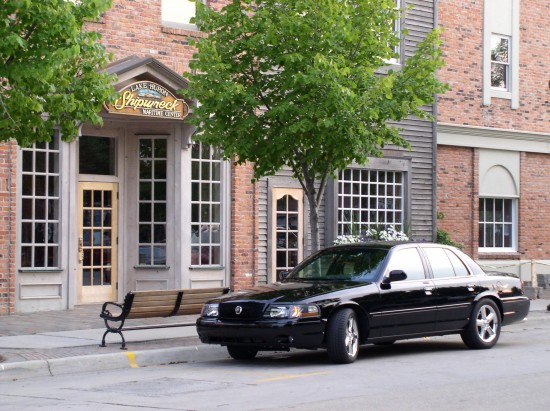 For The Boy Racer In All 60 Year Olds   
     The side of our brain that is based in reality tells us there is probably no need for a hot-rod version of a car whose buyers are all well over the hill and don't drive much faster than 45 mph. But on the other side of our brain, the one that has been completely consumed by horsepower and speed, we think maybe there are enough buyers to create a big-wheeled, high-horsepower full-size domestic sedan. After all, Chevrolet did it in the mid 1990s and found a loyal group of buyers who fell in love with the Corvette powered Impala SS. It's unfortunate, but the SS isn't around today, though Mercury thinks it can make enthusiasts lust after its 2003 Marauder the same way they did for Chevy's long gone Super Sport.      Imagine 212 inches of steel covered in enough black to make Darth Vader feel welcome-or at least Henry Ford. That is essentially the best way to describe just how serious this sedan looks. The only giveaway to what this Merc is packing is the chrome polished 5-spoke 18″ wheels complete with the Mercury God's head centerpiece. And you might also notice the twin 3″ exhaust tips. Certainly if you don't see them you'll hear them because a strong, appropriately throaty, roar emanates once the tach swings past 2,500rpm. Mercury continues the all-business look by blacking out the headlights, grille and back-up lights. The name Marauder only appears on the rear bumper so it takes a true automotive aficionado to distinguish this car as something more desirable than just another black Grand Marquis.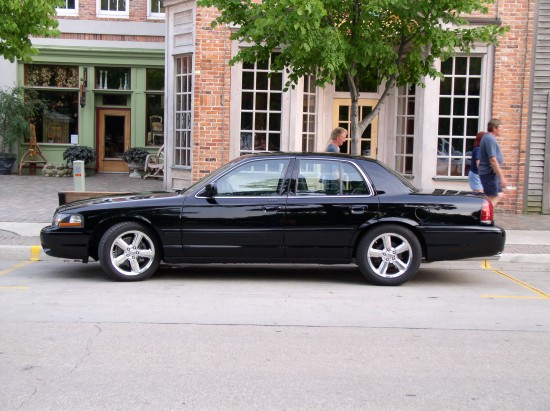 Like the exterior, the interior features little to differentiate it from lesser Mercurys. The most obvious giveaway that this is more than your average geezer-taxi is the two Auto Meter white face gauges displaying oil temperature and voltage. They are mounted low and provide valuable information, not to mention, they look great. Something we like a whole lot less is the dot-matrix interior trim. It is unacceptably cheap looking in a vehicle priced over $35,000. Brushed aluminum, like in Ford's Thunderbird, would look leagues better and add some class to an interior that is overflowing with hard black plastic. Our tester featured a single-disc CD and tape player in the dash and an optional $350 six-disc CD changer mounted in the trunk, although honestly we never used it because it's so inconveniently located. Inconvenient can be used to describe a lot of things when it comes to the Marauder's obviously outdated ergonomics. The driver has to lean well forward and stretch in order to reach the stereo and headlight control because the upper dash angles away. Another annoyance is that the center console is hinged on the side, which means that the passenger won't have easy access to it. Another gripe comes from the interior door handles which are small, mounted in a tight recess, finished in cheap feeling black plastic and as a result, flimsy feeling. Now after that rant you may be thinking that we found nothing to love in the Marauder's cabin but actually our backside fell in love with the cushy, leather seats and as we've said before, the power pedals should be standard in every vehicle. The stereo was also plenty powerful, though reception was lackluster at best and as a result left us listening to CDs most often. Ergonomic issues aside, the Marauder's cabin is a comfortable place to cruise-front seats or back.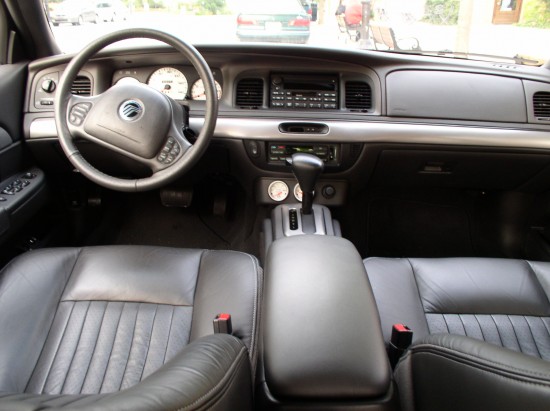 Without something special under the hood, the Marauder would just be a black Grand Marquis with shiny wheels. Luckily for us, there is something fun under that long, flat hood. A 32-valve 4.6-liter V8 propels this 4,200-pound sedan with more authority than any other full-size sedan near this price. Honestly though, its 302hp comes at a high 5,750rpm and the torque peak of 318lb-ft is up past 4,000rpm which makes for poor off the line acceleration. Keep your foot to the floor though and when the tachometer sweeps past 3,500rpm you'll be rewarded with strong midrange performance. Under heavy throttle the four speed automatic kicks off clean shifts-up or down. The Marauder features big discs at all four corners although braking performance was not as strong as we had hoped. Ford also has a problem with brake pedals that are too squishy although we'll give credit where credit is due and be thankful for their linear modulation.
     The Marauder is not for everyone. That was obvious even among the AT staff. I argued that for $34,000 you could get a fully loaded 350Z, put a thousand dollars toward gas and beat the Marauder all day long in every performance category. Senior Editor Muxlow fell head-over-heels for the big, black Mercury and became its staunchest defender. A couple heated arguments turned up several points that were impossible to argue with. He challenged me to try fitting five adults in a Z or garner as much respect from cops and gray haired retirees. He said see how much you can fit in the hatch of the Nissan while he loaded 20.6 cubic feet of stuff in the Marauder's massive trunk. Through a sly grin he said see how many times you visit the chiropractor every week after driving a stiffly sprung 350Z over Michigan's poor excuse for roads. I guess I'm just the type who prefers a sexy, nimble, sports car in which I can shift for myself and spin the tires at will-something the Marauder was sadly, incapable of doing.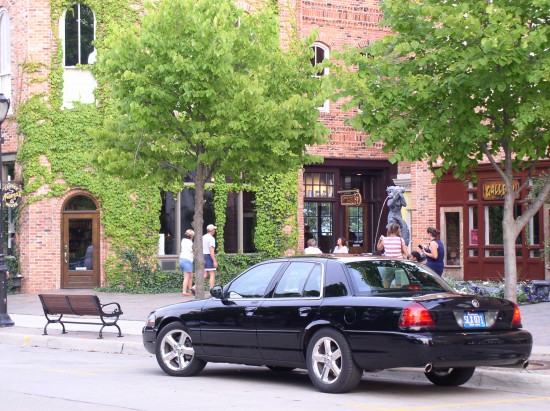 Our black on black test car rang the register to the tune of $35,045. We'll conclude by saying there are plenty of cheaper cars that are quicker, but not many of them have this kind of presence. If a full-size sedan with performance that belies its size and an exhaust note straight out of the 60's is what you want, the Marauder is your car.
The Good:
Serious looks, beautiful wheels, great exhaust music.

 
The Bad:
Underpowered, floaty ride, squishy brake pedal.
 
The Verdict:
Not for everyone, but a blast for those special few.