2003 GMC Yukon XL Denali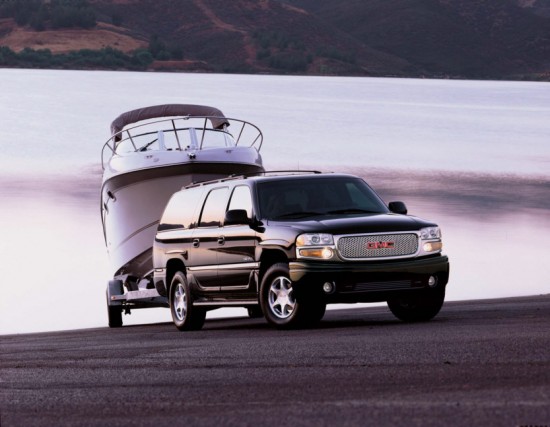 Call it the new American dream machine.
    GMC's Yukon XL Denali is today's pinnacle of American style and luxury, not unlike Detroit's classic family cruisers from the 1950s that were slathered in chrome, decked with tail fins and packed with the latest goodies.
   
While it doesn't have fins on its tail end, it does have sheer size, ample power and innovative technology that make it one of the best — if not the very best — full-size SUV on the planet. Available features like satellite radio, a DVD player, recliner-like leather bucket seats and a rear-seat audio system let you bring all the comfort of a modern living room when you hit the road.
    One of the best options is the digital satellite radio receiver, which lets you get crystal-clear reception on hundreds of channels across the country. It's almost like satellite TV at home, with channel options including news, talk, comedy and virtually every kind of music imaginable.
    The built-in DVD player is another great option for families. Movie sound can be played either through the Yukon's excellent stereo system or through wireless headphones if mom and dad don't want to hear it.
    These comfort features just beg you to take the slow route home — not that you have to. A 6.0-liter V8 engine makes a neck-snapping 320 horsepower and 365 pound-feet of torque, enough to produce downright scary acceleration for a vehicle that weighs nearly three tons.
    There is a downside to all this power and weight, though. It comes at a cost to fuel economy (only 12 mpg in town, 16 on the highway) and the safety of other drivers. Due to its massive size, it's more dangerous for smaller cars in a wreck, meaning passengers in a compact car could possibly be killed because of the Yukon XL's gluttonous proportions.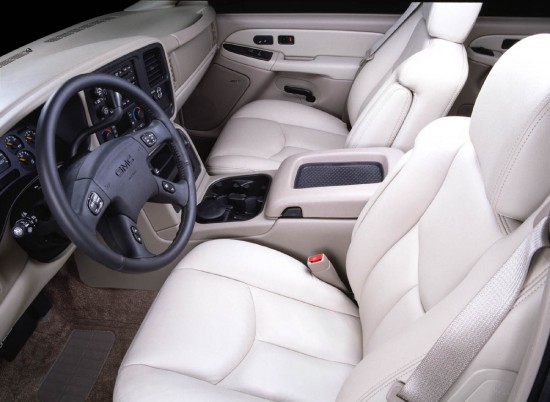 But, for people lucky enough to be inside its cabin, the XL is one of the safest vehicles around. Features include:
    — Third-row seats that angle back for better restraint of large adults.
    — Three-point seat belts in all first- and second-row seat positions.
    — The LATCH (Lower Anchors and Tethers for CHildren) system for child seats.
    It also has an advanced air bag system that senses the weight of the person riding in the front passenger seat (don't worry, though — it can keep a secret.) If the passenger has the weight of a child, the passenger-side air bag is turned off for safety.
    Also new for 2003 is the addition of the StabiliTrak system, previously only available in GM's sports cars and luxury vehicles. Basically, StabiliTrak helps move the vehicle where the driver points it, comparing the driver's intended path with the vehicle's actual path and selectively adjusting engine torque and any of the four brakes to help bring the vehicle under control.
    Other than the inherently selfish nature of such a big vehicle, there's little to complain about in the Yukon XL Denali. It's comfortable, quiet and fast — more than one could reasonably expect from a family hauler.
    That's why it's a dream machine.