2004 Honda Accord Coupe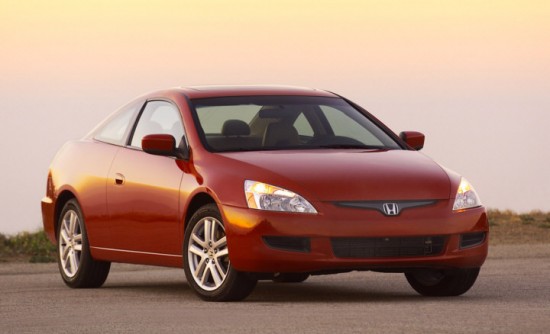 Honda's previous-generation Accord was nearly faultless, as far as four-door cars go.
     It had a quiet ride, magnificent engine, comfortable cabin, and affordable price, so we couldn't find anything to complain about — except, perhaps, that it was a dull, bread-and-butter family sedan. So what could make it better?
     Edginess, that's what.
     The latest Accord is still remarkably sensible and refined, but it adds a little zest to give it a slightly more exciting — and almost sporty — personality. Nowhere is this more apparent than in the two-door Accord coupe with Honda's fabulous V6 engine.
     The coupe version has everything that makes the four-door sedan a winner, like a roomy cabin, nimble handling, and a reputation for reliability. But the two-door design takes the Accord's practicality and wraps it in a sleek, athletic body that looks slightly sportier than the family-friendly sedan.
     Strangely, while the coupe bears a close resemblance to the four-door Accord, it doesn't share a single body panel with it. Instead, the two-door version has a sloping roof, vaguely muscular fenders, a pointy nose, and a surprisingly Mercedes-like rear end.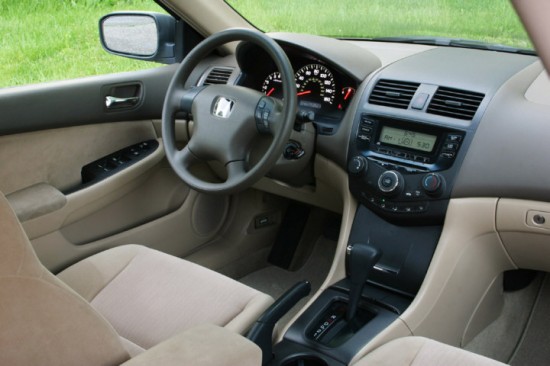 Since the coupe has just two doors, it's obviously less practical than the popular Accord sedan, although its front seats are as comfortable and generous as those in the four-door version. The back seat, however, is fairly difficult to climb into and feels more cramped than that in the sedan, thanks to the curvy body that looks good but limits headroom.
     Thankfully, driving the coupe is just as pleasant as driving the sedan. Even with a four-cylinder engine, the Accord accelerates with gusto and stops with confidence.
     But a 3.0-liter V6 is a better choice, assuming you're willing to pay about $3,000 for it. While pricey, the V6 makes a smooth 240 horsepower and still gets 30 miles per gallon on the highway thanks to its high-tech variable valve timing.
     Honda also offers new standard features for some models, adding to an already long list of amenities.
     XM Satellite Radio is now standard equipment for the EX V6 models ($26,500), and side curtain airbags are available as an option. In addition, an "intelligent" dual-zone climate control system comes free when you buy the Honda navigation system.
     Other Accord coupe versions include the LX ($19,400) and EX ($21,900), both of which come with the four-cylinder engine and five-speed manual transmission. An automatic gearbox is $800 more.
     One of the most impressive options is a voice-recognition system that can control virtually every system in the car, from climate control to the satellite radio. Just say what you want the Accord to do, like, "Passenger side temperature 72 degrees," and the car responds perfectly. It's easy to learn and convenient to use.
     The Accord's only real downside is that it can get rather pricey when you start to add options. Our fully loaded test car, with leather seats, a navigation system, voice recognition, and the V6 engine, cost close to $30,000. A few thousand more would buy an entry-level luxury car.
     Then again, why would anyone want to pay more for a luxury car, other than to impress the Joneses? A well-equipped Accord has everything more expensive cars do, like well-engineered refinement, a relaxing cabin, strapping performance, and a legendary reputation for quality. That's remarkable, no matter how mundane the badge.
     Put simply, the latest Accord is as close to perfection as mass-produced cars have ever been.