2004 Dodge Durango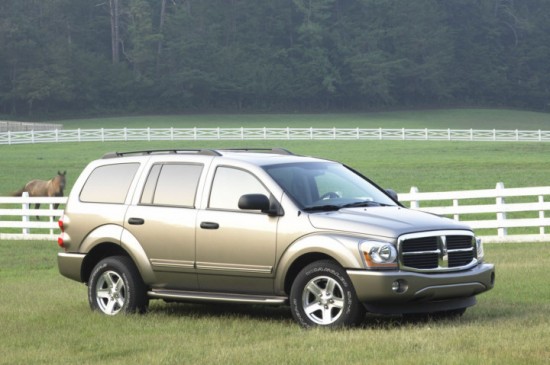 When the Dodge Durango was introduced in 1998, it was perfect for Goldilocks – not too big, not too small.
     With a spacious cabin, rugged performance and valuable third-row seat, the Durango quickly gained a following for its just-right proportions that neatly filled the void between midsize and full-size SUVs. It was a perfect fit – for a while.
     After the new Ford Explorer and Chevy Tahoe both inched closer to the Durango's size, making it look lackluster in comparison, Dodge knew it had to find another niche. So the gurus in Michigan cranked out an all-new Durango for 2004 that's bigger, more powerful, and more polished than the vehicle it replaces in an increasingly crowded SUV market.
     From the inside, the most obvious change to the Durango is its size. It's a full seven inches longer, three inches wider, and three inches taller than the well-worn 2003 model, and that's a welcome addition. Dodge is quick to brag that its new SUV has more cargo room than the Tahoe, Ford Expedition, and Toyota Sequoia.
     While that space is great for the interior, it posed problems for Dodge designers who wanted to maintain the original Durango's basic shape. The new styling is a hit-and-miss effort.
     Keeping and exaggerating the Durango's big-rig front end was a great move, but the rest of the truck is a different and tragic story. It almost looks like somebody jammed a straw into the Durango and blew hard – really hard – to give it the look of an angry puffer fish, or maybe a bloated housecat.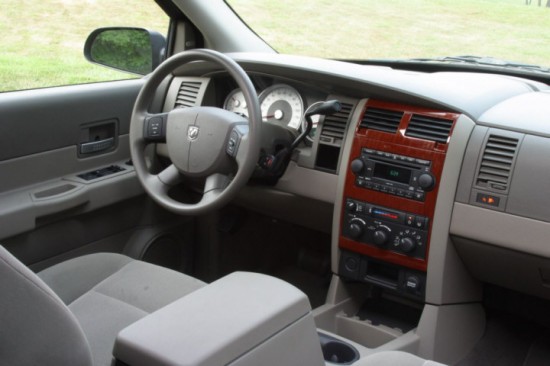 The odd styling conceals impressive flexibility in the cabin, where Dodge's "fold and tumble" third-row seat makes converting the space a simple affair when switching between carrying passengers and hauling cargo. It also offers side curtain air bags for all three rows of seats.
     Not surprisingly, the new Durango boasts significantly more refinement than the old one. Two of the engineers' chief goals for the new SUV were to improve its ride and make it quieter, and they seem to have succeeded on both counts.
     The ride is soft and supple, though still a tad too bouncy, as it tries to imitate the smooth and precise feel of a sedan with the tough capability of a truck, and the combination of guts and refinement is impressive. Similarly, sounds from outside the cabin are pleasingly muffled in most driving conditions – at least for full-size SUVs, which aren't famous for their silence on the highway.
     The most exciting news for current Durango fans is the availability of Dodge's 5.7-liter Hemi engine that makes a thunderous 335 horsepower and 370 pound-feet of torque. A 4.7-liter V-8 and 3.7-liter V-6 also are available.
     None of the engines, however, offer more than a disappointing 16 miles per gallon in town and 21 mpg on the highway – and that's with the little V-6. The Hemi gets a pathetic 13 mpg in town on four-wheel drive models, but Dodge still touts its fuel efficiency as a selling point compared with the pavement-crunching mammoth SUVs.
     Overall, the Durango is a nice compromise between average-size SUVs and those road-hogging American behemoths. Like its predecessor, it offers a combination of size, power and refinement that simply can't be found anywhere else.