2004 Dodge Neon SRT-4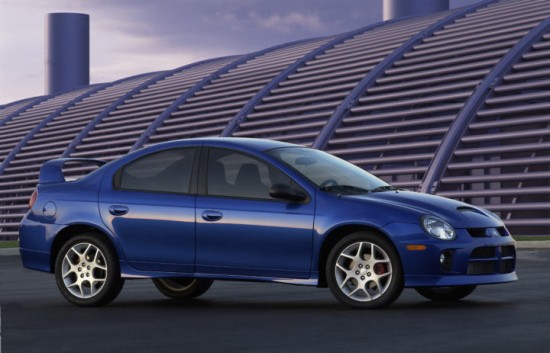 Want to see what happens when you pump near-lethal doses of steroids into a Dodge Neon? Then step inside the SRT-4.
     This 230-horsepower monster is the second fastest vehicle in Dodge's stable as it sprints to 60 mph in a lightning-quick 5.8 seconds. Only the super-expensive Viper is faster.
     And the best part: its sticker price is just shy of $21,000, giving it one of the best dollar-to-performance ratios in the world.
     The secret to such impressive speed is a turbocharged, 2.4-liter, four-cylinder engine that seems to shriek with delight as you press the accelerator pedal. If you have the guts to let it wind all the way up, you'll get a jolt of pure energy as it rockets forward almost like it's being shot from an aircraft carrier, a feeling seldom found in such inexpensive transportation.
     To match its awesome speed, Dodge replaced the oh-so-cute front end of the basic Neon with one that looks more aggressive and powerful. Instead of the regular Neon's happy-smiley look, the SRT-4 has a bulging hood scoop and racecar-like trim that seems to grunt, "I ain't no rental car."
     And if you're a fan of big rear spoilers, you'll love the SRT-4's giant trunk-mounted wing. It'd be right at home on a B-52.
     This hot-rod Dodge is part of a growing class of sport-compact cars designed to impress young speed lovers with muscular performance, wild style, and low price tags. Fed by popular race-culture flicks like "The Fast and The Furious," brisk sales of souped-up imports — most notably the Honda Civic Si, Subaru WRX, and Mitsubishi Evolution — have prodded American automakers to counterattack with racy compact cars. Ford did it with the SVT Focus, but the Dodge SRT-4 appears to be America's best effort yet.
     Assuming you like this Neon's boy-racer styling — many people don't — then its greatest downside has to be its comfort-oriented suspension. No, it's not Cadillac soft, but it's not the raw, rock-hard, ultra-responsive setup on its Japanese competitors like the WRX and Evolution, either. Making the suspension firmer would rattle some people's spines, but it also would make the Neon's handling better match its no-holds-barred acceleration.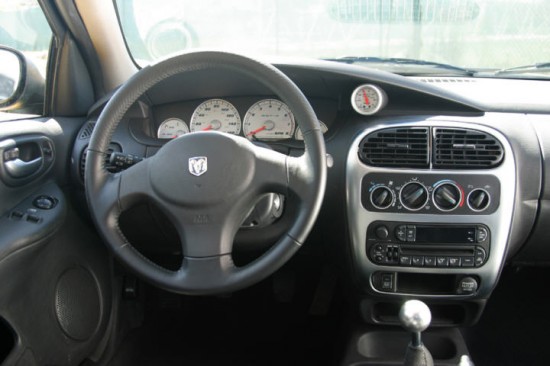 Finally, no matter how fast it is, you ultimately have to realize you're driving a bargain basement Neon.
     While its interior features terrific, supportive bucket seats with massive side bolsters that pin your body in place through turns, materials in some places seem sub-standard. Hard plastics, a few rattles, and cheap-looking knobs constantly remind you that the SRT-4 is an economy car at heart.
     SRT-4 buyers will likely value performance over refinement, though, and that's where Dodge has an edge. Aside from the ferocious engine and lively handling, a six-speed manual transmission provides the kind of driving feedback demanded from high-performance machines. It doesn't have the beautifully short throws of the Honda's shifter or the pleasant notchiness of the WRX, but it can be plenty of fun on winding roads.
     At $21,000, that's a lot of speed — and fun — per dollar.