2004 F-250 Super Duty King Ranch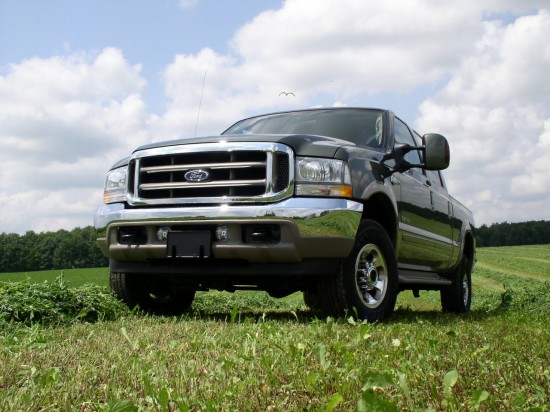 Oh, If Only My Office Chair Had A Hide This Nice
     As you are reading this 2005 Super Dutys are arriving on dealer lots and hitting the roads. However, we got the impression that there were enough diehards out there in favor of the old trucks that we figured we would give 'er a final go round. Not to mention there are plenty of 04's still on the lot ready to be put to work. So keep reading, because this truck is a workaholic and there is always another tree that needs pulled, or a horse trailer needing hauled.
     I like trucks. But not just any trucks, big trucks. Were talking big lumbering hunks of steel with enough torque to upset the earth's rotation. That is exactly the kind of truck we have here. There is nothing small about this hulk. Enter the King Ranch; this particular grade of Super Duty is top-of-the-line for the top-of-the-line-cowboy. Though while reigning as top dog in luxury, this workhorse is not shy when it comes time for chores.
     Starting life as a Lariat, the F-250 SD receives all the right upgrades for those of us farm boys who like their saddles top grade. Exterior modifications are kept simple. A two-tone finish sets this Super Duty apart from the others with an estate green metallic finish and Arizona beige metallic accents. Special King Ranch badges adorn the hull and diamond plate running boards give you a leg up into the saddles. Our Crew Cab 4×4 came equipped with the standard 6.5 foot bed, but the King Ranch edition is available all the way up to the F-350 Crew Cab dually. Under hood lies the 6.0L PowerStroke V8 Turbodiesel. Turn the key and you will swear this engine is pumping regular unleaded by how quiet and easily it comes to life. All right, so there is a still a bit of the familiar diesel rattle, but the engineers on this one have the recipe down pat. Tip into the throttle and there is a huge whoosh of mechanical sound (mostly that of the turbo) announcing full agreement that it is time to move. Speaking of turbos, a buddy of mine was convinced that he could feed a ham sandwich through the impeller because this one was so large. I can't actually vouch for that, but when it isn't busy pureeing miscellaneous food items, it is hard at work squeezing as much extra torque out of the engine as it can. Either way, there is no short order cook under the hood with 560 lbs of twist being put to the pavement accompanied by 325 horses. Without the heft of a load lashed on, standing starts bring wide smiles to your face, as acceleration is quicker than one would expect for a 3-ton pickup, thanks largely to the 5-speed automatic TorqShift transmission. Shifts were smooth and timely keeping the engine right in the power band to match the load without hunting for gears. The tow/haul mode is quite handy as well since Ford claims 90% of Super Duty owners use their rigs to tow.
     Putting this truck down the road does require a little extra attention. Lets just say the Super Duty uses its fair share of the road. The tall sides tend to hide smaller vehicles, like Explorers, while smaller cars tend to disappear altogether behind the tailgate when at a stoplight. Having live axles front and rear leaves the ride a little bouncy, especially with the rear unladen. Throw a 1000 pounds in the back though and it smoothes out quite nicely. Control on the highway is respectable, with plenty of heft in the steering and superb brakes. We were especially impressed with the brakes. Not only were they atypically firm for a Ford product, but strong and linear as well. Expansion joints and frost heaves can cause the truck to skitter sideways, an issue we expect to be addressed with the 2005 model's front control arms and coil springs. Holding the road on smoother pavement wasn't a problem though with Pirelli Scorpion tires wrapping the 16" rims. However, if you plan to do any off-road work pick out a nice set of Goodyears, cause these had trouble finding grip in the hay field.
     As far as interiors go this one has a long way to catch up to the bench marker F-150, but boy do the seats ever make up for lost points. If only my office furniture was covered in this grade of leather. Standard fare for King Ranch edition trucks is Castaño leather. Oh, so buttery soft. One just melts into these seats. Even the steering wheel is wrapped in this sumptuous cowhide. The captains' chairs set you up high for a commanding view of the road. There is interior room aplenty and lots of storage with the front and rear seat center consoles. All in all, this cab is a comfortable place to spend your day.
     Chalk this one up as a winner for heavy haulers. The King Ranch interior rewards driver and passenger while you cruise down the road with your 30-foot cattle trailer or RV effortlessly tailing behind. Though if you don't fancy the premium seats and stylish paint job, there are plenty of other Super Duty models to choose from for your workaholic pickup. And workaholic is a trait you can count on.
The Good:
Diesel has plenty of power, so do the brakes, sumptuous leather appointments.
 
The Bad:
Not the most maneuverable, bouncy road manners, lack of interior styling.
The Verdict:
An excellent heavy hauler that is starting to gray.