2004 Land Rover Discovery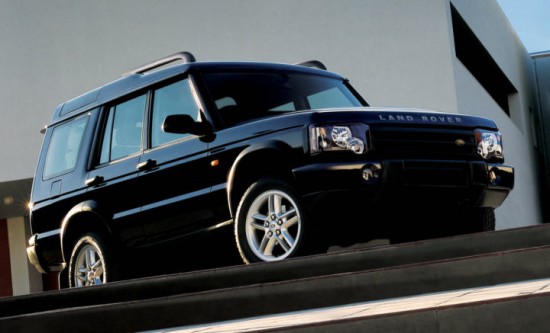 Just mention the words "Land Rover," and you probably think of burly, khaki-clad British men driving through the wildest parts of Africa on a big-game safari.
     So, when I was handed the keys to a Land Rover Discovery for a week, I expected it to drive like the kind of vehicle that could outrun a rhino on the African plain — rough, bouncy, noisy, and fairly unrefined.
     Boy was I wrong.
     Despite having solid axels, a truck-like ladder frame, big off-road tires and a portly three-ton weight, the Discovery drove with the kind of comfort and sophistication that's usually only found in luxury sedans. It was shocking.
     On the busy suburban streets north of Dallas, it was clear that this British brute is very civilized, almost like a professional wrestler who's neatly groomed, dressed in a tuxedo, and blessed with impeccable table manners. It had a quiet cabin, smooth ride, and good performance, allowing only a hint of its brawny capability to show through the luxurious facade.
     But, lest I get the idea that the Discovery is just a wimpy SUV posing as an off-road legend, Land Rover took me to an off-road demonstration area outside its dealership in Frisco, TX.
     Needless to say, the Discovery has the muscle and grit to easily climb steep hills, and its permanent four-wheel drive system takes it places many other SUVs can't reach. It has a two-speed transfer box, locking center differential, electronic traction control, and an automatic hill descent feature, all of which adds up to one mean off-road machine.
     Power comes from a well-proven aluminum V8 that makes 217 horsepower and 300 pound-feet of torque, more than enough to move its 6,000 pounds comfortably. Unfortunately, that also means it chugs gas like frat boys in a Budweiser factory, getting only 12 miles per gallon in town and 16 on the highway.
     Other performance features include a nice five-speed automatic transmission, four-wheel disc brakes, and electronic brakeforce distribution. There's nothing to gripe about here.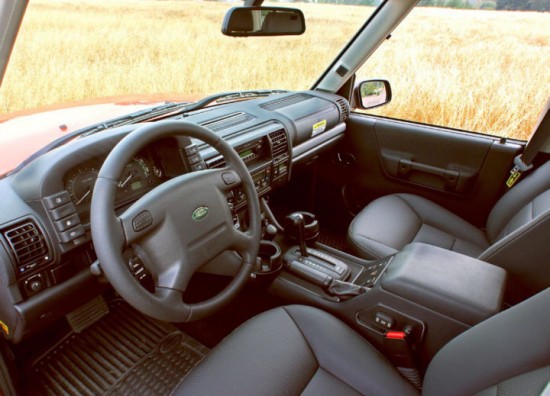 Inside, the Discovery is outfitted like a luxury SUV, yet the cabin's simplicity emphasizes its rugged roots. All models come with keyless entry, a security system, dual-zone automatic climate control, CD player, power front seats, heated power mirrors, a rear window washer/wiper, and cruise control. High-end options include a self-leveling suspension, navigation system, and rear-seat DVD player for the ultimate in off-road luxury.
     On the downside, many of the controls that surround the driver still have a certain British quirkiness about them. While the Japanese have led the world in ergonomics — placing all controls within easy reach and arranging them in a logical fashion for the driver — the Discovery seems to be at least a decade behind the times. It's different, which some people may like and others may find annoying.
     Also, while the front bucket seats are roomy and comfortable, the second-row seats skimp on legroom and force you to enter through an uncomfortably narrow door. An optional third-row seat can be squeezed in if necessary, but it would probably be even more cramped.
     Happily, there's a cavernous cargo area behind the second-row seat that could hold a big pile of camping gear.
     Interior materials look and feel nice, just as they should on a midsize SUV with a starting price around $35,000 for the base model. Prices start around $39,000 and $41,000 respectively for the fancier "SE" and "HSE" models, which isn't too much to pay for a vehicle with serious off-road credentials, heaps of luxury, and the cachet of the Land Rover name.
     Best of all, the Discovery looks exactly like a Land Rover should. It has a rugged looking, squared-off body that seems like it was designed by the same guy who brought us the Kleenex box, the Acme brick, and the boxy microwave oven.
     And that's perfect if you like to imagine yourself driving through Africa with a khaki wardrobe and a posh British accent shouting, "Cheerio, old boy!"