2004 Volkswagen R32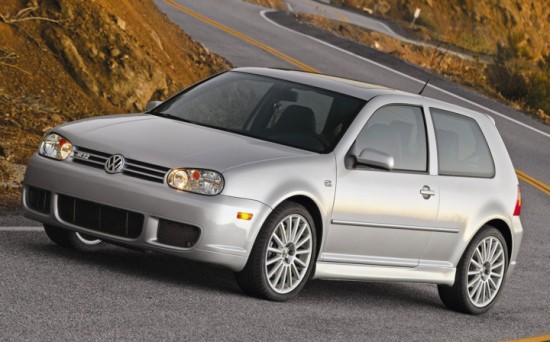 Volkswagen executives must have looked at the Subaru WRX and Mitsubishi Evolution before coming to a conclusion: "We want one of those!"
     And who can blame 'em? The WRX and Evo are two of the hottest cars on the road, with frighteningly powerful engines, grippy all-wheel drive, and suspensions that make them corner like slot cars.
     To match those Japanese hot rods, Volkswagen started with the tried-and-true Golf body and added enough performance upgrades to make it feel more like a racecar than a commuter vehicle. In fact, there were so many changes that VW decided to drop the Golf name and call it the R32 — R as in racing, and 32 as in a big, 3.2-liter V6 under the hood. More on that later.
     Unlike the competition from Subaru and Mitsubishi, though, the R32 doesn't resort to cheesy styling gimmicks like exaggerated hood scoops and monster spoilers that loom over the trunk. Instead, it relies on very subtle aerodynamic changes to improve downforce and engine cooling efficiency.
     Volkswagen says the R32 was freshly designed, but the basic Golf shape is obvious. It only has different bumpers, a larger grille opening, different side skirts, a small rear spoiler, and darkened taillights. The biggest and best-looking change is that of dual exhaust pipes in back.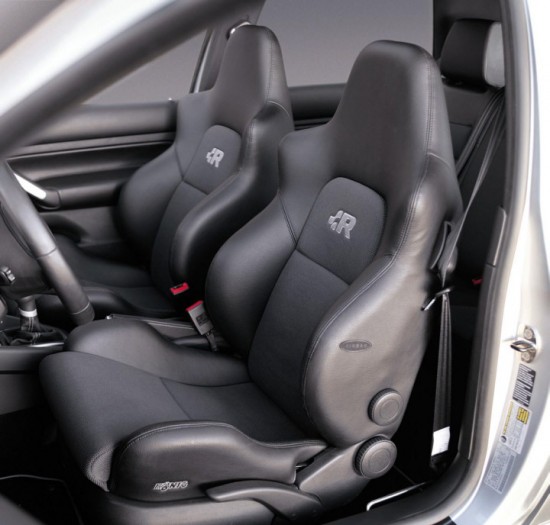 Inside, the R32 uses high-back bucket seats with supportive side bolsters designed to hold you in place in high-speed corners. It also comes with alloy pedals, a leather shift knob, redesigned instrument cluster, three-spoke steering wheel, and plenty of badges to remind you what car you're driving.
     Despite the striking family resemblance to the Golf, the R32 is no economy car — not even close.
     To start with, this lightweight body has a monster powerplant. Volkswagen took a high-output version of its six-cylinder VR6 engine and squeezed it into the little R32, giving it a ridiculous 240 horsepower and 236 pound-feet of torque. It's enough to reach 60 miles per hour in a neck-snapping 6.2 seconds.
     Next, VW added its all-wheel-drive system called 4Motion. Not only does it help when the roads are slick, but it also gives the car very neutral and predictable handling at the limit.
     Finally, engineers re-worked the Golf's aging rear suspension into a fully independent design, one that allows a crisp, precise feel without riding too harsh over bumps. Throw in a six-speed manual transmission, and you've got one radical Golf.
     So how does it drive? I've never ridden on a rocket, but I bet it feels something like this crazy Volkswagen.
     Acceleration is phenomenal. Stomp on the gas in any gear, and the R32 surges ahead with confidence. It has the kind of speed and agility that make you want to zip through traffic and race from every stoplight.
     Better yet, it has the kind of real-world drivability that both the Mitsubishi and Subaru lack. While both those cars have rock-hard suspensions that can rattle your spine, the VW's ride is surprisingly supple for such a race-tuned suspension. It corners beautifully, but it doesn't make you pay for it with trips to the chiropractor.
     Assuming you can live with the inherent comfort issues in a high-performance compact car, there are only a couple of downsides.
     First, it doesn't stand out. While VW's designers should be applauded for avoiding the outlandish boy-racer look that plagues many sport-compact cars, they nevertheless should have done something to improve the Golf's boring hatchback shape.
     And finally, the R32's $29,100 starting price is too high. Sure, it's amazingly fast, but VW demanding that much cash for a souped-up Golf seems just plain arrogant, especially considering the basic Golf starts under $16,000.
     That said, the R32 is an impressive machine. It shows that Volkswagen can compete head-to-head with the headline-grabbing screamers from Japan, meeting — and in some cases even exceeding — their lofty performance standards.