2004 Nissan Quest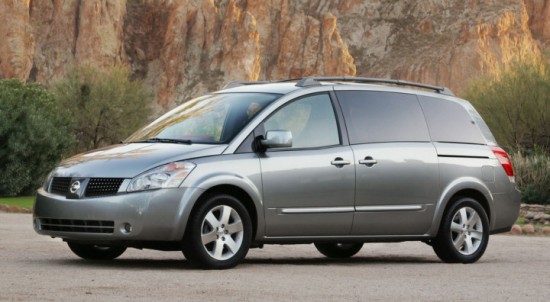 Let's face it. Minivans have gotten a bad rap.
     Despite their undeniable practicality and family-friendly features, it's just not chic to drive one because they're seen as mind numbingly boring. And ugly. And slow. And soccer-momish.
     Okay, you get the picture.
     Nissan hopes to change this perception with the completely redesigned 2004 Quest, a peculiar-looking minivan that aims to be both funky and functional. It has everything you'd expect in a minivan — a spacious cabin, car-like handling, and oodles of storage bins — but it avoids the stigma of being a box on wheels.
     The Quest is about style more than anything else, but its look is difficult to describe. With a sloping roofline and aggressive nose, its profile is nothing like the squared-off appearance of most minivans and certainly not beefy enough to be taken seriously as an SUV. It's too tall to be a wagon, so we just have to settle on calling it a really weird-looking minivan.
     But the odd look doesn't stop with the body. Step inside the roomy cabin and you'll find an interior that's almost alien in appearance with otherworldly trim, a center-mounted instrument pod, and a gear shifter right smack on the dash. Heck, you can even opt for orange seats to complete the bizarre look.
     This Captain Kirk styling almost drowns out the other fabulous features in the minivan, like storage spaces packed into every nook and cranny available. It has grocery bag hooks, a generous spattering of cup holders, storage pockets behind the seats, and little plastic cubbies hiding all over the cabin. There's even a storage bin directly in front of the driver where gauges normally go.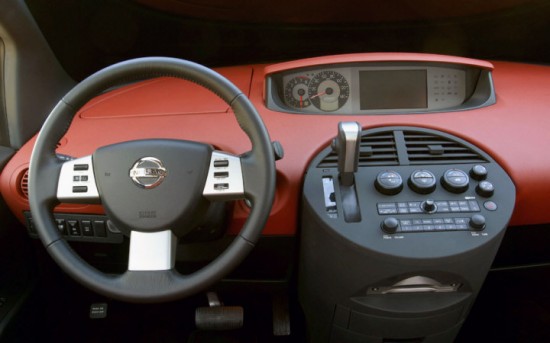 Instead of putting the speedometer and other instruments right in front of the driver's seat, Nissan chose to move them to the center of the dash to give it a Cyclops look that adds to the interior's nuttiness. The decision wasn't the result of a delirious Japanese engineer — though it may seem that way at first — because, once you get used to the new location, it actually provides better visibility of the horizon due to its high position.
     In addition to their white-bread blandness, there's one other belief about minivans that the Quest wants to fix: that they're slow.
     Rather than drop in a puny four-cylinder engine that wheezes and gasps as it pulls the minivan around town, Nissan picked a powerful 3.5-liter V6 as the standard engine. It makes a healthy 240 horsepower, more than enough for spirited acceleration from stoplights.
     Even better than the Quest's acceleration, though, is its terrific ride. Based on the popular Maxima sedan and Murano SUV, the minivan's fully independent suspension feels crisp and supple as it provides a very controllable and precise sense for the driver, one that's neither too soft and bouncy nor too rough over bumps.
     Overall, the Quest's practicality and performance are impressive, but we're not so sure what to think of its styling. Nissan designers call it an "urban loft" look, but it's probably better described as "Marvin the Martian" — modern and clean, but like nothing else on the road.
     If you want a van that looks like it was actually made by Earthlings, then stick with the bland boxes from Chrysler, Dodge, Toyota and Honda. But if originality is your thing, then the Quest is a welcome breath of fresh air.