2005 Audi A4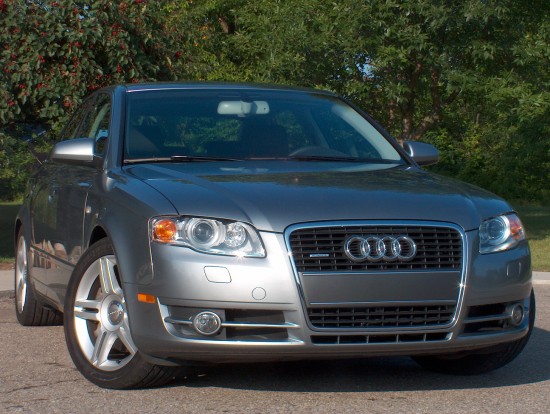 It's generally not an ideal practice for any party when a journalist's first exposure to a new vehicle is a drive in the hot-rodded, top-of-the-line model, because all of the lesser models will appear, well, lesser. Yet, this is exactly the scenario we found ourselves in with regards to Audi's extensively revised A4 lineup. Our first test car was a fully optioned S4 with a sticker north of $55k. As you might expect, we used adjectives like, "hot" "gorgeous" and "astounding" to describe its V8, 18" rubber, and Recaro seats. So it surprised us as much as it will you, to report that those same praises kept creeping into our conversations during our week with the "base" A4 2.0T. It might have been the slick 6-speed, or the stunning Quartz Gray Metallic sheetmetal. Whatever it was, we liked it. A lot.
     The primary difference between the S4 and the A4 is time. That is, the time it takes to get to any given speed. That's because in place of the S4's thumping V8 sits a miniscule 2.0-liter turbocharged I4. This engine is spreading like wildfire throughout the Volkswagen and Audi range, and we say the more the merrier. It puts out 100hp per liter for an even 200hp and 207 lb-ft of torque. That's a lot of squirt and FSI direct injection ensures the power is smooth and accessible. The silky four revs easily and returns a respectable 22mpg in the city and 31mpg on the highway. The obscure downside to the high-compression FSI engine is that it burns liquid gold—oops—we meant premium unleaded. In any case, it's one of our favorite new engines.
     Our tester forgoes the optional Tiptronic automatic for the do-it-yourself 6-speed, and that's just fine with us. The shifter feels great in your palm and makes rowing through the gears an effortless affair. Mostly that's due to the light, well-oiled feel of the transmission. The enthusiasts on staff might carp for a more mechanical, connected feel, but we understand this is an entry-level luxury car. Shifts can be made quickly thanks to good clutch take-up, but the clutch pedal goes a little too soft and a little too springy for our tastes. Even so, we never missed a gear and for everyday use the A4's transmission is a delight.
     Audi's legendary quattro all-wheel drive is another of the A4's satisfactions. The permanent system uses a collection of mechanical and electronic components to make traction issues a thing of the past. A TORSEN center differential can vary power between front and rear axles and Electronic Differential Locks do the rest. All you need to know is the power is headed to where the traction is, and that's a good thing.
     Steering feel is about right for this type of car. Turn-in is reasonably sharp with only a little slop on-center. The trademark Audi-heft is present and accounted for. The suspension is typical Audi; double wishbones up front, trapezoidal link out back, with anti-roll bars at both ends. That means you get the patented "tuned for the Autobahn" feel that we love so much about VW and Audi products. The chassis feels buttoned down and confident at every speed. The downside to such a composed nature is that you always think you're doing 55mph when you're really doing 85mph. The only negative result: cops don't care what you think you were doing.
     As we've stated, getting up to speed in the A4 is not a problem, and we're happy to report neither is stopping. All A4's come with ABS and Electronic Brake Pressure Distribution and automatic brake disc wiping to keep the discs dry in rainy conditions. The pedal is natural and modulation is linear, which helps build confidence in a system that deserves it. As part of a Sport Package our car wore 17" cast alloy wheels and all-season tires. Coming from a company that usually has great wheel designs, these were a disappointment.
     Our opinion that Audi can do no wrong in the interior business gets stronger every time we spend some quality time in one. As expected, the materials are class leading, the design is as straightforward as it is appealing and the ergonomics are terrific, particularly in the absence of MMI. Our interior was finished with Ebony leather and the standard aluminum trim, which we actually prefer to the optional wood or the brushed-metal look in the much more expensive S4. Front, side, and curtain airbags are part of the impressive standard safety features list. Included in the A4's $29,450 base price is a leather wrapped sport steering wheel, heated side mirrors, and an Audi Symphony 6-disc in-dash CD player. Our heavily optioned car included a $2,100 Premium Package with a sunroof, leather seats, and power passenger seat, among other things. A $1,425 Lighting Package packs on such goodies as bi-xenon headlights, memory seat, and adaptive front lighting. An extra grand upgrades the audio to a BOSE premium sound system with XM radio. If you like powerful audio systems, this one will please. Cold weather and Sport packages along with headlight washers and metallic paint rounded out the options list. The final tally stands at $36,795 for a well-equipped example that still ended up about $18k cheaper than the S4 and comes with the same 4-year or 50,000 mile warranty.
     We let the cat out of the bag in the first paragraph by telling you we liked this one a lot. It's a good example of disproving the notion that spending more always gets you a better car. Sure, the S4 has great seats and the V8's torque is a fun pool to dip into, but winding the turbo four out isn't exactly torturous. Throw in a $18,000 advantage and you've got one sweet sedan.
The Good:
Taut design, quality interior materials, fantastic turbo I4, all-weather ready.
 
The Bad:
Generic wheel design, over-springy clutch.
 
The Verdict:
Smooth and satisfying, the A4 deserves to be on your short-list.