2005 Kia Sportage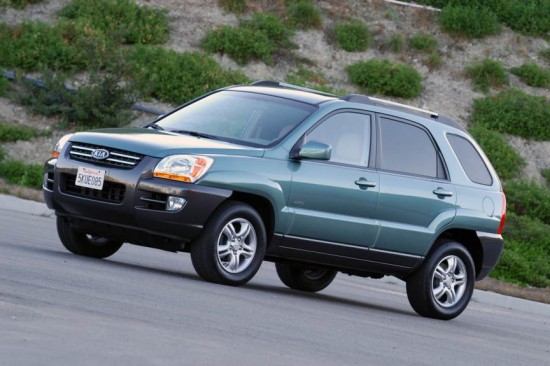 When you test drive a new car every week, sometimes you set yourself up for heartbreak — like when you trade the keys to a Porsche for the keys to a cheap economy car.
     That hurts.
     I expected one of those major letdowns when I switched from driving an Acura MDX to testing a Kia Sportage recently. The Acura was a solid, well-engineered luxury SUV with a smooth ride and coffin-like silence at highway speeds.
     In comparison, I expected the Kia to be a piece of … well, let's just say "little Kia SUV" doesn't get too many people excited about commuting two hours every day.
     Once I actually drove the Sportage, though, I was totally amazed by it. Not only did it feel nearly as solid and well-built as the expensive Acura, I'd swear it was just as quiet on the highway — or at least close enough that my poor ears couldn't tell the difference.
     It's so different from the previous Sportage that it probably shouldn't even share the same name.
     While the old Sportage rode on a ladder frame like a truck — a kind of frame that allows the body to flex and twist and make all kinds of awful noise — the new Sportage is based on a unibody car platform that feels like it was carved from a block of basalt.
     It's so remarkably solid, so resistant to road vibration, that it could have passed for a hyper-expensive European luxury car 10 years ago. It's a wonderful platform that makes the Sportage feel like a more expensive SUV, and it makes other small SUVs seem like they're made of Jello.
     The new body, of course, has a new look on the outside, too. I think it looks fantastic, much like a smaller version of luxury SUVs like the Lexus RX models and the aforementioned Acura, with a clean, simple, elegant shape that's devoid of ugly styling gimmicks.
     There's no cheesy plastic trim, no funky angles that cater to the MTV crowd, and no pointless spoiler attached to the back. It doesn't need those things to look nice.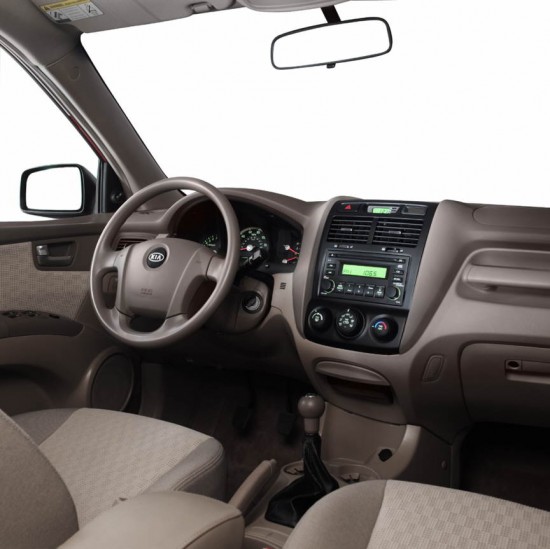 The Sportage also looks upscale on the inside, where improved materials are a step up from the tacky hard plastic on the old model. There are still a few bits and pieces that obviously look cheap, just like on all low-priced SUVs, but the overall quality is actually nicer than you'd expect.
     I can't vouch for the quality of Kia's four-cylinder engine because my test model came with the V6, but I'm betting the little 2.0-liter engine would feel slightly sluggish under the SUVs weight.
     The base engine makes 140 horsepower and is available starting at $15,900 with a manual transmission and no air conditioning. Add A/C and an automatic tranny, and the cost rises to $17,500. The V6 with A/C and automatic transmission is $18,500.
     If you can afford $20,000-$25,000, you can actually make the Sportage a very nice near-luxury SUV. Features like an MP3 stereo, power sunroof, leather seats, heated mirrors and keyless entry make it nearly as comfortable and luxurious as SUVs that cost twice as much, assuming you can live with the Sportage's smaller size and low-end badge.
     In fact, this SUV's biggest drawback may be the name on the hood. Kia's quality has improved dramatically in recent years, but the company still suffers from its earlier reputation for making cheap cars that don't last very long.
     The Sportage feels like it's well-engineered and well-built — just as well as some much more expensive vehicles — making the brand name irrelevant except for cachet, or its lack thereof. To show its confidence, Kia offers an excellent warranty that covers the vehicle for five years (60,000 miles) and the powertrain for 10 years (100,000 miles).
     If all their vehicles are headed in this direction, nobody should expect to be disappointed when they drive off in a Kia.