2005 Audi A6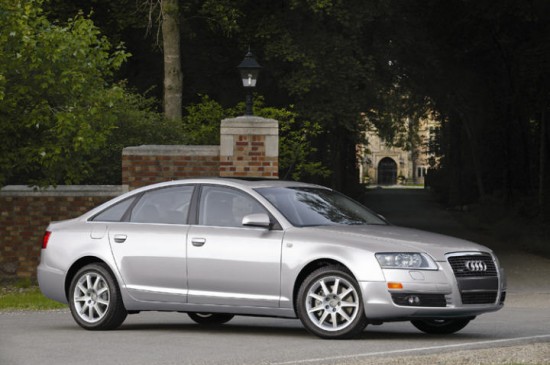 When A6 Is Enough
    On your personal list of vehicles most in need of a redesign, the 2004 Audi A6 was probably not in the top five, or even the top ten—actually, it likely wasn't on the list at all. That's because despite being introduced for the 1998 model year, the last generation A6 remains as elegant as ever. But Audi is in the process of revising the entire lineup from top to bottom and, as such, the A6 is all new for 2005.
     Now Audi is known for several things. Among these are the legendary quattro all-wheel drive system, its contemporary styling, and its high-quality interiors. To that list we can now add industry leader in powertrain advances. We say that because our A6 test car came equipped not with the 335hp 4.2-liter V8, but with the 3.1-liter V6 outfitted with Audi's direct injection FSI technology for its first application in North America. The result? We never once craved the eight-cylinder. But we'll get into those details a bit later. Right now the question on everyone's mind is simple: "Is it as gorgeous as the last A6?"
     The answer to that question depends largely on your own definition of gorgeous and your willingness to admit that anything could better the previous generation's spot-on sheetmetal. We'll say in regards to the new Barbara Streisand corporate nose that doomsayers have far exaggerated its ugliness. Admittedly, in pictures it has a tendency to look overhung and tacked on. Nevertheless, we can say with straight faces that when walking around the car it looks natural—powerful even. As for the rest of the car, the typical Audi elegance is present and accounted for. From the beautifully detailed headlights, to the chrome strip outlining the greenhouse, every aspect remains understated yet eye-catching. You'll still find new details on this car six months after buying it. If anything, the dissenters should be harping about the A6's tail where the brake lights are, at best, uninspired.
     We're happy to report, as we hinted earlier, that Audi's engineers were anything but uninspired when crafting the 3.1-liter V6. This high-tech mill features all the latest advancements including a variable intake manifold and infinitely adjustable camshafts for strong low-end torque and high-rpm power, depending on what the driver is calling for. The all-aluminum 24-valve engine can operate up to 7,200rpm but the peak of 255hp is reached at 6,500rpm and 243lb-ft of torque at 3,250rpm.
     At this point you probably want to know what FSI is and why it's so good. FSI stands for Fuel Straight Injection and, as the name indicates, fuel is injected straight into the cylinder at extremely high pressure (up to 1,600psi) right before compression. Because the new system allows for precise injection within thousandths of a second, Audi can literally make every drop of fuel count. This provides for far more efficient combustion, increasing power output and decreasing fuel consumption. Incidentally, the 3.2 is rated at 19 city/26 highway mpg.
     That's the technical side of things. It all means that this is a wonderful V6 that never suffers from lulls in the power delivery, it's just silky smooth to the redline and it makes fine sounds all the way there.
     The Tiptronic six-speed automatic also came up for praise. In D the shifts are almost imperceptible, slide the lever to S and the shifts firm up a bit, mostly because they are being made at higher rpm. The Tiptronic function works as advertised but we were satisfied with the performance garnered by leaving it in Sport mode so we didn't shift for ourselves very often—this is a luxury car anyway.
     Despite powerful brakes, the pedal itself is overly sensitive and until you've had a day or two behind the wheel the brakes are a bit grabby. A slightly firmer pedal would be a welcome improvement. Similarly, like most Audis, the steering has about zero feel. It's not that it's too light; it's just numb everywhere. Most luxury car buyers will like that solid, well-oiled feel but the enthusiast writing this review would like to feel just a little bit of the road in his fingertips. Perhaps the optional Sport Package would help, but since our car didn't have it we made due with 17" alloy wheels and all-season rubber. Another area in need of some refinement is the programming of the throttle tip-in. It seems like all or nothing in the first half-inch of pedal travel. Audi should know stately elegance requires a smooth throttle. When city traffic turns passengers into bobble-head dolls, nobody is happy.
     However, it's quite possible that passengers in the new A6 couldn't care less about looking like a plastic souvenir. That's because any seat in the new A6 is a truly comfortable place to be. As you would expect from Audi, the fit and finish and material quality are superb—dare I say unmatchable in this price range. The beige interior with light wood accents made for a particularly upscale appearance in our tester. The gauges are beautiful to look at and highly legible day or night. The steering wheel is remarkably free of clutter thanks to two scroll wheels that handle most features. The A6 has an electronic parking brake located next to the gearshift. Also in the area are the controls to Audi's MMI system. The system primarily uses a rotating knob and four buttons correlating to whatever appears in the four corners of the 7-inch screen. In addition to that there are several more buttons to put you directly into that specified menu (Nav, CD, Radio, etc.). There is also a handy Return button that cycles you backwards out of each menu so if you end up in a submenu you didn't mean to enter, a quick button push puts you back where you intended to be. It sounds complicated, but as these systems go, we found ourselves adapting remarkably quickly. At any rate, the screen is bright and colorful and well placed to minimize eye time away from the road. We were, however, happy with Audi's choice to let traditional buttons handle the climate controls.
     We need to mention the Bose Premium Sound System, which is part of the $3,000 Premium Package. It is simply among the best sound systems in production with strong, punchy bass, and highs that never distort. Unless you never leave your favorite AM station, do your ears a favor and enjoy the sound this ten-speaker system can produce. Ordering the aforementioned Premium Package also nets you a sunroof, powerful Bi-Xenon Adaptive (they turn in corners) headlights and genuine wood trim. Frequent travelers will also want the excellent and incredibly detailed $1,500 DVD navigation system. The $900 Cold Weather Package adds heated front and rear seats, headlight washers and a ski sack. Our car also had a Convenience Package for an extra grand. Those options tack onto the 3.2's base price of $40,900 to bring the as-tested total to $48,770.
     It's not often we say $49k represents an exceptional value, but it applies here. It's also not often that a V6 performs so strongly that the thought of paying thousands more for a V8 seems silly—but that too, applies here. Put simply, the A6 is a world-class luxury car with few peers.
The Good:
Powerful V6, all-wheel drive, tons o' technology, lots o' luxury.
 
The Bad:
Soft brake pedal, numb steering, overly sensitive throttle tip-in.
 
The Verdict:
So good that Audi will have only one problem: selling the V8 model.
Photos courtesy of Audi