2005 Cadillac CTS-V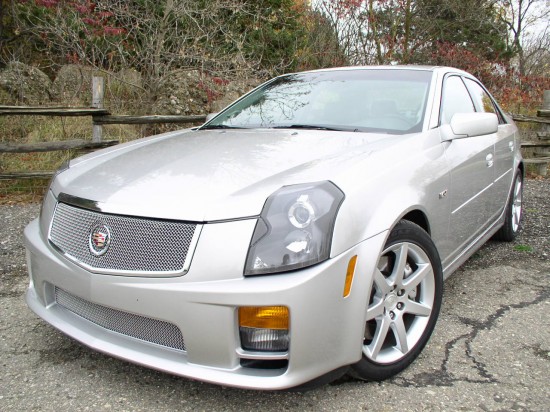 American Muscle With German Training

    Excitement builds as I clamber up the hill to the CTS-V parked on the crest. So docile this Caddy looks, resting on muscular haunches, flanks gleaming in the autumn afternoon sun. My pulse quickens as I stretch out my hand to the driver's door. Heart racing I slide into the seat and twist the key, the LS6 V8 wakes from its slumber. A deep mellow pulse reverberates from the tailpipes. Buckle up; it's time to ride!
     Is your heart rate up? Good, maybe we can burn off some of those well-earned pounds from that o' so tasty Christmas ham. Let's start it off with a jog through the numbers. Powering this 3850 lb 4-door sport sedan is the 400 horsepower 5.7L V8 LS6 from the former Corvette Z06. A Tremec T56 twists all that power and 395 pounds of torque to the rear wheels via a limited slip rear axle packing a 3.73:1 final drive. GM claims a 4.6 second sprint to 60, but be prepared to endure some severe axel hop. Our best run was just under 5 seconds with a "little" bit of drama from the aft quarters. Brembo brakes bring the V to a halt with 14" front and 14.4" rear rotors and 4 piston calipers all around. Rolling stock grows to 18" with 7-spoke aluminum wheels wrapped in a set of run-flat performance Goodyears. Stabilizer bars increase to 26.6-mm front and 21-mm in the rear for flatter corning while spring rates are up by 27 percent over the standard CTS. Rounding it all off is a dual exhaust system comprised of 2.5" diameter stainless steel pipes with bright Investment cast stainless steal tips.
     That all sounds really nice and intimidating, but what is the V like in the real world? Something like that of a cheetah expelled from refinement school because he wouldn't use the forks in the right order. The CTS-V is a mover and a shaker. Drop the clutch and she moves, FAST! Drop the clutch thinking you're going to show off with some rear wheel spinning action and prepare for some shake, rattle and roll, because like we said before, the axel hop is wicked. Sixty comes up quick. Straight-line performance is great, as has always been the case with American muscle, but when the road ahead curves, this Caddy is ready. Turn-in is amazingly sharp and the body movements are swift and agile. It's no secret the CTS was tuned at the famed Nürburgring racetrack. Behind the wheel of the V I felt very connected. The seat held me just right while the steering wheel, pedals, and shifter communicated all the information I needed. Shifts felt firm, albeit a little notchy; though, the fuel-saving 1-to-4 skip shift pattern has got to go. It has no business being in a performance car. Brakes were easy to modulate and had plenty of whoa power. The clutch was spot on with engagement take-up easy to feel. And no, we can't overlook the fact that there is no hand brake.
     We have the performance, now how about the looks. Some would argue that the CTS is already a decent looker, while others shake their head is dismay. With the V-specific bodywork, the CTS looks stunning in silver. The wire mesh grilles make a statement, while the lower fascia with its flat lip and extra air inlets says that this car means business. Incase you missed all that, dual large bright exhaust tips exit out the back and sing a sweet, bass tune. Larger wheels, lower side skirting, and V badges on the front fenders and brake calipers are the only other clues that give hint at what lies under the hood.
     Once you've caught your breath, slide into one of the leather and suede covered seats and try to take it all in. It's busy in there; all those shapes and angles. While not a fault of the V, the CTS in general has a very busy interior. The center stack is raised out of the dash and angled toward the driver, putting the controls in easy reach. Though it does this in a very "in your face" manner. Perhaps a more elegant design could open things up so the driver doesn't become claustrophobic. Splashes of metal augment an otherwise dark and plastic interior in the absence of wood. Overall, our eyes were left wanting. Perhaps a carbon fiber inlay or more metal would help. The navigation system was useful, but a touch screen set-up would be more user-friendly. The rear seat is a little tight, so if you are any taller than 5'9" your head will challenge that law of physics stating no two objects of matter can occupy the same space. And sorry, the headliner wins.
     At $51,295 the CTS-V is what you would almost call a bargain in the sport sedan territory. When put up against other sedans of the same caliber, the V has a lot to offer, especially with some competitors posting a premium of $20,000+. Here, you get what you pay for: a midsize, entry-level luxury sedan, superb handling, and an old school powerplant packing lots of power. You won't find the latest powertrain technologies or the finest interior furnishings, but you will get a sedan with some grace and some grunt.
The Good:
Awesome performance, strong powertrain, displays lateral G data in dash!
 
The Bad:
Busy interior, no hand brake, axel hop on full acceleration.
 
The Verdict:
Strong performer hampered by a ho-hum interior.