Several 2004 Auto Accident "Insights"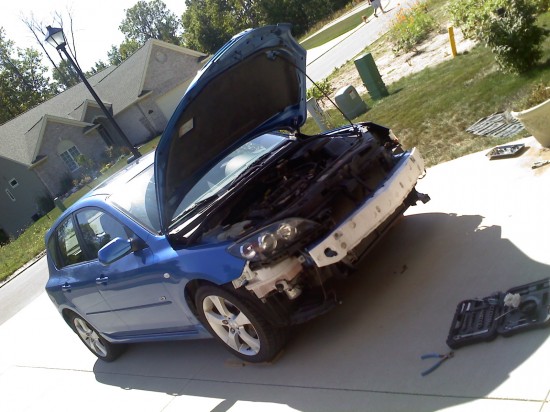 Post contributed by Dan Baldyga.
     There were no "Estimated Accidents" made for 2004 however it has now been determined that back in 2002 there were reported to be six million three hundred and fifteen thousand motor vehicle accidents in the United States for that whole year. That figure comes down to about 17,300 accidents per day!
     ALSO IN 2002: There were 2.9 million injures and 42,815 people were killed. An average of 115 persons died each day in motor vehicle crashes in the United states, that makes it, "About one death having taken place by a motor vehicle impact – – every 13 minutes"!
BELOW ARE 4 VERY INTERESTING RESULTS (VIA 2003 ACCIDENT INFORMATION AND GATHERED UP-TO-DATE) NOW IN LATE 2004:
#1. Motor vehicle accidents are third in the "Top 10 Causes" of Safety & Health Incidents in the whole United States.
#2. 86% of these (above) "Reported- Accidents" involved only one driver. (I state "Reported" so as to protect thousands of butts financially, however – – many are not)!
#3. One third were caused by drivers losing control of the vehicle and leaving the road. Another third was caused by the vehicle being struck from behind.
#4. HERE'S A NEW ONE. IT'S A "BIGGIE" AND ONE THAT'S JUST BEGINNING :
     Hand-held (or even hands-free) cell phones led to highly significant "Problems" in all drivers performance.
     It's not clear yet exactly how many of them caused an accident in 2003 but they are far too dangerous to attempt to operate while driving ! (Just ask Dan who, while chatting furiously on a hand-held cell phone, slaughtered a huge, gray and hopefully male, squirrel).
THE FOLLOWING 8 ARE "FACTS" YOU MUST CHECK OUT (VIA YOUR INSURANCE AGENT) NOW – – FOR 2005
     "Why should I question my agent"? You justifiably ask. The answer to that one is very simple, "Because your insurance carrier, may never tell you" !
#1. Should they decide your motor vehicle is a "total loss" how do they then determine the value of your vehicle?
#2. Are you entitled to payment for sales tax and registration fees for a new car? (Today there are 29 states that do so don't let this one slip out of sight because yours may be one of them).
#3. In some states you're entitled to a "Diminished Value". How about yours?
#4. What does it mean to "Stack" your coverage? Ask your agent because you may be doing that. If he does do this, how much money can you save or lose?
#5. If you do indeed make a claim how would and/or could that increase your rates? (Maybe you should not) ? Again, ask your agent. If he's "legit" he should tell you!
#6. Will your credit history dramatically affect your auto insurance premium ? If so what suggestions does your agent have to get around this problem?
#7. Will paying in installments increase your overall bill? (If that's true, and the way he now has it set up, how much money could you save by doing this some other way)?
#8. Other than your own Home Owners Policy is the personal property in your car covered by your auto insurance?
     (If he gives you a flippant answer like, "Oh yeah, don't worry about that". Ask him to show you exactly where that's stated in the auto insurance policy).
     There's no doubt that Auto Accident "Insights" become a reality and/or change. And it's for those reasons that The Left Lane continues to bring this information to its readers. Believe us when we say, "It's a pleasure to attempt to bring our readers up-to-speed"!
DISCLAIMER: The only purpose of this claim tip is to help people understand the motor vehicle accident claim process. Neither Dan Baldyga nor Automotive Trends make any guarantee of any kind whatsoever; NOR to substitute for a lawyer, an insurance adjuster, or claims consultant, or the like. Where such professional help is desired it is the INDIVIDUAL'S RESPONSIBILITY to obtain said services.
Dan Baldyga's latest book AUTO ACCIDENT PERSONAL INJURY INSURANCE CLAIM (How To Evaluate And Settle Your Loss) can be found on the internet at his web site http://www.autoaccidentclaims.com. This book reveals "How To" successfully handle your motor vehicle accident claim, so you won't be taken advantage of. It also goes into detail regarding the revolutionary BASE (The Baldyga Auto Accident Settlement Evaluation Formula). BASE will explain how to determine the value of the "Pain and Suffering" you endured, because of your personal injury.