2005 Cadillac STS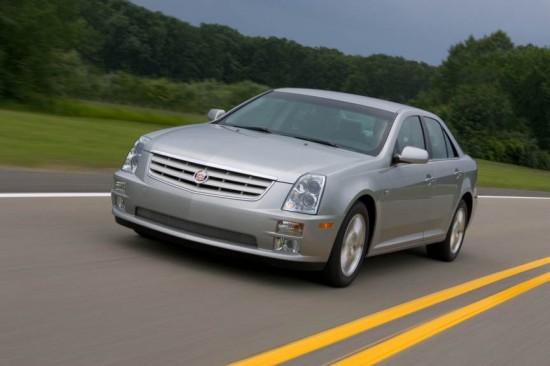 Only a few years ago, I hated driving Cadillacs. They were big, quiet and had lots of gadgets in the cabin, but they were about as exciting to drive as a John Deere tractor through a Kansas cornfield.
     To put it bluntly, Cadillac designed its cars for rich old ladies.
     Today, though, things are different – way different – from behind the wheel of a Caddy. Consider:
— The edgy CTS is drawing young, image-conscious buyers who would have only bought from imported brands a couple of years ago. It's got some of the best styling and performance in its class.
— The XLR convertible is adding some much-needed excitement to Cadillac's traditional lineup of luxury sedans. It's based on the new 'Vette, for Pete's sake.
— The Escalade SUV is the darling of hip-hop singers and professional athletes, serving as the poster child for "bling-bling" transportation.
     And now Cadillac has introduced a new flagship sedan, the STS, which fits perfectly into the company's lineup of fresh, good-looking, high-performance vehicles. It's aiming straight for the European and Japanese competition — a perfect way to finally shed the brand's rather stodgy image.
     The STS is a fairly big car, but it's not the size of a one-bedroom apartment like some of its predecessors. It's big enough to be comfortable, but not so big that it feels like driving a yacht. Goldilocks would love its just-right dimensions.
     It also has a suspension that's absolutely heavenly. Cadillac's engineers brilliantly merged comfort and performance to give it a ride that's buttery smooth on the highway but still firm enough to have fun driving through corners. It feels very controlled and poised at any speed, neither wallowing like a marshmallow nor feeling rough and harsh. It's probably the best handling sedan Cadillac's made.
     Two engines are available: a 255-horsepower V6 and a 320-horsepower V8, both of which are smooth, refined and powerful.
     My test vehicle came with the V6 engine, which offered plenty of power for passing on the freeway and rocketing from stoplights. I can't imagine why anybody would really need the V8 engine … but hey, it's a Caddy. I'd pick the V8 anyway.
     A five-speed automatic transmission sends power to the rear wheels, a dramatic switch from the front-wheel-drive Cadillacs of recent vintage. Performance enthusiasts prefer rear-wheel drive for its better handling characteristics, and new technology such as traction and stability control make driving the front wheels almost unnecessary. It was a wise move.
     The new STS is a real looker, too. It's obviously inspired by the harsh angles and dramatic creases of the smaller CTS, but the edgy style is toned down for a slightly more sophisticated look.
     I think the styling is a home run, giving it enough spunk to have personality but not so much that people say "yuck" when it drives by. It's tasteful, trendy, modern and elegant.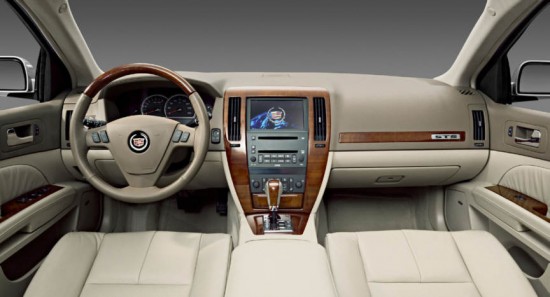 Inside, you'll find the typical plush Caddy cabin. There's soft leather that contrasts beautifully with aluminum and real wood trim, giving it a much more upscale feel than the cheaper, plastic-laden CTS. The seats are comfortable with plenty of room to stretch out for a long highway trip.
     It comes with a long list of gadgets, but one of my favorites is "Keyless Access." It lets you unlock the car and start the engine without ever touching a key. Computers can sense the electronic key fob in your pocket, automatically unlocking the car for you and letting you start the engine with the push of a button on the dash.
     Other features include remote start, adaptive cruise control, a four-color head-up display, and a 15-speaker Bose stereo. There's also an eight-inch color touch screen for the navigation, stereo and climate control systems. It's snazzy.
     All in all, it's clear Cadillac has another big winner with the STS. It drives great, it looks good, it's comfortable, and it's reasonably priced compared to flagships from most imported luxury brands.
     What's more to want?