The Motor Vehicle Accident "Evaluation Process"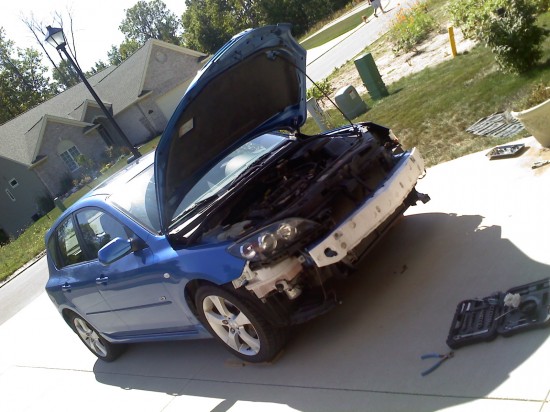 Post contributed by Dan Baldyga.
     While Legal Romantics would like to characterize the trial of a lawsuit as a "Search For Truth" that's not a reality!
     Cases are decided on the evidence. When reviewing cases before them, judges invariably use the phrase, "The evidence shows", rather than, "The truth of the matter is". That first phrase is a reality that filters from the courtroom down to the objective evaluation of each case tried.
     If Fred Fuddle is the town drunk, or if his conduct at the accident scene was provably abnormal than the value of your case should increase. If your injuries are visible and/or demonstrable, it's likely your settlement will be larger. The conduct of both Fuddle and you before the accident may be significant. If you had been at a bar drinking heavily or raising holy hell out on the highway before the accident, you'll likely get less regard from the jury than if you were driving to your house of worship with your family.
     So, the circumstances of your behavior before, during, or after the accident increases or decreases the value of your settlement.
     THE SIX MOST IMPORTANT ELEMENTS IN THE "EVALUATION PROCESS": To be fully informed, you must know and understand the six primary evaluation elements that figure into the process of evaluation. They are as follows:
     (1) THE FACTS (2) THE EVIDENCE (3) THE LAW (4) YOUR INJURY (5) SPECIAL DAMAGES (6) THE INTANGIBILITIES.
(1) THE FACTS: The gathering of the provable factual information is the first step in the evaluation. If you try to evaluate a claim without as complete a file of facts as possible, it's like going hunting for a lion with a slingshot.
(2) THE EVIDENCE: You must weigh all factual evidence known to you against the actual evidence you can produce to substantiate it. No matter what information you're aware of, your position will always be stronger if you have the evidence to back you up.
     For example: You can talk until the cows come home about the unsightly black-and-blue marks you had on your face, ribs, and hips, the scar on your forehead, or the 75 feet of skid marks Fred Fuddle's auto left on the highway before he smashed into you, but Adjuster I. M. Smart will never adequately comprehend, (nor want to believe you) unless you provide him with photographs.
     Providing Smart with the proof-positive of photographs will cause his Supervisor's eyes to bulge as he inhales a deep breath of resignation and declares, "Hey, this one's gonna cost us" .
     QUESTION: "How can Dan be so sure about that"? ANSWER: "Because before Dan retired, after spending over 30 years on that firing line, he was an Insurance Adjuster, Supervisor, Manager and Trial Assistant. He's been there, saw that, plus heard (and felt) that thousands of times" !
     Whenever possible you must help Adjuster I. M. Smart justify the settlement figure he wants to get approved by his immediate superior at Granite Mountain Insurance Corporation.
(3) THE LAW: As proved in over 83% of the accidents in the United States in 2002 the impact you were subjected to is clearly the fault of "Fumbling" Fred Fuddle, so the law is on your side.
     Armed with the information found in my third book AUTO ACCIDENT PERSONAL INJURY (How To Evaluate And Settle Your Loss) plus THE BASE FORMULA (The Baldyga Auto Accident Settlement Evaluation Formula) you'll be able to do that. THE BASE FORMULA will correctly evaluate your "Pain and Suffering". This book can be found at http://www.caraccidentclaims.com or http://www.autoaccidentclaims.com. In this book you'll learn how to settle your own claim without handing a huge percentage to an attorney. A lawyer who has done nothing more than have his secretary send Fuddle a letter of representation and then think it's perfectly acceptable after many moths (sometimes years) of hiding/stumbling/fumbling and verbally pitching his well-practiced answer when you asked him, "Hey what's going on with my claim?" with an answer like, "I'm right on top of it, hang in there, old friend and I'll make it come out right"). And then, later on down that pike, proceed to take a huge (unearned) portion of your settlement dollars.
(4) INJURY TO YOU: The seriousness of your injury has to be considered. (Ole' Doc Comfort, your attending physician's Medical Report, should go into detail about that). Your age will have an effect on the time it takes you to recover. The time you lost at work will have a direct bearing on the length of your recovery.
(5) SPECIAL DAMAGES: All of your direct and tangible losses are prime factors to be implemented in the consideration of the value of your claim. (Clearly stated details regarding Damages are found in Chapter Four of my book).
(6) INTANGIBLE ELEMENTS: These include your reasonableness, your economic status, your standing in the community, the obvious sentiment conjured up when one considers the degree of the seriousness of your injury, plus the attitude of Fred Fuddle (and often your witness) regarding your case.
     Sympathy will come into play if you're a widow or a highly respected Little League Coach, in contrast to your being identified as a raucous bum with a history of getting into scrapes with the law.
     Emotional factors often have considerable weight in the evaluation of your claim. Whatever the intangible elements may be, you must force yourself to investigate and then evaluate them just as objectively as possible. So, if what's being contended is incorrect, you can deny them (plus you must prove the conclusions not to be true) when and where it becomes appropriate to do so.
DISCLAIMER: The only purpose of this claim tip is to help people understand the motor vehicle accident claim process. Neither Dan Baldyga nor Automotive Trends make any guarantee of any kind whatsoever; NOR to substitute for a lawyer, an insurance adjuster, or claims consultant, or the like. Where such professional help is desired it is the INDIVIDUAL'S RESPONSIBILITY to obtain said services.
Dan Baldyga's latest book AUTO ACCIDENT PERSONAL INJURY INSURANCE CLAIM (How To Evaluate And Settle Your Loss) can be found on the internet at his web site http://www.autoaccidentclaims.com. This book reveals "How To" successfully handle your motor vehicle accident claim, so you won't be taken advantage of. It also goes into detail regarding the revolutionary BASE (The Baldyga Auto Accident Settlement Evaluation Formula). BASE will explain how to determine the value of the "Pain and Suffering" you endured, because of your personal injury.