2005 Chevrolet Aveo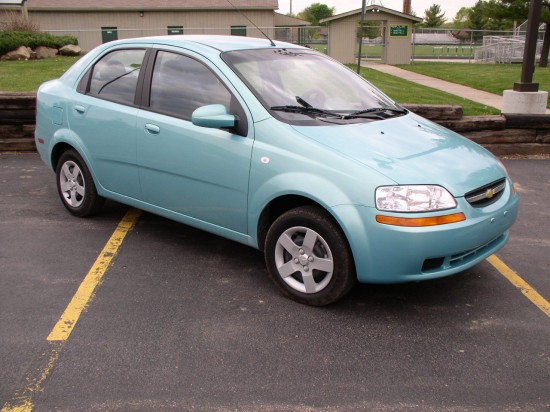 Ever Wonder Exactly What Dirt Cheap Means?
     Chevrolet marketers knew a few years back that the upcoming Cavalier replacement was going to slide ever so slightly upscale. Sure, a base Cobalt can still be had for just north of 14k, but, nevertheless, Chevy figured there were enough potential customers out there that wanted the benefits of buying a new car but wanted to buy it for next to nothing. So the powers that be put their heads together and realized a rebadged Daewoo would be the best approach. As a result the Aveo is built in a South Korean plant and shipped to the U.S. to sell at rock bottom prices. How low are we talking here? Well, four digits low to be precise. That's right; Chevrolet sells the cheapest new car in America because the Aveo starts at just $9,995—before any discounts. That's pretty attractive to be certain and while we can't say the same about the Aveo's looks, for people on the strictest of budgets, the Aveo just may offer what they're looking for.
     That is, of course, as long as what they're looking for isn't a future Concours winner because the Aveo didn't garner a lot of positive remarks in the looks department. To be fair, a lot of the more "tasteful" comments focused on the diminutive size, which isn't really anything that can be helped. What could be helped is the separate running light/blinker unit, which if integrated into a respectable looking headlight would go a long way toward cleaning up the front. And I never thought I'd have to say this, but 15" wheels would be a nice improvement over the standard and downright too small 14" bicycle tires the Aveo comes standard with. Those dinky wheels combined with the less-than-attractive Aqua paint on our tester are the main sources of countless, and mostly unfunny, jellybean jokes. Surprisingly, the rear of the Aveo looks pretty good with a few style lines cut into the trunk lid and bumper. The Aveo has some other nice touches as well, such as body-colored mirrors and available alloy wheels that help hide its true function as basic transportation. Overall, we've seen worse.
     For better or worse, the Aveo's interior is about what you'd expect. Power amenities are nowhere to be found and the AM/FM radio represents the pinnacle of on-board technology in this 4-door LS model. Thankfully, air conditioning is standard equipment as is a rear window defogger and tilt steering wheel. We would recommend making cruise control standard too but you've got to draw the line somewhere. There are a few cost cutting measures in the cabin that could use attention in the upcoming 2006 model. The first is the lack of a center counsel. Adding one would not only increase the minimal interior storage space but provide a better location for the cupholders at the same time. Second, the sunvisors have vanity mirrors built-in but they don't have covers so when you're using the visor you can see the reflection in the mirror and it tends to get annoying in record time. The interior does derive some style from the gated shifter but other than that hard grey plastic rules the day. Everything worked as advertised though and that can't always be said of ridiculously cheap cars.
     If the Aveo has an unforgivable downside it has to be the power—or lack thereof. The E-tech II 1.6-liter DOHC four-cylinder only makes 103hp and 107lb-ft of torque in the first place and how much power the 4-speed automatic saps is anyone's guess. Try driving with the A/C on and you're down in double digits and that's not a place you want to be. Bring along a couple of passengers and keep your fingers crossed that you don't end up behind a cattle truck on a busy road because you'd have better luck passing on foot. You do the math. 103hp plus 14-inch wheels divided by a 4-speed automatic puts our patented fun-o-meter deep into negative territory. We haven't seen anything register this low on the fun-o-meter since our Senior Editor suggested a Mazda MPV would be a good addition to the local car cruise.
      Actually, once you're up to speed things progress much like in any other cheap car. A little more road and wind noise gets in but that is to be expected. Crosswinds from other vehicles or Mother Nature can send you into the next lane and the brakes aren't particularly confidence inspiring either. In addition, the ride favors the floaty approach so a lot of bumps are smoothed out but the short wheelbase can make frost heaves quite uncomfortable. But believe it or not there are benefits to buying an Aveo. Fuel economy of 26/34 is one of them although saving $850 by sticking with the manual tranny would surely increase that number. A five-star crash test rating for the driver and front passenger and the reassuring 5-year or 60,000-mile powertrain warranty also look good to us.
     Our LS sedan started with a base price of $11,300 and settled at $12,690. That's a new record for lowest as-tested price at AT and not one we think will be broken anytime soon. What you get for that money is basic transportation with the benefit of new-car reliability and a warranty. And that's exactly what some people are looking for.
The Good:
Standard A/C, 5-year powertrain warranty.
 
The Bad:
14" wheels, 103hp, not even an 8-track player!
 
The Verdict:
A new car at a used car price.