2005 Mazda3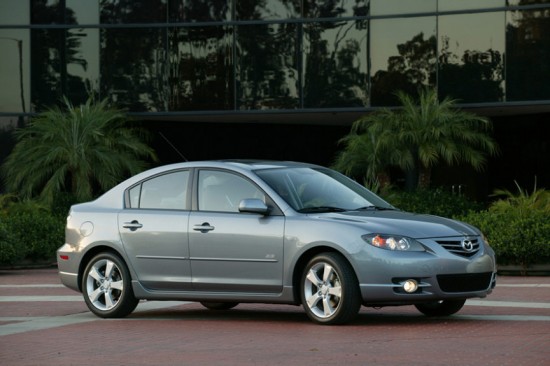 When most people wake up in the morning, they probably don't get excited about driving a low-priced compact car to work.
     That's only because most people don't have a Mazda3 in their driveway.
     Unlike many economy cars that are good for a daily commute but totally uninspiring from the driver's seat, this new Mazda is actually a car you can get excited about taking for a spin every day. It's like the Miata put on a few pounds and grew a back seat.
     Even compared to its most well known competition — the Honda Civic and Toyota Corolla — the Mazda3 is probably the best compact car on the road today, and it starts at just $13,680 for a stripped-down starter model. With air conditioning and an automatic transmission, you're looking in the low $15,000s.
     Why is it so great? First, it feels significantly bigger than most cars in its class, like a 290-pound linebacker on the freshman football team. Despite its sleek and sporty body, it has plenty of leg, hip, knee and shoulder room in the back seat — a lot more than you'd expect in a compact car — because of a long wheelbase and perfectly designed cabin.
     Second, it's fairly powerful. With a choice of two different four-cylinder engines — either 2.0 or 2.3 liters, making 144 or 160 horsepower respectively — the Mazda3 offers enough smooth, robust acceleration to embarrass the longhaired punk driving the old, noisy Civic in the lane next to you.
     Third, its handling is outstanding. Mazda obviously spent some time perfecting this car's suspension, because it feels almost like an honest-to-goodness sports car with four doors. While it isn't uncomfortable on the highway, it's absolutely thrilling to drive on a twisty road and clearly shares some heritage with the brilliantly fun-to-drive Miata.
     In yet another surprise, the Mazda3 is shockingly quiet. Despite the firm, suspension and powerful, high-revving engine, it's nearly as silent at highway speeds as luxury cars were a few years ago. Road, wind and tire noise are all kept to a minimum, and it has the overall feel of being much more expensive than it is.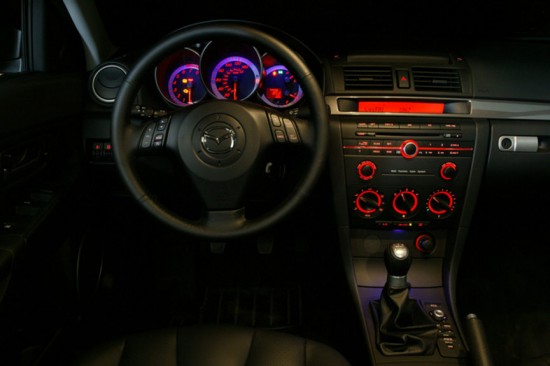 Keeping with the upscale feel, Mazda packed the cabin with standard gizmos that are hard to find on most economy cars. Standard tilt, telescopic and audio control features are integrated into the steering wheel. Airbags come standard, and seating positions are designed to cushion legs for long-distance driving. It even comes pre-wired for Sirius satellite radio, a $399 dealer option.
     It's not just fun from behind the wheel. It's also fun to use.
     Every possible space in the cabin is designed for storage, including a glove box that can hold a laptop or 16 CD cases, a storage compartment in the armrest, two cup holders in the center console, plus a bottle holder in each door.
     The spacious trunk is a work of genius, too. It can be organized to separate the cargo space into upper and lower sections, and the rear floor section can be raised to create a partition between the front and rear of the luggage compartment. A sub-trunk area allows valuables to be stored out of sight.
     Overall, the compact Mazda is fantastic car with only a couple of downsides. One, the ride is clearly tuned to be sporty, not soft, so drivers who favor interstate cruising over twisty roads won't be happy. Second, visibility is slightly impaired by thick pillars on the back window.
     But if you want something that's fun to drive and roomier than other compact cars, take a close look at this one. It may change the way you feel about the daily commute.