2005 GMC Envoy Denali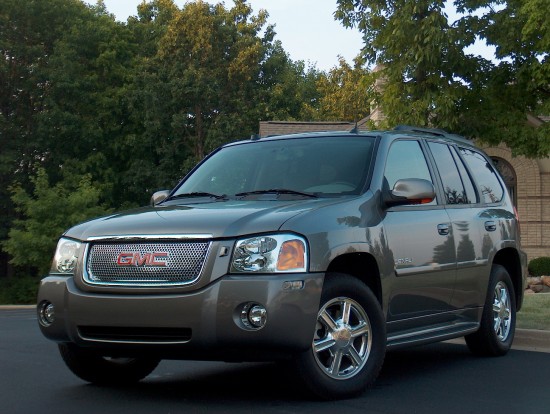 The Nicest Electric Shaver We've Ever Driven
     GMC's Envoy has been carrying cargo and towing trailers in its current form since the 2002 model year. During that time owners have come to like its smooth ride and responsive, fuel-efficient I6. But the competition is getting tougher all the time and more power and luxury never hurt any vehicle's chances for continued success. To that end, GMC has applied the Denali touch to the Envoy lineup, including things like more power courtesy of a V8 and revised styling via a "Denali-style" grille insert. The changes are enough to get us curious about how well the Envoy is holding up 3 years into its model cycle.
     The answer is, quite well, at least when it comes to looks. The Envoy was blessed from the start with clean, distinctive styling that put it ahead of such competitors as the Ford Explorer. The Denali appearance upgrades further improve a look that remains fresh and upscale. Of course, some don't like the one feature that instantly sets a Denali apart from the crowd. That would be the grille that rather strongly resembles the stubble-sawing end of an electric shaver. It seems we weren't alone in making that connection either, since we heard it from a not insignificant number of people during the week. Oh well, we think it looks fine, especially on the Envoy's smaller grille. We like the other Denali additions too. The redesigned rear bumper is styled to conceal and visually lower the vehicle. Body panel gaps all around have been tightened and the integrated running boards are nicely designed to look like a natural extension of the vehicle. There really isn't much for us to complain about exterior-wise, except to recommend a more fitting finish to the exhaust tip—we're thinking chrome.
     There certainly isn't anything to complain about under the hood. All Denali-edition Envoys are powered by the venerable Vortec 5300 V8. It pushes 300hp and 330 lb-ft of torque through a 4-speed automatic. Despite sounding outdated in today's world of commonplace 5 and 6-speed trannys, the 4-speed autobox does an adequate job of handling the power. First gear is cut for acceleration and our tester had a $50 optional 3.73 rear axle ratio for improved off-the-line feel. That means the Envoy moves out smartly when accelerating but settles down nicely in overdrive. Certainly a 6-speed would offer some performance and economy benefits, but for now, the 4-speed is fine. For 2006 Denalis, the 5300 Vortec gets GM's Displacement-On-Demand system, but our standard-wheelbase '05 tester didn't offer this fuel-saving system. The Denali can be had in standard two-wheel-drive but ours featured the Autotrac four-wheel-drive system. Engaging and disengaging the system is as easy as turning the dash-mounted knob.
     Things are downright plush in the ride department thanks to a rear air-ride suspension and soft tuning. That's appreciated when cruising the highway but you'll notice things get floaty in the curves. It doesn't take long to get used to and the everyday ride comfort is worth it so we won't nitpick. The rest of the driving experience is as good as the ride. The ride height feels just right, although visibility is hampered a bit by thick pillars. The steering effort is about what people want in this type of vehicle so don't expect to get any response or feedback about what's going on under the tires. The brakes are typical GM, which is to say they could use a firmer, more reassuring pedal, but they do the job.
     The Envoy's interior is much the same way. It does the job, but it could be better. The design has held up, thanks to solid ergonomics, but the materials are not representative of a $41,245 vehicle. The plastics are rock hard, the wood is fake and you have to dim your own rearview mirror. We don't want to sound like the interior is a prison. Actually, it's comfortable and impressively quite. GM has employed some effective sound deadening techniques like laminated glass and additional sound absorbing materials so engine noise is thoroughly muted. The Denali adds your standard issue luxuries like heated seats, Bose audio and an attractive leather and wood steering wheel but the argument could be made that it doesn't go far enough. You know they're struggling to find something newsworthy when the press kit devotes an entire paragraph to something called an improved "stitches-per-inch ratio". We've assembled an internal team to decipher what that means. We weren't impressed with the optional rear cargo tray and decided its potential uses were limited at best. Staffers thought the $1,370 Sun, Sound, and Entertainment package (power sunroof, XM radio, 6-disc changer) should be standard equipment on the top-line Denali models.
     When it comes down to it the Envoy Denali is a fine vehicle. GMC has created an SUV that specializes in smooth, quite, and comfortable transportation with power to spare. A lot of people are looking for that very thing. As long as they don't know an all-wheel drive Lexus RX330 starts at about $38,000 they'll be perfectly happy with the Denali.
The Good:
Stylish, powerful V8, rides better than most.
 
The Bad:
Some poor interior materials, Denali doesn't seem to add a lot.
 
The Verdict:
Perfectly sized, but unless you can't live without the grille an SLT Envoy will get you close to Denali comfort for less money