2005 Porsche Cayenne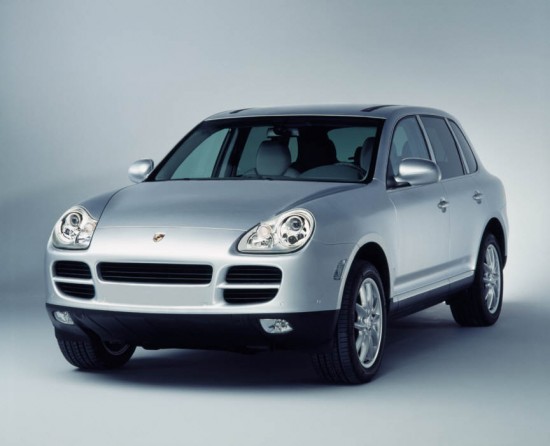 I love old Porsches for a couple of reasons.
     One, they're the only Porsches I'll ever be able to afford without winning the Powerball. And two, they're so wonderfully raw and mechanically sensual that they feel alive — like a steel extension of your own body. They represent the epitome of what a sports car should be.
     That's why some Porsche purists — myself included — were skeptical when the suits at Stuttgart decided to create the Cayenne in a move that seemed to contradict everything the German company stood for. Until the Cayenne, which was jointly developed with Volkswagen, Porsche had spent nearly five decades making nothing but high-performance sports cars and grand tourers designed to be fast, agile and reliable.
     Porsche's announcement was the equivalent of the pope saying, "Forget this celibacy thing. As of tomorrow, we're turning the Sistine Chapel into 'Playboy Vatican' and letting Hugh Heffner run the church."
     It rocked the automotive world.
     Before I drove the Cayenne this spring, I was definitely counted among the skeptics. For one thing, I knew people drive Porsches because they enjoy high-performance driving and people drive SUVs because they need to haul stuff. Nobody buys a 911 to take their four kids to soccer practice, and nobody buys a Ford Explorer because they want to win SCCA races on the weekends.
     In addition, I'd driven the Touareg — the Cayenne's equivalent from Volkswagen — as soon as it was introduced, and I couldn't imagine putting a Porsche badge on it because it was way too soft and luxurious. It was a wonderful SUV, but it wasn't anything I'd want to take to the racetrack.
     So when Porsche offered me the keys to a 2005 Cayenne for a week, I couldn't resist — if only to lambaste it for being disgustingly sacrilegious.
     Boy was I wrong.
     As soon as I took it around the block and over a couple of speed bumps, I had the same thought that enters my head every time I drive a car I love:
     "My wife's gonna hate this thing."
     She likes cars that are quiet and smooth, the ones designed to keep sleeping babies asleep. I, on the other hand, like cars designed to make babies scream louder than a squadron of Navy jet fighters, cars with suspensions that let you feel every freakin' crack in the pavement so you can stay in complete control at the limits of adhesion.
      This Porsche SUV had an incredible race-tuned suspension that brought back memories of some old Porsches I fell in love with — the vicious 911, the ugly-but-great handling 914, and the ahead-of-its-time 928.
     It was the real deal and surprisingly felt nothing like its Volkswagen sibling.
      It was also ridiculously fast, as any Porsche should be. It came with a middle-of-the-range, 4.5-liter V8 engine that made 340 horsepower, enough for plenty of trouble with the law, for around $56,000. You can save about $15 grand by picking a V6, or you can pay about $35,000 more to get a turbocharged version that can smoke almost any vehicle on the road — SUV or not.
     Its driving feel was sheer perfection, as its hefty body stayed almost perfectly flat through corners and its nimble, lightweight feel belied its big SUV dimensions. It has a bumpier, firmer ride than you'll find in any other luxury SUV, but it also sticks to the road better than any other SUV, including the brilliant BMW X5 I'd driven a couple of weeks earlier.
      Styling is polarizing, as most people seem to absolutely love it or absolutely hate it.
     Personally, I'm not a big fan of the Cayenne's look because it's as if the stylists weren't trying hard enough. They just stuck the 911's front end onto an SUV body, which is like putting Julia Roberts' nose on me — it ain't gonna do any good.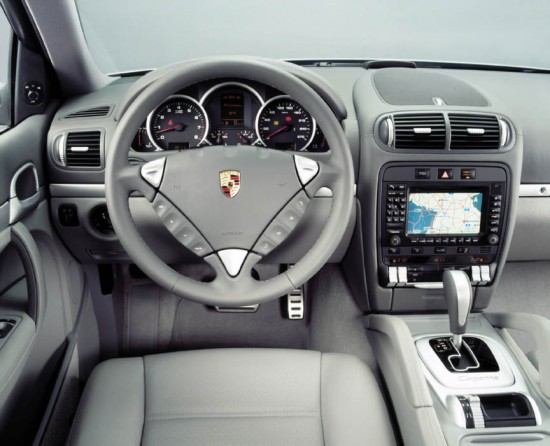 Inside, the materials are nice and luxurious, but they could be matched or beat by the likes of Lexus, BMW, Mercedes and even Volkswagen. Its real strength on the inside is how incredibly tight its construction feels, almost like the dash and interior trim are attached to a frame of solid granite.
     Even the base Cayenne comes with the luxury basics, like leather seats, side impact protection and power everything. Its biggest downside is, like other Porsches, the outrageous price of some options. A loaded turbo model can cost well over $100 grand, and high-end options can add tens of thousands to any model if you get carried away.
     But if you want an SUV that can tackle club autocrosses on the weekends, it's worth every penny.