2005 Infiniti QX56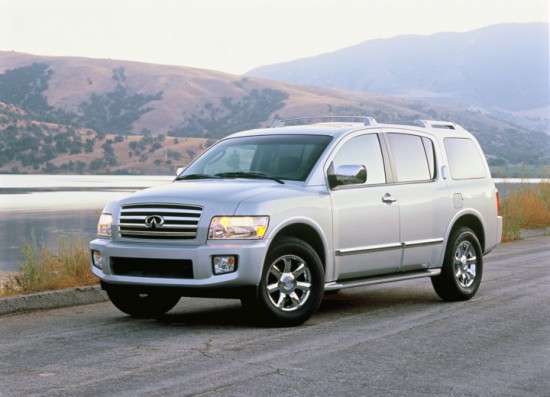 You know you drive a big SUV when it comes standard with a rear-view camera.
     Infiniti's yacht-size luxury SUV, the QX56, comes from the factory with a fish-eye camera mounted above the license plate on the rear bumper to eliminate a big blind spot when backing up.
     It's a great safety feature that helps the driver avoid hazards that they wouldn't otherwise be able to see out the back window – things like kids on tricycles, animals, or anything else that shouldn't get squished – by lighting up a video screen on the dash that doubles as a navigation system.
     And the fact that the back-up camera comes standard shows how big – and I mean absolutely, breathtakingly huge – this SUV is.
     If it fell through the atmosphere, it could have wiped out the dinosaurs. Its back seat could be a contender for hosting the 2012 Olympics. Its glove box could be declared a natural habitat for condors.
     It's really freakin' big.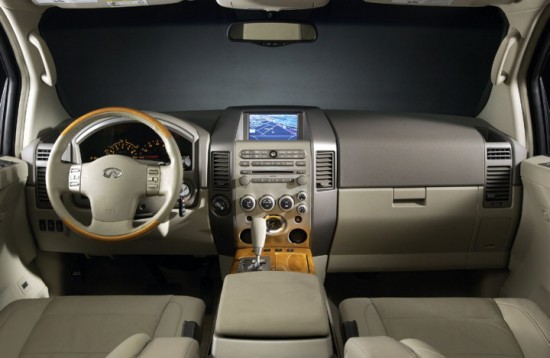 All this space is perfect for hauling lots of people and lots of stuff on long highway trips. In the first- and second-row seats, there's plenty of room to stretch out and relax, and even the third-row seat isn't too shabby. It's like the whole cabin was designed by NFL linemen.
     But size isn't all that matters. In the competitive world of high-end SUVs, it also takes a cabin full of gizmos and quality materials to stay on top. The QX doesn't disappoint.
     There's very little cheap-feeling plastic inside, as most surfaces are covered either in leather or soft-touch rubber. The carpet is thick, the seats are soft and comfortable, and the wood trim is classy.
     Standard features include heated, power-adjustable seats in the first and second rows, three-zone climate control (driver, passenger and rear), four 12-volt power outlets, a navigation system, 12 cup holders, a Bose stereo, power everything, and adjustable pedals for the driver. It lacks nothing in the comfort department.
     For over-the-top luxury, you can add a DVD player ($1,600), intelligent cruise control ($800), satellite radio from either XM or Sirius ($400), and a power sunroof ($1,200). A fully-loaded QX56 compares favorably with other full-size luxury SUVs, like the Cadillac Escalade EXT, Lincoln Navigator and others from import brands.
     It also has good performance – at least for such a big vehicle.
     It has a big, 5.6-liter V8 that makes 315 horsepower and 390 foot-pounds of torque, enough to tow up to 9,000 pounds with the right equipment. Power is routed through a five-speed automatic transmission.
     The QX has a remarkably silky ride on the highway, making potholes and bumps feel like they're almost nonexistent. On the downside, it definitely shows its mass in corners as the body rolls and wallows.
     Worst of all, in an era where $2 gas is the norm, it gets only 13 miles per gallon in town and 19 on the highway. That might not be much of a consideration for people who have $50,000 to plunk down on a luxury vehicle, but it certainly doesn't help matters.
     All in all, the QX is a great vehicle for people who want lots of standard features, a comfortable ride, and room for eight big folks. It's luxury on a grand scale.