2005 Jaguar S-Type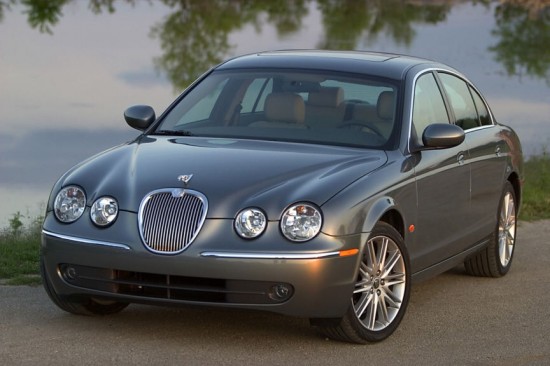 When a car looks as good as the Jaguar S-Type, even the smallest hint of a styling change can be scary.
     That's why I didn't know what to expect from the latest S-Type, which was freshened for the 2005 model year. Sandwiched neatly in Jaguar's sedan lineup between the low-end X-Type and high-end XJ, the svelte S-Type has arguably been the company's best looking car since it was introduced in 1999.
     And — thank goodness — it's still a looker today.
     Instead of totally re-working the body, Jaguar's designers made the right choice by keeping the sedan's styling generally intact. It has the same sporty roofline, upscale image, and sumptuously curvy nose as the previous generation.
     Well, almost. Virtually all the body panels were reshaped in some way, but the changes are subtle. It has a slightly more taut, athletic, simple look now, and you have to examine it closely to see the differences.
     On the S-Type's retro styled front end — the part of the car that makes it stand out from every other vehicle on the road — there's now a carefully sculpted 'V' in a new aluminum hood that draws the eye toward an austere grille. The grille is new, along with simpler front bumpers, chrome trim, rear fenders and trunk lid.
     Jaguar's designers deserve applause for taking an already great-looking car and making it look even better. That's hard to do, but they pulled it off.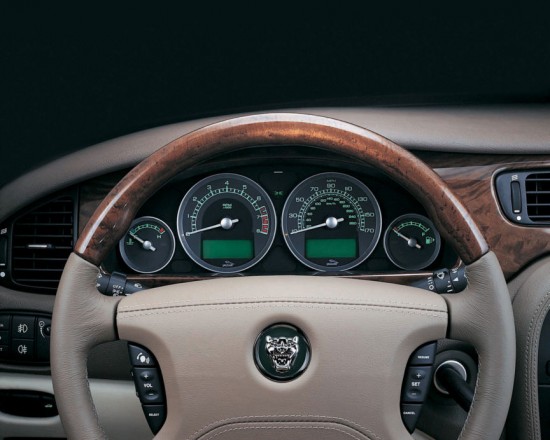 Aside from the new body style, the S-Type's interior also sees some changes for 2005. There's a new, range-topping VDP Edition that uses burl walnut trim, soft grain leather and heated seats with contrast piping for classic British elegance.
     For those more interested in sleek, high-tech appearances, the S-Type is now also available with a completely wood-free interior, a first for a production Jaguar sedan. The optional aluminum dash finish compliments the Sport and R models, allowing buyers to choose a more "technical" finish if they want it — even if that seems blasphemous in a Jaguar.
     All new S-Types have a revised instrument layout featuring round chronograph dials and two message centers, which now offer clock, odometer, trip and warning information at all times.
     Despite all the styling changes, driving the new S-Type isn't much different from the old one. It's still just as smooth, quiet, comfortable and stylish as you'd expect a midsize luxury car to be.
     Three engines are available: a 3.0-liter V6 that makes 235 horsepower, a 4.2-liter V8 that makes 294 horses, and a supercharged V8 that cranks out 390 horses.
     The Cargazing test vehicle — a 294-horsepower VDP Edition — accelerated with ease and handled better in corners than expected in a car with such a smooth ride. It wasn't quite sports-sedan handling, but it was enough to have fun on twisty roads.
     From a price standpoint, the S-Type (starting at $44,895) is comparable to other midsize luxury sedans, including the Audi A6, BMW 5-Series, Mercedes E-Class and Lexus GS. It's a competitive market with many good cars, but the Jaguar stands out for its classic styling and gorgeous interior.
     All in all, it's hard to find any reason to dislike this car. It looks good, it performs well, and it's one of the most comfortable vehicles on the road.