2005 Mazda6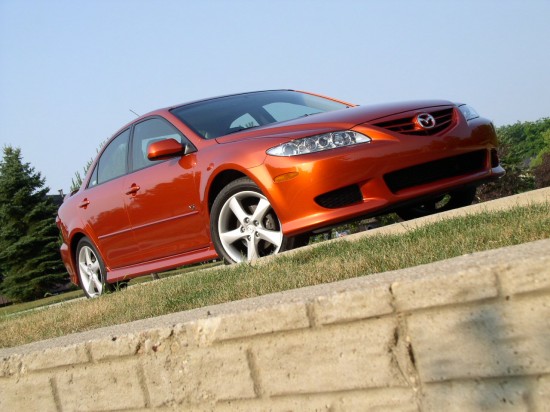 The 6 Gets A 6-Speed     
     The Mazda6 has been a shining example of what a sport sedan from a mainstream automaker should be. We're not talking BMW or Infiniti here. This is Mazda, purveyor of increasingly desirable, affordable cars with sporting intentions. And the 6 has been near the top of our favorite sport sedans list since its debut as a 2003 model. Since then it has offered plenty to like, (sharp style, 220hp, available manual) all for around $25k. Luckily, Mazda knows not to let a good thing go bad. So for 2005 they've upped the ante in the midsize sport sedan market by including the segment's first 6-speed automatic transmission. The only people not happy about this? Mazda's competitors.
     The rest of us are once again singing Mazda's praises (been happening a lot lately) because that singular update makes the 6 double the fun. Sure, a five-speed manual was, and remains, available with both engines, but we know that realistically a lot of sedan drivers will order an automatic. Starting this year, those drivers don't have to settle for merely a good automatic, because now Mazda offers a great automatic. The $950 6-speed Sport Automatic transmission is available only with the 6s's V6 engine. If you opt to save some coin and stay with the base 160hp I4 we recommend sticking with the 5-speed manual because the only automatic available with the smaller engine is a 4-speed. And unless you're in a Miata, 160hp doesn't get you anywhere very quickly, so we suggest going for the 6s and the 3.0-liter DOHC 24-valve V6 that comes with it. It's not a powerful engine but it is smooth and if you keep it above 3,500rpm you'll discover that it moves the four-door sedan with haste. The engine isn't big on torque, with only 192lb-ft of it at 5,000rpm, but horsepower is a healthy 220—even though you'll have to rev to 6,300rpm to find all of it. Luckily, the 6-speed auto makes this task easy. The computer algorithms are pretty good but if you insist on shifting for yourself this tranny won't get in the way. Slide the lever into the manual gate and you're in complete control. You can bang into the rev limiter all day and night but this gem of a transmission won't shift by itself. This isn't always the case with so-called "manumatic" transmissions, but we're glad it is here.
     The rest of the mechanical package is pretty good too. The quick-ratio steering keeps things feeling energetic and responsive, thanks to a 2.54 turns lock-to-lock setting. Interestingly enough, Mazda tunes all 6 sedans with the same suspension settings. That eliminates the need for a special "sport-suspension" option and you'll find no complaints here. The setup provides firm absorption of most road irregularities but it never encroaches on overly firm territory. We also thank Mazda, for not only making ABS standard equipment on all 6s, but for including Electronic Brakeforce Distribution, as well. EBD is a technology that's not all that common at this price point yet. All models use disc brakes at all four corners and our tester had a natural pedal feel and, although we don't measure distances, felt strong in the brake department. To sum it all up, the 6 drives and behaves like a responsively tuned sport sedan should. There are very few complaints in this department.
     The same could be said for the exterior styling, which, several years on, still looks distinctive and modern. We'd argue that the rear wing is a tad loud and the wheel design is a bit boring, but other than that the 6's handsome lines continue to look good. A stylish set of 18" wheels would step things up considerably over the somewhat dull 17" wheels on our model. Our tester was painted Blazing Copper Metallic and we liked it a lot.
     We have more love for the interior, which is comprised of generally high-quality materials. The silver painted plastic that covers the center stack looks gaudy to some and hip to others. Generally we like it, but Mazda's own piano-black finish—as used in the RX-8 and MX-5—look better still. Drivers noted that Mazda uses one screen to display all radio and HVAC information and because it's mounted high on the center stack, it is easier to see than some competitors' setups. Our tester came equipped with a $1240 Leather Package that obviously includes leather seats, but also throws in heated front seats, electroluminescent gauges and heated side mirrors. We wish it included an automatic-dimming rear-view mirror but even without, it's worth it. We also made use of the strong Bose audio system that is part of the $1335 Bose Audio & Moonroof Package. It's a bit pricy so you'll want to make sure you'll get plenty of use out of the 200-watt audio system and 6-disc in-dash CD changer, as well as the power moonroof. Even without the luxury options the 6's interior is comfortable and only slightly snug in the rear seat.
     All things considered the 6 is a solid package at $27,380 as tested. Since 2003 the 6 has been among our favorite midsize sedans. With the addition of a wonderful new 6-speed automatic, it looks like it will remain that way for some time to come.
The Good:
6-speed automatic, distinctive styling, drives "European".
 
The Bad:
A little snug in the rear seat, not a lot of torque.
The Verdict:
One of the best sedans available for $25k.