2009 Mazda6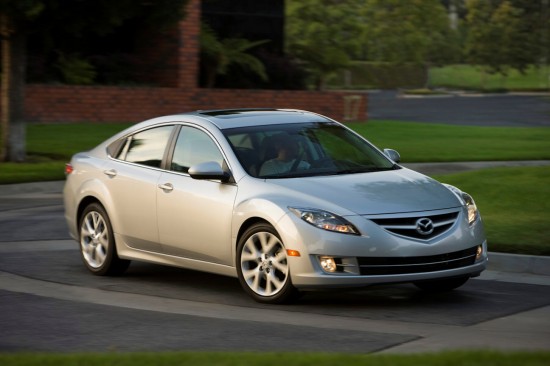 Does The Sexy New Sheetmetal Still Hide The Soul of a Sports Car?
     In the interest of full-disclosure it should be noted that Senior Editor Muxlow's daily driver is a first-gen Mazda6, and not just any old 6. His is an exceedingly rare 5-door with a manual transmission and it does a convincing impersonation of a sports sedan, even with its front-wheel drive handicap. Which is the main reason this publication, and many others, have raved about the smartly-sized 6. In our last review of Mazda's mid-sizer we said, "the 6 drives and behaves like a responsively tuned sport sedan should." But now there is an all-new 6 and it's grown a bit to better match up with its mid-size competitors.  Has it become dull and soft like the Camry and Accord too? Fortunately, no.
     It's an unfortunate trend in our eyes, but cars continue to swell in this country. The new 6 rides on a 109.8-inch wheelbase (up 4.5 in.), stretches 193.7-inches long (up 6.9 in.) and picked up 207 pounds during its rebirth. The good news is the taut, sweeping lines of the revised body make the car appear smaller than its bland-to-the-point-of-anonymous Japanese competitors, even if it's actually longer than the Camry these days.  The rear ¾ view is particularly striking since the dynamic front fender form is fully visible and the abundant bright trim work visually slides the whole car upscale. In our eyes the front is the only area in need of some revision. A little fine tuning on the simplistic full-width lower valance and the slightly too small headlights would make an already good looking car even harder to resist. But we're nitpickers by trade and the overall design is fresh and modern enough to easily carry this Mazda through to its mid-cycle facelift.
     Of course the positive side to all that expanding is the larger cabin and trunk. Inside, front and rear passengers will find more room in every direction and a larger 16.6 cubic foot trunk (1.4 cubes more than before and larger than Camry and Accord offer). We always felt the interior of the first 6 fit us like a glove and from the driver's seat the car was easily placed on back road blasts, but we know most paying customers don't often drive their cars with the same enthusiast verve that we do and they'll appreciate the newfound room.
     Our particular tester wasn't exactly equipped to verify Mazda's Zoom-Zoom claims for the new model since our mid-level 6 I sedan was outfitted in Touring guise and featured the base four-cylinder bolted to Mazda's well-known 5-speed automatic. Even so, the 2.5-liter I4 manages 170 hp and 167 lb-ft of torque. We found this combo worked well enough and we certainly liked the EPA rating of 21/30 mpg. We know Mazda is going for cost with this setup as the new 6 starts at about $20k, but a six speed auto and/or a direct-injected engine would certainly move the power and economy ratings in favorable directions. Let's hope those changes are in the works. In the meantime, as a good representation of what many buyers will actually be driving off dealership lots, we can say we're happy with what Mazda's achieved here. The engine lacks the refined note of a nice V6, but the manual mode of the autobox will allow enthusiast driver's to keep the revs up when attacking expressway entrance ramps. Although it should be noted that even in full auto mode the transmission would downshift quickly for passing maneuvers. That's something that could become rare as automakers retune cars for maximum economy.
     No, this model wasn't setup like a sports sedan, but the good news is it still rises above the pack in most dynamic areas. Steering is weightier than the spongy Camry and the brake pedal is predictable in feel and precise in engagement. Our car wore 17" rubber but there's no doubt to us that the car feels more relaxed than the first-gen models. A bit more compliance has snuck in to the suspension tuning, although the car never gets floaty. That's good for passengers on Michigan's buckling pavement, but bad for driver's searching for the limit mid-corner.
     Mazda may have made a bold statement with the exterior design of the new model, but inside things have evolved more predictably. The round HVAC vents from the old 6 are still accounted for as is the silver center stack and Mazda's trademark radio display atop the dash. The gauge cluster is straightforward yet visually satisfying and the climate controls continue to be the definition of intuitive. Most of the stereo controls are fine and our tester offered up a BOSE audio system with plenty of volume thanks to the $1,780 Moonroof & BOSE Package which also adds 6-disc CD and SIRIUS satellite radio.  The only other option package on our car was a $1,610 Convenience Package that adds features like dual-zone climate, xenon headlights, rain sensing wipers, Bluetooth and a Blind Spot Monitoring System. These systems are fairly new at this price point but it seemed to work well in our testing. We're a little baffled why you even need such a system in a mid-size sedan which isn't particularly difficult to see out of with a quick look over your shoulder, but on the other hand, another layer of protection can't hurt. The cloth seat fabric had an odd print in our car which we agreed tried a little too hard to be different for the sake of being different. We also don't like the absence of rear seat HVAC vents on the center console and the push button start that is standard on our model remains a gimmick we don't understand.
     What we really don't understand is why Mazda has dropped the manual transmission option on the V6 model. Such an oversight is a real blow to Mazda's claim that the six-shooter has the soul of a sports car. But that'll be an outburst for another day. The four-cylinder mid-level model we're evaluating here gets most everything right. Average consumers will like the smoother ride, quality feel and 30mpg on the open road. Enthusiasts can still opt for a manual, and a 6-speed at that, to control the I4. And at $26,645, our well-equipped sedan is a smart buy that's sexier that the competition. We just hope Mazda has a truly comprehensive sport package in the works to stir our souls a little more.
The Good:
Style to spare, big trunk, a good value, 30 mpg and an available 6-speed manual.
 
The Bad:
Odd seat fabric, no vents for back seat passengers, push button start is in an odd location.
 
The Verdict:
Mazda offers more of what people want in a competitively priced and very pretty new 6.