2010 MazdaSpeed3 Sport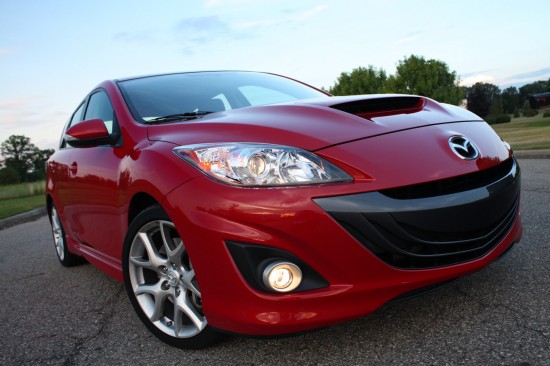 More Power Never Hurts, Except For When It Does

     We love the Mazda3. In 5-door or sedan form, with an automatic or a manual, it has been among our favorite small cars since its debut as a 2004 model. No surprise then, when Mazda added another 100 hp and almost doubled the torque in the MazdaSpeed3 model we were big fans of their hot hatch. And even though they tried to ruin the latest 3's front end by duplicating the styling of a Baleen Whale, there's still no denying it's a winner. So we expected our latest go in the second-gen MazdaSpeed3 to result in a review that read like a love letter to Mazda.
     And for the most part it does. Aside from that aforementioned ruined front end the latest MazdaSpeed product looks every bit as aggressive as its forbearer thanks to nicely integrated dual exhaust tips, sporty rear wing and particularly aggressive 18" wheels. The hood scoop easily identifies this as the performance-enhanced 3 and improves airflow to the intercooler at high speed allowing it to pass our patented Functional-or-Frivolous test. We'd like the option of a sedan-based 'Speed3 but we still love this body style and the 17 cubic foot of cargo space (42.8 with the 2nd row folded) that come with it.
     Passenger comfort is high thanks to easy entry afforded by the high roof and 38 inches of rear headroom. The 2nd row seats are a bit stiff, but the front seats are unique to the MazdaSpeed and bolstered to get the job done in the corners. We liked the leather and cloth materials but would pass on the red dot pattern that spreads to the doors and dash trim. Bottom line is we preferred the seats from our 2007 tester. The balance of the interior is a step up though with solid materials, intuitive climate controls and steering wheel control of most systems. The compact navigation system comes bundled in the mildly overpriced $1,895 MazdaSpeed Tech Package and is better than nothing, but most modern smartphones offer even more functionality.
     Great handling was already a 'Speed3 highlight, but the 2010 model benefits from even more improvements. Engineers have stiffened the whole setup to allow for firmer springs and a thicker anti-roll bar up front. That means this high roof hatchback corners mightily flat and hangs in there well past the limits we are used to in this class. Charging through sweeping second and third gear curves is this car's forte and the finely-tuned electro hydraulic power steering makes the experience that much more pleasurable.
     There's certainly nothing to complain about under the hood where the same 2.3-liter turbocharged and direct injected I4 from the previous 'Speed3 continues to throw down 263 hp and 280 lb-ft of torque. You're never far from the power since the torque peaks at a very usable 3,000 rpm and from there just past the horsepower peak of 5,500 rpm is the sweet spot that will leave a smile on your face every time you overtake somebody. You'll want to avoid winding out every gear to the 6,700 rpm redline because power drops off noticeably around 5,800 rpm. The upgraded 12.6-inch front brakes are strong and the pedal feel is spot-on. As you might imagine, one downside of an ity bity turbo 4-cylinder is an engine note that's about as soul-stirring as one of those giant vacuum cleaners at the local car wash.
     Unfortunately, the downsides we noted didn't end there. We last drove a 'Speed3 in 2007 so a few years have passed making us more jaded than ever, but our highly tuned God-given accelerometers were telling us that the latest revision from MazdaSpeed actually felt slower in stoplight drag races than the original. We didn't expect the difference to be noticeable without instrumented testing since the 2010 model only picked up 92 pounds in the makeover, but then we found the culprit in Mazda's own press release. Engineers went fiddling with the 6-speed manual's gearing and made it "slightly taller to make better use of the engine's abundant torque. The new gear spacing and refined engine calibration are focused on providing more linear, seamless power delivery." Insert disapproving head shake here. What that means in real life is that a noticeable edge has been taken off the 'Speed3's acceleration in every gear. If you haven't spent quality time with the '07-'09 version you'll never realize it but we're here to warn buyers who line up next to the first-gen model that if the race is less than a quarter mile you and your latest and greatest MazdaSpeed3 are going to come up short.
     Then there is the pesky issue of the car's innate desire to frolic in the roadside foliage at every opportunity. Yes, in certain conditions (crowned roads and tight corners) the MazdaSpeed3 serves up Grade A-quality torque steer that isn't unmanageable, but annoys just the same. With 280 lb-ft of torque hitting the pavement in the car's explosive mid-range and new wider and stickier Dunlop tires there's no way around it, but Mazda tries to quell the side effect by electronically limiting the power depending on gear and steering angle. They say the revised system and new gear ratios "allow more of the engine's torque to be utilized in the lower gears while still keeping torque steer at a manageable level." We think more revision—or better yet, all-wheel drive—is a good idea.
     So in the end our love letter review turned out more like one of those "It's Complicated" letters where you realize you love most things about the car but at the same time you discover something that keeps true love from blossoming. In this case we realized two things. First, we don't like torque-steer, and second, the new 300 hp Ford Mustang V6 returns 31 mpg, starts at $22,995 and hasn't torque-steered in almost 45 years.
The Good:
Lots of power and handling for $26k, only comes with a manual, great brakes, looks fast.
The Bad:
Mustang V6 offers even more power and handling for less, 2-3 shift doesn't like to be rushed, odd red dot pattern inside. 
The Verdict:
Unless you need the passenger or cargo space there is now strong competition to consider at the $25k price point.