Ford PowerStroke Upgraded to 800 lb-ft of Torque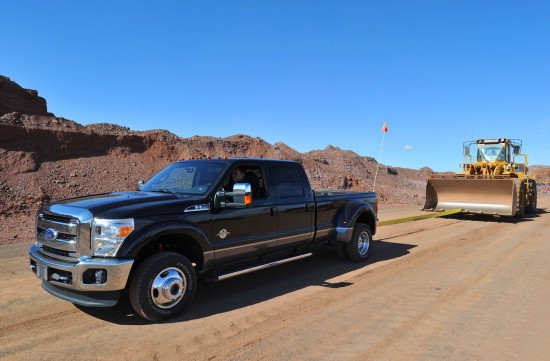 Eat My Soot-Free Ammonia-Treated Exhaust!
       Talk about your one-up! Starting this week Ford will step out from behind that shadow the General was casting with its 6.6L Duramax V8. Ford's new 6.7L V8 PowerStroke turbodiesel says I'll see your 397-hp and 765 lb-ft of torque, and raise you to 400-hp and 800 lb-ft of torque. Ah, horsepower wars at their finest!
      Apparently after the Ford powertrain engineers got playing with their Super Duty's sometime after launch, they came to the conclusion that the hardware could handle just a bit more. And I'm sure the fact that GM released their slightly better power and torque figures just weeks after Ford's announcement had nothing to do with it. Either way, we're told that a fairly simple retuning of the calibration yielded 10 more horsepower, 65 lb-ft of torque, and a 2% fuel economy bump! The best part is owners of the 2011 Super Duty F-Series who have already taken delivery of their trucks can visit their dealer anytime over the next 12 months and get this software update for free.
      To further bolster Ford's dominance of the top rung, all future F-350 dual-rear-wheel (DRW) models will use a higher strength steel in the frame rails to boost payload and 5th wheel towing capability. The improved payload will grow from 6,520 pounds to 7,070 pounds, while 5th wheel towing will increase from 21,600 pounds to 22,600 pounds. Unfortunately, this upgrade is not available to those whose trucks were built before this week.
      Will this force the General to retaliate? Probably. But that is what healthy competition is all about. The bar has been set. Ford currently owns the bragging rights. Next trick will be to see how the Blue Oval boys go about putting all that grunt to the pavement. We'll report back in once we've had a chance to lash on the stock trailer to this latest Super Duty.
Categories:
Miscellaneous, Previews
2011, 4x4, diesel, F-Series, F250, F350, Ford, Super Duty, truck, turbodiesel, V8