2010 Lexus RX 350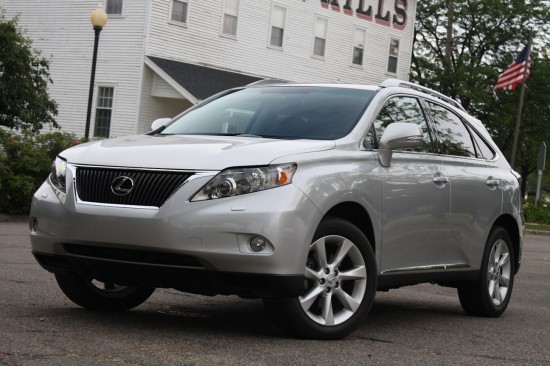 The King Of Crossover Comfort
     We like luxury crossovers. They ride nice, handle better than their big brothers, pack all the latest luxury goodies and can transport the whole clan through Mother Nature's worst all the way to grandma's house. Lexus likes luxury crossovers too. Mostly because they invented the segment with the 1998 RX 300 and have since infiltrated American suburbia with more than a million of them. But maintaining volume like that gets harder by the day and the RX has had to fend off increasingly tough competition in recent years, so Lexus set out to reset the bar with their thoroughly re-engineered 2010 model. Does the Crossover King still sit on the throne or do those ambitious new members of the court from Audi, Cadillac and BMW have a chance at claiming the big seat? Without a proper comparison test we can only answer that question with speculation, but we can tell you the new RX is ready to defend its title.
     Unfortunately, the RX has never had class-leading power and that fact wasn't addressed in this year's upgrade, although some extensive tweaks here and there have brought five more horsepower to the spec chart and improvements in fuel economy (we averaged 21.7 mpg with ratings of 18 city/24 highway). The 3.5-liter V6 benefits from new intake and exhaust manifolds and an intelligent Dual Variable Valve Timing system helps produce 275 hp and 256 lb-ft of torque. The torque figure alone isn't anything to hang your hat on, but since at least 90 percent of it is available from 2,300 to 6,100 rpm this engine feel appropriately strong for its class, and thanks to a great engine note north of three thousand revs we never longed for more power in everyday driving. Actually, it's a bit of a shock that any noise—good or bad—escapes the engine bay since Lexus has installed enough plastic under the hood to mold a sippy cup for every kid in the lower 48.
     Bigger news than the handful of extra horsepower is the arrival of a 6-speed automatic—and a good one at that. The new transmission has been designed to shift faster, smoother and handle direct sixth to third downshifts when called upon. We can confirm that a healthy prod from your right foot is all that's needed to summon a passing gear and make the most of the V6's power, but we did notice a couple of uncharacteristically harsh shifts during our test that we weren't expecting. Engineers included a manual shift gate, but we see little reason to use it in a vehicle with no sporting intentions. Besides, the shifter position on the center console may be a RX trademark, but it's not particularly helpful in recreating a shift-for-yourself environment.
     Customers ordering their RX with all-wheel drive will benefit from a completely redesigned system for 2010 that is both quicker at sending power to the rear wheels when needed and 35 pounds lighter. A new electronically controlled coupling connected to the rear differential can send up to half the engine's torque to the rear wheels but in everyday driving the RX is for all intents and purposes a front-wheel drive vehicle. We doubt you'd ever need it with a bevy of sensors and computers watching out for you, but Lexus does include an AWD Lock button that will force the system to drive all four wheels up to 25 mph.
     Thankfully, what they haven't changed is the RX's ride quality as this latest version still smoothes out Michigan's winter ravaged roads like a hot iron on a wrinkled shirt. Seriously, the competition better have consulted with Roll-Royce if they want to have any chance at outplushing the RX 350's ride. A suspension tuned to be that comfortable means handling is second priority, but we were glad that no one dropped words like floaty or disconnected in our tester's logbook. Instead we found terms like controlled and appropriate. A few reasons for the commendable handling might be the 2.7-inch wider track of the new model and the sophisticated double-wishbone rear suspension in place of the simpler strut design Lexus previously used. A thicker anti-roll bar up front probably doesn't hurt either. Standard 18" wheels look fine but the $4,800 Luxury Package on our model features better-suited 19" alloys and more aggressive tires.
     None of our editors noted any complaints about the newly upgraded brakes, which now consist of 2-piston front calipers and larger front and rear rotors. To our surprise, we were even happy with the electric power steering, which has the syrupy feel typical of a Lexus and somehow exudes a quality impression all its own.
     The quality showcase continues inside where top-notch leather seats offer heating or cooling to the weary passenger and low-gloss materials make up the bulk of the cabin. The aforementioned Luxury Package increases the wood and leather quotient and adds some classy accents to an already comfortable and supremely quiet cabin. But we can't pretend all is perfect in Lexus Land. We rated the switchgear as just average for the class and actually compared the design of the audio and climate controls to '80s era electronics. There's no denying the large navigation/climate/entertainment screen is thoroughly modern, but Lexus uses a central computer-mouse-inspired controller to operate everything and we aren't convinced it's any easier to use than a well-designed touch screen interface. We'd also prefer a separate readout for the climate controls and we could never figure out how to keep the audio screen displayed (so I can see song title and artist info on my favorite XM station) instead of the system reverting to the navigation map after about 30 seconds.
     Our example RX was ballooned with more than $15,000 in options but some of our favorites were the 15-speaker Mark Levinson audio system, automatic high-beams and Dynamic radar cruise control. Kids would no doubt like the dual rear video monitors and the second row seats are quite comfortable, even for adults. The staff was split on the usefulness of a passenger side mirror mounted camera that you could toggle on at will. With the seats left upright there is 40 cubic feet of cargo space that can quickly double if you fold the second row. Some flamboyant exterior styling choices lead to a pretty substantial blind-spot thanks to the angled forward D-pillar so it's a bit surprising Lexus doesn't offer a blind-spot monitoring system, which is all the rage at the moment.
     We were pretty unanimous in our praise of the RX 350's upgraded powertrain and comfort features, less so about the updated styling. Sure it looks fresh again, but the rear end looks a bit wimpy (especially with no exhaust tips) and the front end suffers from major overbite issues. We suspect the cut back lower fascia was some smart aerodynamic move, but the Audi Q5 outhandsomes the RX by approximately 8,000 percent and earns the same 0.33 drag coefficient. Having made that observation our RX does look borderline classy with its abundant chrome trim and silver paint, and yes we know styling is subjective.
     Spend just a few hours with the new 2010 RX 350 and you'll agree it's the best crossover Lexus has ever offered. Show some restraint on the options list and you can even get into a nicely equipped version in the mid-forties making it a bit of a value in the face of our $54,545 tester. Yes, it's easy to see why the RX is still King of Crossover Comfort.
The Good:
Great ride, comfortable seats, superb stereo, impressively quiet.
The Bad:
A bit of an odd look, questionable value of the Remote Touch interface, simplistic HVAC controls look un-Lexus like.
The Verdict:
Few companies do comfort better than Lexus, so as long as sportiness isn't in your equation the RX 350 will make you a satisfied member of a very large club.  
Photos by Jason Muxlow